England tour of New Zealand: Marland Yarde gives Sky Sports an exclusive inside line
After consecutive defeats England are staring down the barrel of a series whitewash, but their dressing room remains full of confidence ahead of one final Test against the All Blacks...
By Ben Hampshire | @BH92
Last Updated: 16/06/14 6:02pm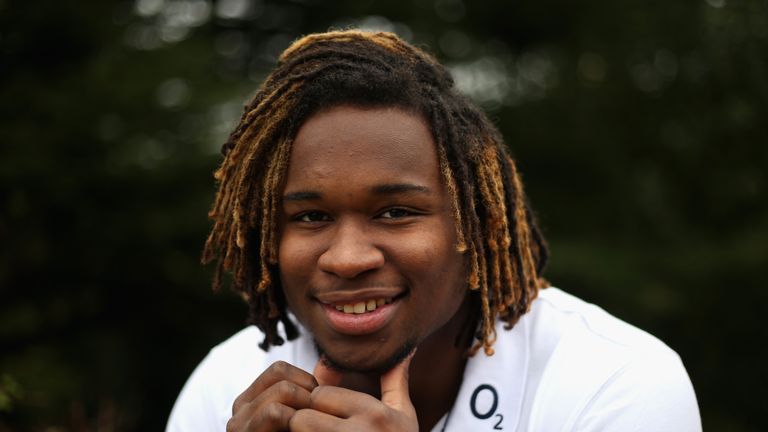 A Test series victory may have slipped through the hands of England at the Forsyth Barr Stadium on Saturday as New Zealand regained the Hillary Shield, but the tourists remain wholeheartedly focused on ending the tour on a high, insists Marland Yarde.
Stuart Lancaster's side suffered an agonising 28-27 defeat in Dunedin on Saturday; just seven days after Conrad Smith's 78th minute try dealt them a cruel blow as the All Blacks prevailed 20-15 in Auckland.
Back-to-back defeats leave England standing on the verge of a series whitewash, although their performances have shown signs of significant strides forward.
England went into half-time 10-6 up in Dunedin, courtesy of a fine Yarde score, before a devastating 20-minute spell – half of which the visitors played with 14 men after Owen Farrell was sin-binned - saw the ruthlessly clinical All Blacks register 22 points.
Momentary loss of concentration cost England dear, but this Lancaster side is defined by desire and that was embodied in late tries from Mike Brown and Chris Ashton as they reduced the arrears to a solitary point.
"It was just a little bit late from us but we're looking ahead, we still have a game to come and we're determined to go out on a high," says Yarde with a steely fortitude echoing through his voice.
England got off to a roaring start as Yarde ripped through All Black veteran Richie McCaw off the back of a set-piece move and just had the wingspan to reach out with his right arm and ground the ball.
From thereon in, there was barely a moment for the 28,400-capacity crowd to draw breath, let alone the players.
"I thought we got out of the blocks pretty well in the first half, we'd been training really hard and were focused on getting a good start," reflects Yarde.
"From that point of view we were pretty disappointed, although we had a good start, we could have built up more of a lead.
"Going into the second half the momentum switched and it was about trying to get control as quick as possible but at that stage we let in a couple of tries and Faz got a yellow card which didn't help too much but the team showed real character to come back into the game in the final 10-15 minutes."
Roles and responsibilities
The Harlequins-bound winger adds: "We're working really hard on our detail and roles and responsibilities and how we want to play the game.
"My role is to support the team, run my lines and make sure I get over the line and I was lucky enough to score the try but all the credit for that must go to the forwards for setting the platform from the line-out and putting us in a good position."
England won the first-half battle which started and ended with penalties either side of Yarde's try and the Saint Lucia-born flyer admits the dressing room was buoyant at the break.
"They were putting quite a lot of pressure on our line and I thought we defended pretty well throughout the first half, we back our defence and at the time it was a bit annoying to concede three penalties," he claims.
"Going in from the first half we were confident, we were happy with how things had gone, obviously we felt we could have got more points in that first half but we felt we were in with a good shout.
"Then it was about going out in the second half and doing exactly what we did in the first half but unfortunately we couldn't quite get our game going."
The All Blacks are unsympathetic by nature and as soon as England offered any sign of a let-up they pounced.
Full-back Ben Smith gliding across the Dunedin turf within three minutes of the break, before Julian Savea and Ma'a Nonu stormed through a faltering England back-line, which Yarde admits took too long to recover.
"Once we realised the momentum had shifted a little bit we started to lose track and we should have got control and regrouped a bit quicker than we did," he acknowledged.
"That's certainly a lesson we will take into the future, how to deal with a momentum change like that.
"Looking ahead we know what is expected of us and we're going to be a better team for this, for the experience and I'm sure in games to come we will fare a lot better."
England's own riposte was rather emphatic as Brown and Ashton raced over the whitewash as England threatened to prevent a 20th successive triumph for Steve Hansen's all-conquering world champions.
"It showed even though we were under pressure we can stay disciplined and show real character to get back in the game," Yarde added.
"With another five minutes, who knows what would have happened?"
There is no room for negatively to linger in Lancaster's England camp as Yarde proves in accentuating the encouraging signs shown in the opening two Tests.  
"We showed how good of a team we can be and I think for large parts of the game we certainly dominated against the best team in the world," he claimed.
Looking ahead to the weekend we know exactly what we need to do and we'll work on that in training this week and come back on fire for the weekend.
Marland Yarde
"From that we can take a lot of positives, we know the areas of our game that we can still improve on and make even better.
"Fair play to New Zealand, they're the best team in the world for a reason and that showed.
"We slipped off for one moment and they took two tries from us so now it's about us staying in the moment, staying in the game for a full 80 minutes and I'm sure we can do that in the future."
Spend any amount of time listening to the members of this new era England and you immediately catch the belief and pride which emanates from the dressing room.
"We always talk about the pride of the shirt and the passion, what it represents and when we go out to display that, we want to show how far we've come," Yarde reveals.
"We just want to get in that full 80-minute performance, we showed glimpses for large parts in the Auckland game and it's about combining it all together as one complete performance now.
"Obviously we've done our reviews and we know what we've done well and the positives we can take out but we also know the chances we left out there and where we need to improve.
"Looking ahead to the weekend we know exactly what we need to do and we'll work on that in training this week and come back on fire for the weekend."
Amazing experience
Yarde's connection to the heritage of English rugby is clear and listening to his desire it is easy to overlook the fact that Saturday was only his fourth Test appearance and the winger is eager to treasure every moment as he continues to establish himself on the world stage.
"It's pretty awesome really," he admits. "I'm yet to play any European teams; I've played against Argentina, Australia and New Zealand.
"It's really has been an amazing experience, definitely one that I will relish and enjoy. It's not often you get to play New Zealand in New Zealand and take on the best players in the world so it's definitely been a challenge.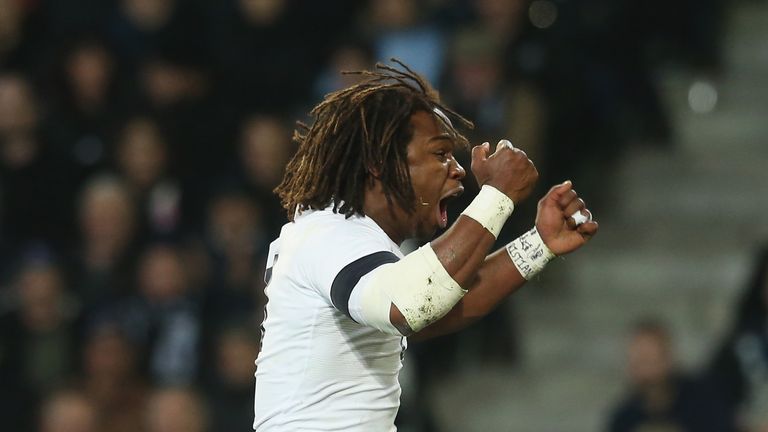 "It's something I've been excited about and now it's about focussing on training this week and preparing really well because we've got a massive Test this weekend and we're out to win, which is something not many countries do."
Few can ignore the fact the Rugby World Cup will be hitting British shores next year and while admitting the prospect of featuring in the biggest tournament on home soil is an enthralling one, Yarde remains steadfastly engaged in the task in hand.
"Obviously there's a home World Cup coming up and it's going to be a great time for English Rugby, it's something we're extremely excited about, but we don't want to think too far ahead," he insists.
"We have an important Test match coming up this weekend and we want to finish on a high and we can set a marker down.
"We'll work really hard this week to get our game up and hopefully we can come away with a result and then start to look ahead to the next series."
Get behind-the-scenes news from Marland Yarde and his England team-mates on tour in New Zealand with Player Diary from O2 in partnership with England Rugby, at www.O2InsideLine.com