Top 14: Sky Sports brings you a team-by-team preview of the 2014-15 season
With more than 55 games live across Sky Sports this season, we bring you all you need to know about the French top flight.
By Ben Hampshire | @BH92
Last Updated: 23/08/14 1:49pm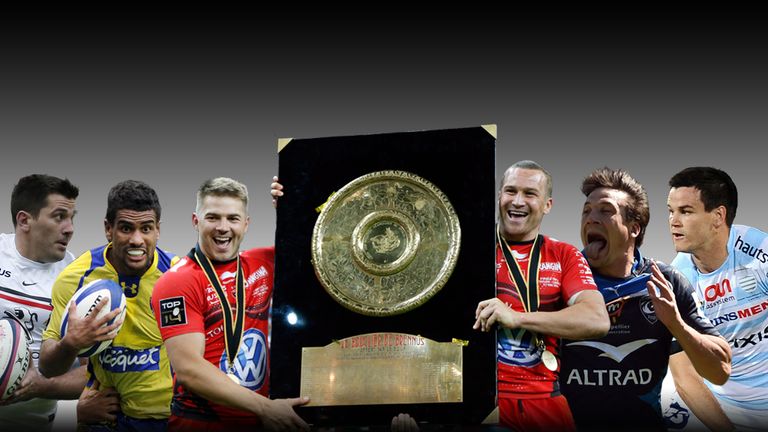 In recent years the Top 14 has grown to become one of the biggest attractions in rugby and is awash with international prowess throughout. Now, thanks to a new broadcasting deal, you can see more of the world's biggest names with the 2014/15 Top 14 season live on Sky Sports.
Last year's competition was dominated by Toulon as they ended their 22-year drought en route to a domestic and European treble – beating Saracens in the final edition of the Heineken Cup showpiece event. A week later they overcame Castres 18-10 to lift the French title, giving 2003 England World Cup winner and Toulon captain Jonny Wilkinson the dream swansong.
Over the close season, the Top 14 has continued to attract an array of high-profile names, setting the stage for another grandstand competition with a total of 26 nations represented. Toulon, rightly, defend their title as favourites but Catsres, Racing Metro, Clermont and Montpellier all have a point to prove as Top 14 supremacy goes on the line once again.
Bayonne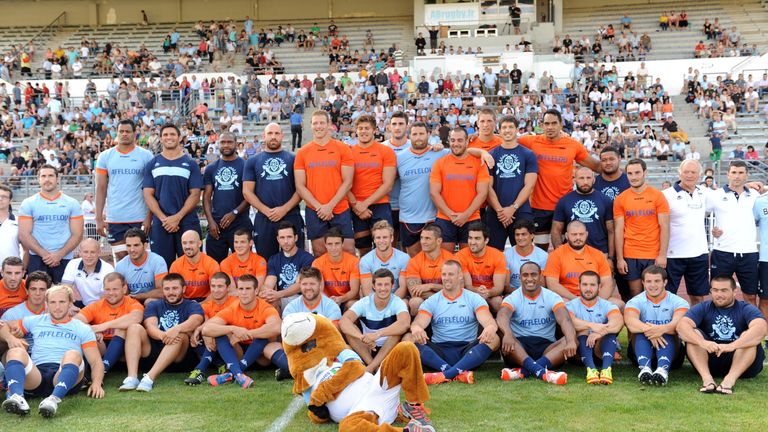 Aviron Bayonnais
Founded: 1904
Stadium: Stade Jean Dauger (16, 934)
Coaches: Patricio Noriega & Nicolas Morlaes
Captain: David Roumieu
2013-14: 10th
It has been a summer of transformation at Bayonne with a change of president and the arrival of former Wallaby and Argentina prop Patricio Noriega as head coach. After narrowly avoiding the drop last season, the Bayonne hierarchy hope the changes at the helm will bring about a rejuvenated side ready to rise up the Top 14 ladder.
Noriega has already begun to stamp his print on the club's culture with everyone eating breakfast together in a bid to create a tighter-knit group on and off the field. Meanwhile, the appointment of Bayonne local Manu Merin as president has seen the club take strides towards reconnecting with their heritage and tradition.
Off-field dramas – uncertainty over the future of the club and rumours of a merge with relegated Biarritz – undoubtedly had a negative impact on players, but Bayonne will hope their reorganisation and restructuring will avoid such problems this time around. All the distraction means there has been time for just four new signings, though a lack of new faces should be offset by a number of promising young talents.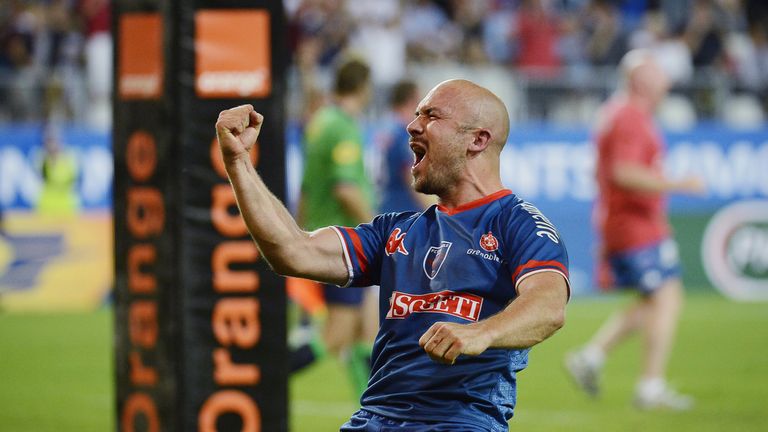 Opening rounds:
Toulon (h) - LIVE on Sky Sports
Oyonnax (h)
Catres (a)
Racing Metro (a)
Bordeaux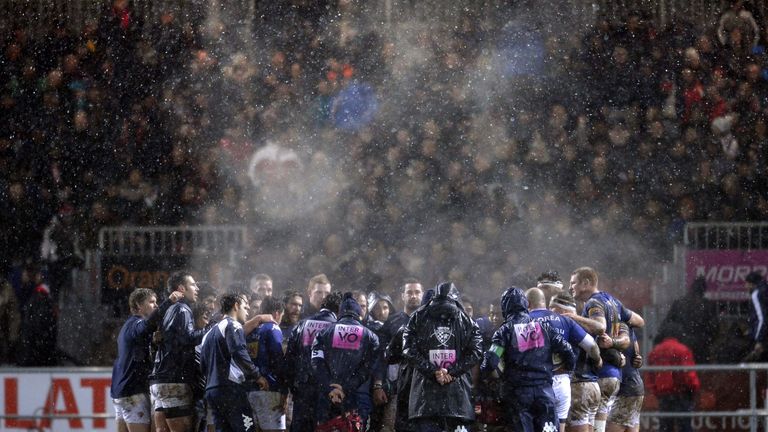 Union Bordeaux Begles
Founded: 2006
Stadiums: Stade Andre Moga (10,000), Stade Chaban-Delmas (34,694)
Coaches: Raphael Ibanez, Joe Worsley, Vincent Etcheto & Regis Sonnes
Captain: Matthew Clarkin
2013-14: 8th
Following their season of transition – finishing eighth in the Top 14 standings – Bordeaux Begles are very much harbouring European ambitions. This year they will compete in the European Rugby Challenge Cup, alongside compatriots Lyon in Pool 4, but they have sights set on reaching the premier continental tournament next term.
Since their promotion to the top flight in 2011, Bordeaux had spent every season fighting for survival but their advances last time around has brought renewed hope. No more is their intention outlined than by their coaching staff of former French hooker Raphael Ibanez and ex-England forward Joe Worsley.
Previously criticised for being too attacking-minded, the Bordeaux tactics have evolved and matured over the past year but rest assured their signature flair remains intact. Despite finishing eighth last term Bordeaux ranked among the top three attacking sides with 58 tries to their name; now they must sure up their defensive ranks and combine the two.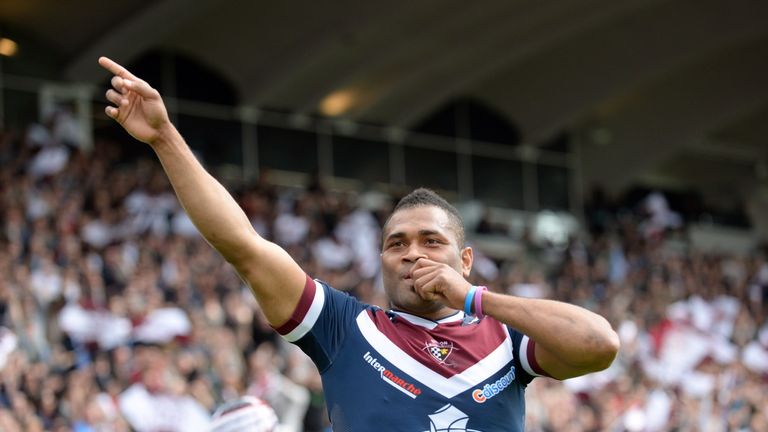 Opening rounds:
Lyon (h)
Racing Metro (h)
Grenoble (a)
Toulon (a)
Brive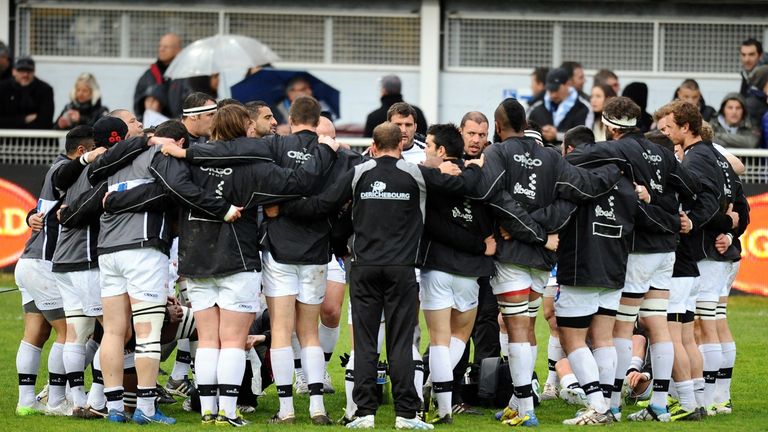 Club Athletique Brive Correze Limousin
Founded: 1910
Stadium: Stade Amedee-Domenech (15,000)
Coach: Nicolas Godignon
Captain: Arnaud Mela
2013-14: 9th
A highly-respectable first campaign in the Top 14 following promotion from Pro D2 means there is a significant level of expectation on the shoulders of Brive. A ninth-placed finish as well as an Amlin Challenge Cup quarter-final saw the Limousin-based side surpass all pre-season targets.
The question for Brive this time around is whether they can maintain their progress and advance even further. Such parameters will be tested early on with tests against Clermont, Toulouse and reigning champions Toulon during the opening six rounds of the competition.
High on Brive's priority list will be another solid campaign on the continent and there is no reason to suggest they cannot better themselves in the European Rugby Challenge Cup. Their hopes rely heavily on their nine-strong Fijian contingent and the club's commitment to developing Asian talent looks set to continue with a Fiji academy in the pipeline.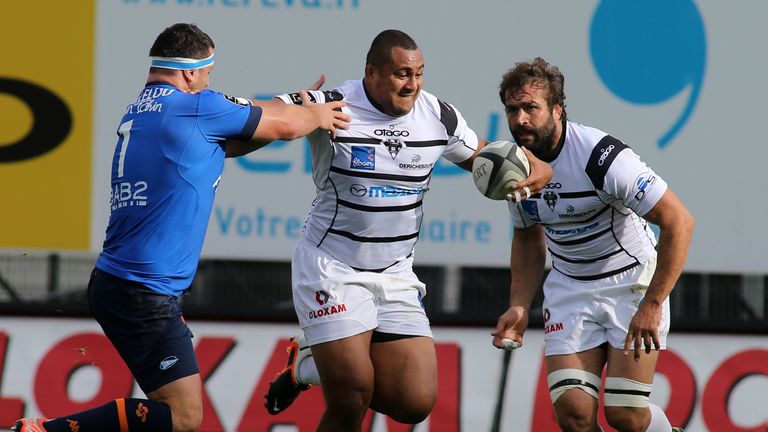 Opening rounds:
La Rochelle (h)
Clermont (h) - LIVE on Sky Sports
Lyon (a)
Toulouse (h)
Castres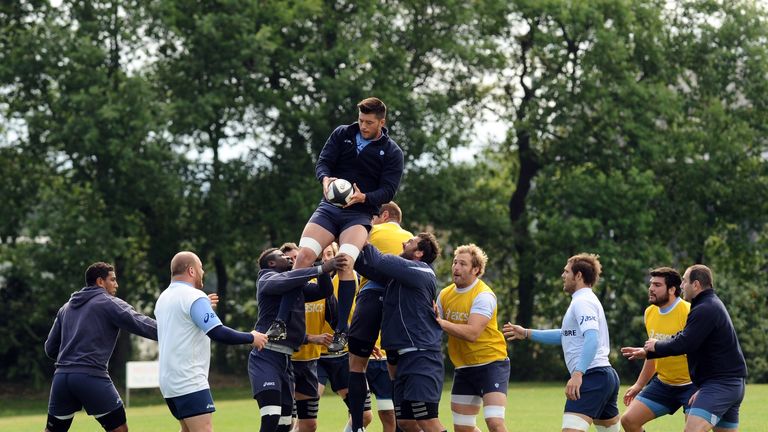 Castres Olympique
Founded: 1906
Stadium: Stade Pierre-Antoine (11,500)
Coach: Serge Milhas
Captain: Remi Tales
2013-14: 6th – Playoff finalists
French champions in 2013, finalists in 2014, can Castres return to the summit and dethrone the all-conquering Toulon? Furthermore, can they translate their domestic form into some kind of European momentum and add another piece of silverware to their locker? Everything is set for a defining season for Castres.
Striking a balance between the two proved difficult for Castres last term as they finished sixth in the Top 14 and also failed to make it out of the pool stages in the final edition of the Heineken Cup, claiming just two wins from six outings. This year they will lock horns with three-time champions Leinster and Premiership sides Harlequins and Wasps in the newly-formed European Rugby Champions Cup, while bidding to create and maintain momentum on the domestic front.
The loss of France full-back Brice Dulin and flanker Antoine Claassen to Racing Metro could hurt their chances significantly. Former All Blacks winger Sitiveni Sivivatu is their marquee signing and could prove an inspired move, while the recruitment of Scotland loose forward Johnnie Beattie will hopefully fill the void left by Claassen.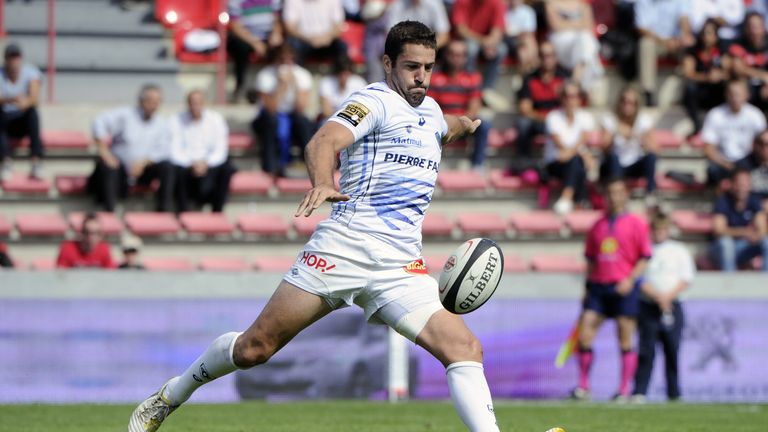 Opening rounds:
Stade Francais (h)
Toulouse (a) - LIVE on Sky Sports
Bayonne (h)
Montpellier (a)
Clermont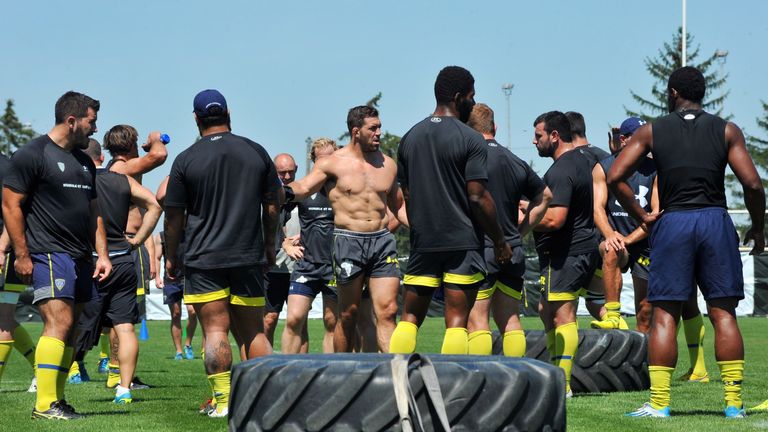 Association Sportive Montferrandaise Clermont Auvergne
Founded: 1911
Stadium: Parc des Sports Marcel Michelin (18,030)
Coach: Frank Azema
Captain: Damien Chouly
2013-14: 3rd – Playoff quarter-finalists
After topping the table in 2012-13, Clermont slipped down the ladder to third last season but remained equally impressive during the regular season. Juggling the strains of knockout rugby did prove a problem for Clermont however, making quarter-final and semi-finals exits in the Top 14 and Heineken Cup respectively.
Frank Azema's men were smashed 46-6 by Saracens in Europe before being beaten 22-16 on home soil by eventual finalists Castres in the domestic competition the following month. During the pool stages of the Heineken Cup and the Top 14 regular season Clermont were among the most free-scoring sides, matched only by Ulster on the continent and Montpellier on the home front.
Clermont have undoubtedly been one of the most stylish teams in French rugby, but their hammering at the hands of Saracens and premature Top 14 exit will have hurt. However, a change of coach and captaincy could signal a new cycle in the life of Clermont.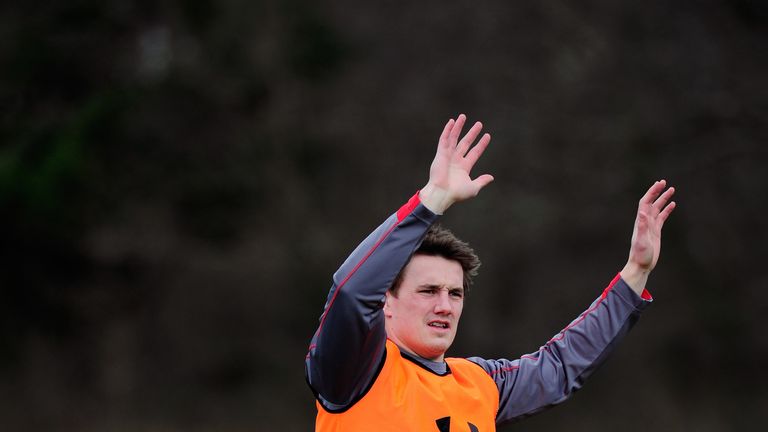 Opening rounds:
Grenoble (h)
Brive (a) - LIVE on Sky Sports
Montpellier (h)
Racing Metro (h)
Grenoble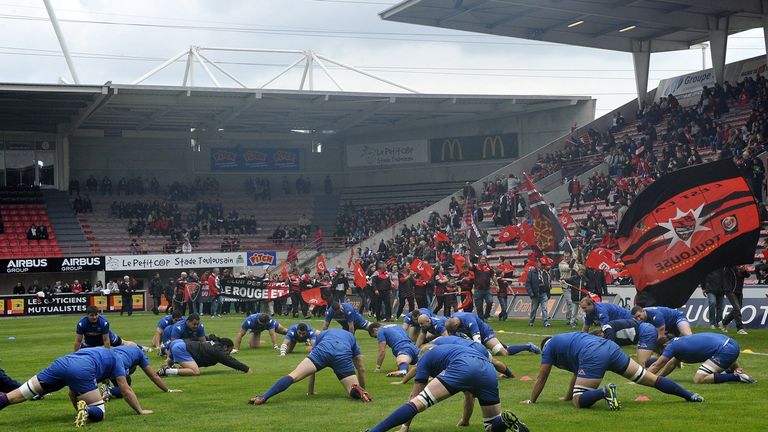 Football Club de Grenoble Rugby
Founded: 1892
Stadium: Stade Lesdiguieres (12,000)
Coaches: Fabrice Landreau, Franck Corrihons & Sylvain Begon
Captain: Fabien Gengenbache
2013-14: 11th
In recent years Grenoble have experienced a gamut of emotions, with the elation of promotion offset by the despair of relegation and once again they just managed to retain top-flight status last term. When they recruited Dean Richards, arguably the most successful coach in European rugby at the time, back in 2004, Grenoble were an ambitious club aiming to scale the heights.
Richard's season-long stay proved unsuccessful however with seven wins from 30 matches seeing them relegated from what was then the Top 16 and they only managed to return in 2012. A decade on the ambition and big dreams are back with the promotion of former Ireland hooker Bernard Jackman to head coach.
Unlike Richards, Jackman is well grounded in the complexities of Top 14 rugby having been on the Grenoble staff since 2011 and such an apprenticeship will no doubt stand him in good stead. Two high-profile signings – South African duo Ross Skeate and Gio Aplon – bring both experience and dynamism to both the front and back lines as Grenoble bid to turn age-old dreams into reality.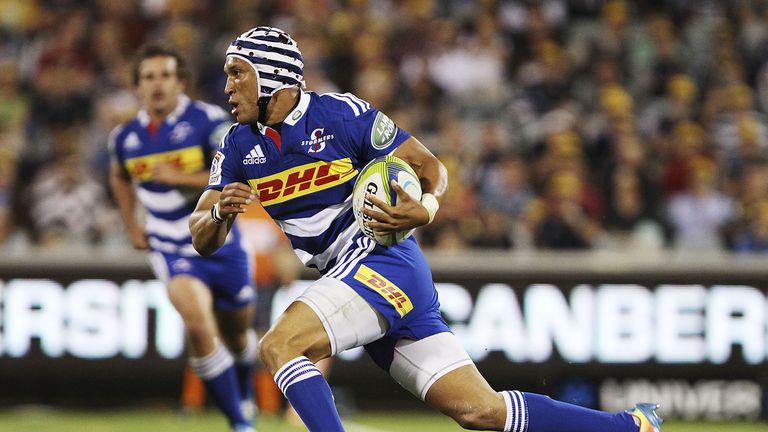 Opening rounds:
Clermont (a)
Montpellier (a)
Bordeaux (h)
La Rochelle (h)
La Rochelle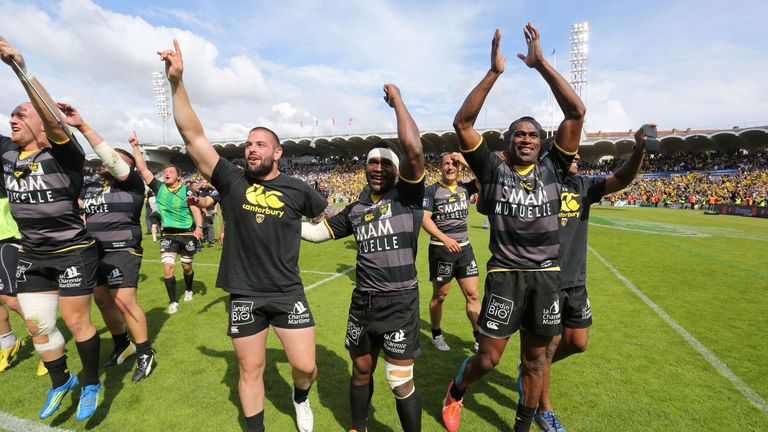 Atlantique Stade Rochelais
Founded: 1898
Stadium: Stade Marcel-Deflandre (15,000)
Coaches: Patrice Collazo & Fabrice Ribeyrolles
Captain: Antonio Uini
2013-14: 3rd in ProD2 – Playoff winners
After three years in Pro D2, La Rochelle are once again preparing for life in the French top flight following their 31-22 playoff final victory over Agen in May. While they may have been accused of being financially naïve in the past, La Rochelle have immediately signalled their intentions to battle with the Top 14 heavyweights upon their return.
A stadium expansion to accommodate an extra 2,500 fans may not seem like much, but flashing the chequebook to recruit Jason Eaton, Romana Graham, Peter Grant, Jean-Pascal Barraque, Benoit Guyot and Benedict Bourrust has started to raise eyebrows. Their most notable acquisition is Alofa Alofa – a Super Rugby winner with the Waratahs – but the dynamic winger will face a whole new test in French rugby.
After a three-year exile from the Top 14 La Rochelle will have some adapting to do; the French top flight is tougher and much stronger than before; something they will immediately be aware of when they take on Brive on the opening day of the season. Retaining top-flight status is first on the agenda for the Maritimes, only then can they plot more ambitious targets.
Opening rounds:
Brive (a)
Toulon (a)
Toulouse (h)
Grenoble (a)
Lyon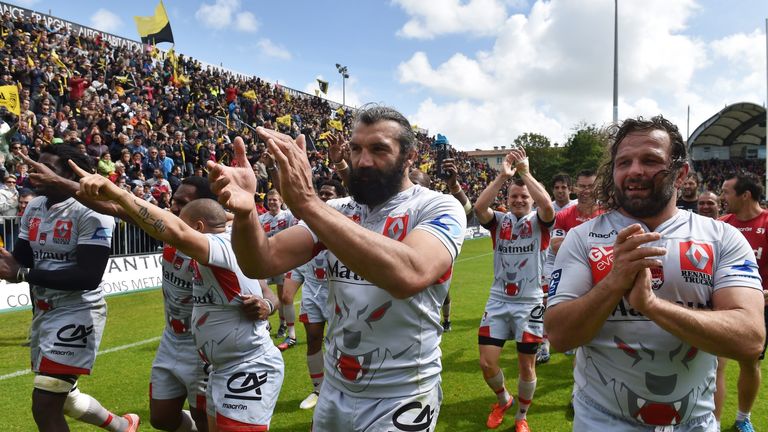 Lyon Olympique Universitaire
Founded: 1896
Stadium: Matmut Stadium (8,000)
Coach: Tim Lane
Captain: Lionel Nallet
2013-14: ProD2 winners
Promoted to the French top flight after winning the ProD2, Lyon will be aiming for a season of strengthening and acclimatising. First and foremost, Tim Lane – one of the respected coaches in the rugby fraternity – will be targeting Top 14 survival, while trying to lay the foundations for a successful rise up the ladder.
After a disappointing 2012-13 campaign, Lyon turned to experienced Australian tactician Lane, who guided them to second-tier glory and harbours advancing ambitions for the club. The acquisitions of Stormers forward Dean Fourie and 111-cap Wallaby George Smith bring a much-needed injection of experience to the dressing room as Lane looks to strengthen for coming campaigns.
Stepping up into the top flight will bring concerns for Lyon, who must be wary of the increased physicality and ferocity at the breakdown. However, their off-season recruitment and promising talent bank combined with Lane's wide-ranging CV – assistant coach with Australia and South Africa before taking the reins of the Georgian national side – will help them successfully bridge the gulf between leagues.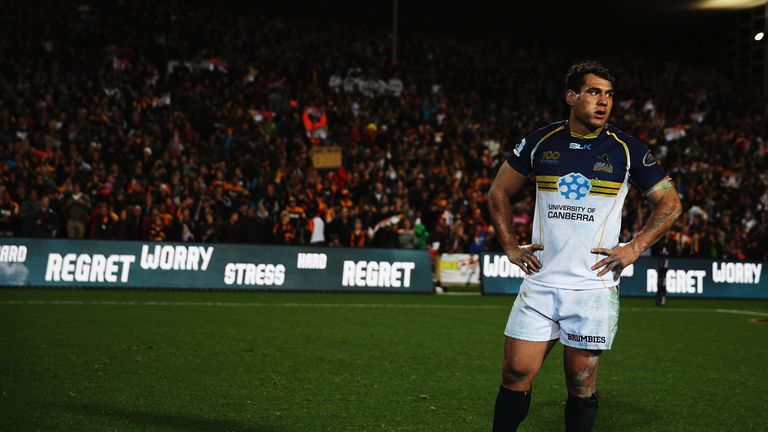 Opening rounds:
Bordeaux (a)
Stade Francais (a)
Brive (h)
Oyonnax (h)
Montpellier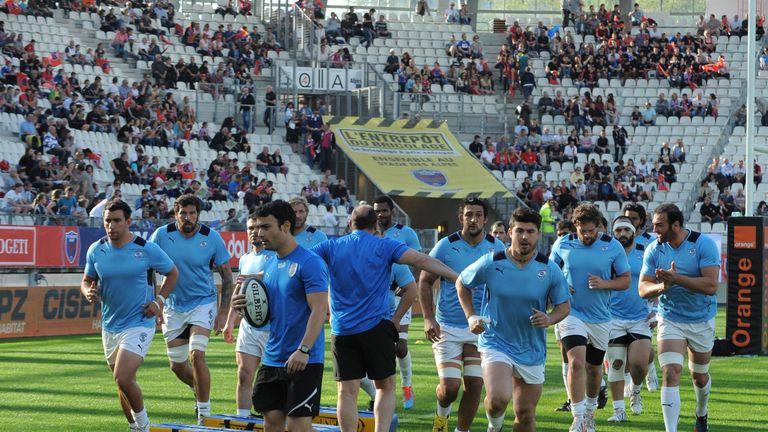 Montpellier Herault Rugby
Founded: 1986
Stadium: Stade Yves-du-Manoir (14,700)
Coach: Fabien Galthie
Captain: Fulgence Ouedraogo
2013-14: 2nd – Playoff semi-finalists
Montpellier's gradual rise up the Top 14 ladder saw them finish second only to Toulon last season as they made the knockout stages for the fourth year running. Despite failing to impress on the European stage –knocked out of the Heineken Cup at the group stage – Montpellier proved to be one of the standout Top 14 performers.
No side collected more bonus points – 14 in total, seven from try-scoring and as many from defence – while only third-placed Clermont could match their 59 tries for the season. Toulon clinched top spot by a solitary point – winning 16 of their 26 matches, one more than Montpellier – and if Fabien Galthie's side are to usurp Bernard Laporte's warriors this term they will have to be more assured in defence.
Although they topped the try-scoring charts last season, only five teams shipped more tries and their signings ahead of the new season will look to address the defensive frailties. Wallaby flanker Ben Mowen and All Black lock Tom Donnelly offer world-class talent and experience in abundance.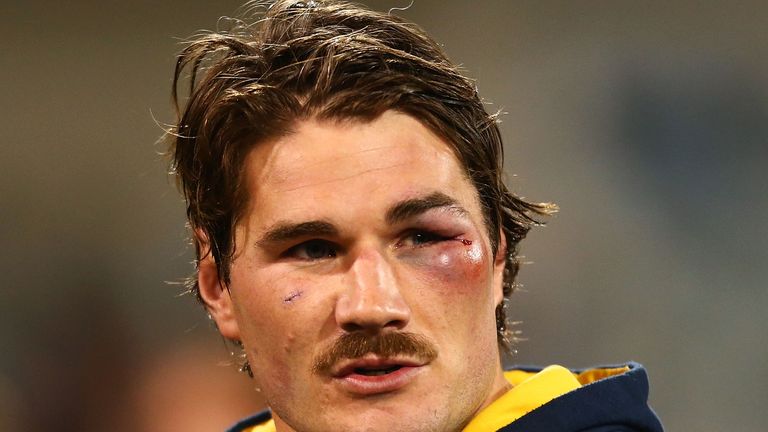 Opening rounds:
Racing Metro (h) - LIVE on Sky Sports
Grenoble (h)
Clermont (a)
Castres (h)
Oyonnax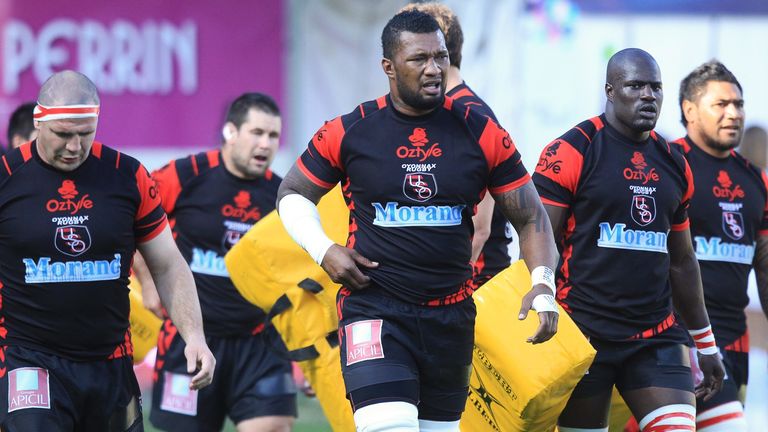 Union Sportive Oyonnax Rugby
Founded: 1909
Stadium: Stade Charles-Mathon (11,400)
Coach: Christophe Urios
Captain: Florian Denos
2013-14: 12th
Following their return to the Top 14, Oyonnax managed to avoid relegation and earned their fair share of praise as they successfully bridged the gap between Pro D2 and the top flight. They say the second season is the hardest however, and Oyonnax face a challenge to retain their Top 14 status again.
While remaining relatively solid on home soil last term, Oyonnax managed one win and just three defensive bonus points on the road, a record they must seek to improve this time around. Their chances of doing so will be boosted by the arrival of flanker Maurie Fa'asavalu from Premiership side Harlequins and bustling Tongan prop Soane Tonga'uiha from Racing Metro.
An improved defensive display is a must for Oyonnax in 2014-15, especially in the opening rounds with a trip to Toulouse first up for Christophe Urios' men. While their bolstered defence will go some way to reducing the points difference deficit, Urios will be keen to see his side show a more clinical edge in the final third after picking up just one try-scoring bonus in 2013-14.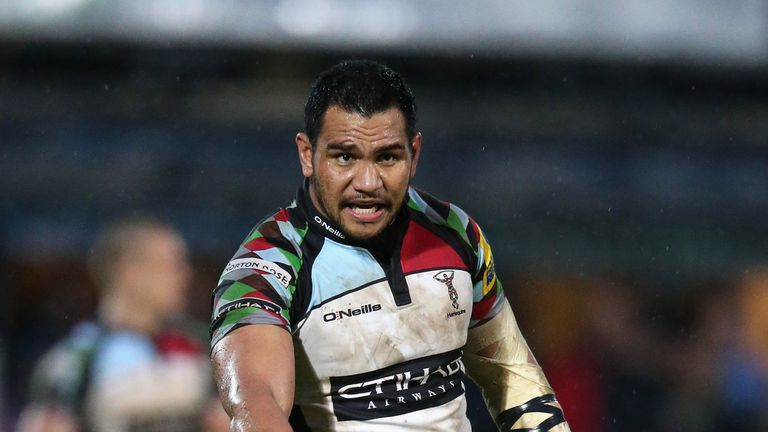 Opening rounds:
Toulouse (a)
Bayonne (a)
Stade Francais (h)
Lyon (a)
Racing Metro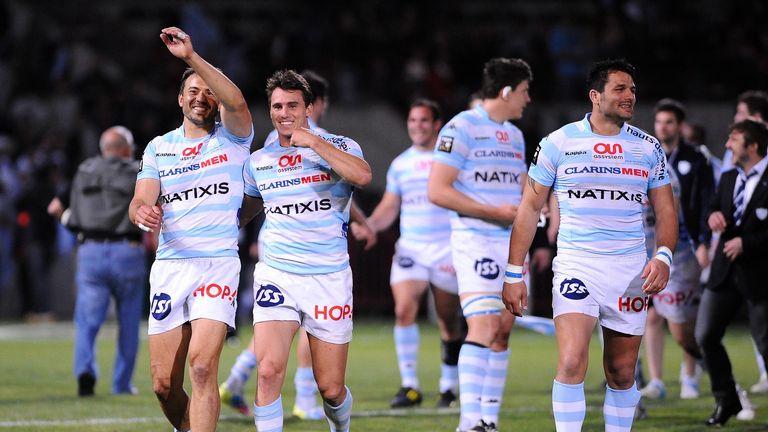 Racing Metro 92
Founded: 1890
Stadium: Stade Olympique Yves-du-Manoir (14,000)
Coaches: Laurent Labit, Larent Travers & Ronan O'Gara
Captain: Dimitri Szarzewski
2013-14: 5th – Playoff semi-finalists
After overcoming a slovenly start to the season last term, Racing Metro rose to become a driving force in the French top flight before bowing at the semi-final stage. Much more is expected of the Parisian side this term though with a number of high-profile acquisitions bolstering their squad and inflating the club's ambitions.
Uncompromising Welsh centre Jamie Roberts has settled into life in the French capital and the arrival of his compatriot Luke Charteris from Perpignan will add significant strength to the Racing pack. France full-back Brice Dulin and flanker Antoinne Claassen have also joined from Castres, adding flair and experience to an ever-improving squad.
Racing's credentials will be tested in the opening three rounds of the competition, with fellow losing semi-finalists from last season Montpellier first up. Two weeks later comes the sternest of tests for Laurent Labit's troops with Toulon, who beat Racing 16-6 at the last-four stage, visiting the Stade Olympique Yves-du-Manoir.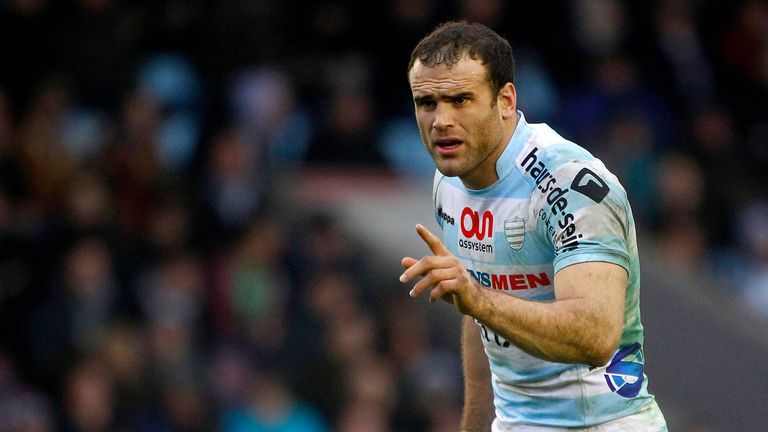 Opening rounds:
Montpellier (a) - LIVE on Sky Sports
Bordeaux (a)
Toulon (h)
Clermont (a)
Stade Francais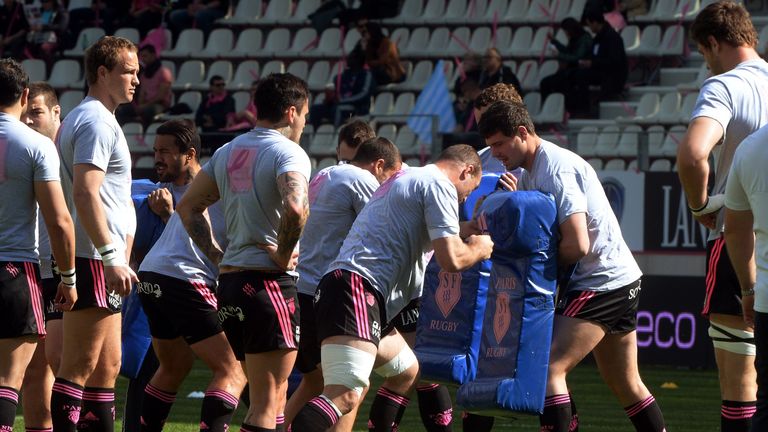 Stade Francais Club Athletique des Sports Generaux
Founded: 1883
Stadium: Stade Jean-Bouin (20,000), Stade de France (80,000)
Coach: Gonzalo Quesada
Captain: Sergio Parisse
2013-14: 7th
After a season tainted by disappointment, Stade Francais will be itching to discover form and return to their former glory. The Parisian side slipped to seventh in the Top 14 table to miss out on automatic qualification for the European Ruby Champions Cup, and failure to overcome Premiership side Wasps in a playoff for the final slot defined a frustrating season for Stade.
Stade Francais were edged out by Castres in a sprint finish for the top six last term and may be left to lament picking up bonus points in only three of their 14 wins. Their home form was imperious, unbeaten in 12 of their 13 home matches – including a resounding 23-0 victory over Toulon in Round 13 – but travelling, as is often the case in French rugby, has been a concern.
France captain Pascal Pape remains at the heart of the Stade pack with promising prop Rabah Slimani tipped for a breakthrough season. In the backline, there is set to be an intriguing battle for the No 10 jersey as rising star Jules Plisson battles with Springbok Morne Steyn, while the combination of Digby Ioane and Hugo Bonneval in the back three should put defences through their paces.  
Opening rounds:
Castres (a)
Lyon (h)
Oyonnax (a)
Toulon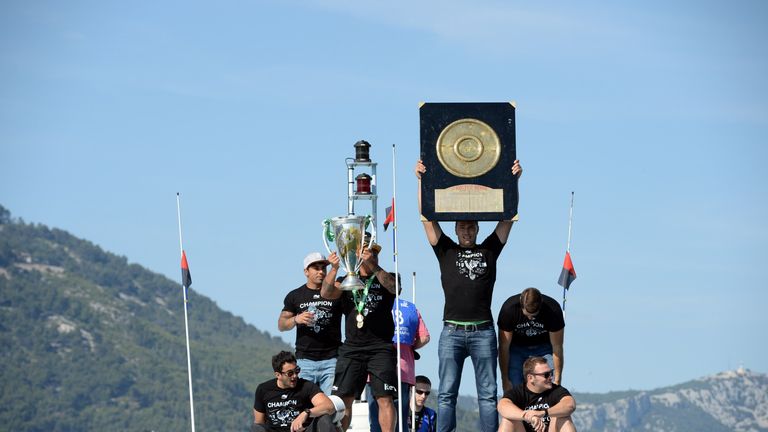 Rugby Club Toulonnais
Founded: 1908
Stadium: Stade Mayol (15,820)
Coach: Benard Laporte
Captain: Carl Hayman
2013-14: Champions
Last season was one of domestic and European dominance for Bernard Laporte's Toulon, with the French heavyweights becoming only the second French club to achieve the domestic/European double. It was a ground-breaking season of success for Bernard Laporte's men as they became only the third side to defend their European crown – following in the footsteps of Leicester and Leinster – before adding the domestic title to their locker.
Question now being, how long can the Toulon juggernaut plough on and dominate the French domestic scene? Losing the metronomic boot of Jonny Wilkinson – retiring after a stellar career – will be difficult to offset, but their successful off-season recruitment drive could well have found just the man to fill the largest of kicking boots.
Wales full-back Leigh Halfpenny is called to step up to the plate with kicking duties and could well match the achievements of Wilkinson with the boot, while former All Black prop Carl Hayman assumes captaincy duties. While the array of international talent may be distracted by the pending Rugby World Cup, Steffon Armitage – fresh from stealing all the headlines last term – will have no such fears with England coach Stuart Lancaster maintaining his home-based player policy.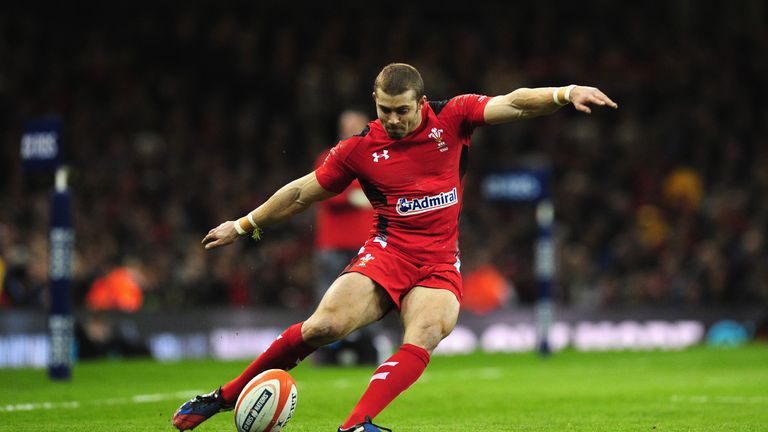 Opening rounds:
Bayonne (a) - LIVE on Sky Sports
La Rochelle (h)
Racing Metro (h)
Bordeaux (h)
Toulouse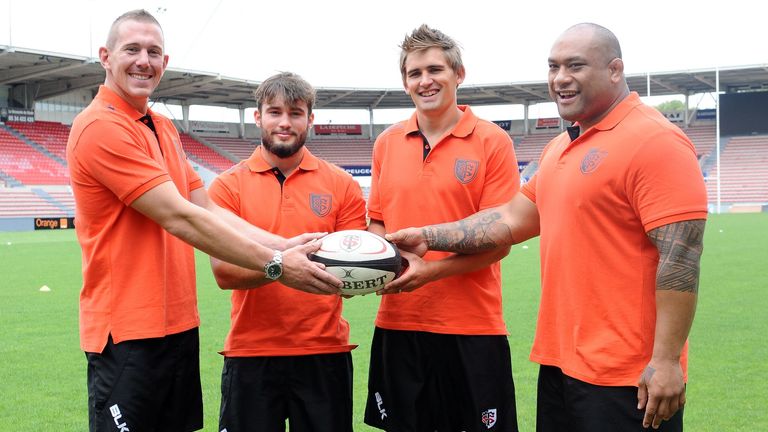 Stade Toulousain
Founded: 1907
Stadium: Stade Ernest-Wallon (19,500)
Coach: Guy Noves
Captain: Thierry Dusautoir
2013-14: 4th – Playoff quarter-finalists
Toulouse are the most successful club in the history of both French and European rugby with a record 19 titles. But, they are another club in the midst of a rebuilding process and the loss of stalwarts Louis Picamoles and Thierry Dusatoir for the opening rounds could prove costly.
Renowned for the flamboyant running rugby brought in under the tutelage of Pierre Villepreux during their 1980s renaissance, Toulouse have endured two trophy-less years. It is a lean patch which has left fans wondering whether their club is in decline.
Dusatoir is an ultimate leader and his absence for the opening rounds is a devastating blow for Toulouse, though the presence of Yannick Nyanga – one of the most exciting French prospects – will boost Guy Noves. The capture of former England No 10 Toby Flood from Leicester Tigers could prove to be inspired should the team find cohesion and France centre Gael Fickou is poised to, once again, light up the Top 14.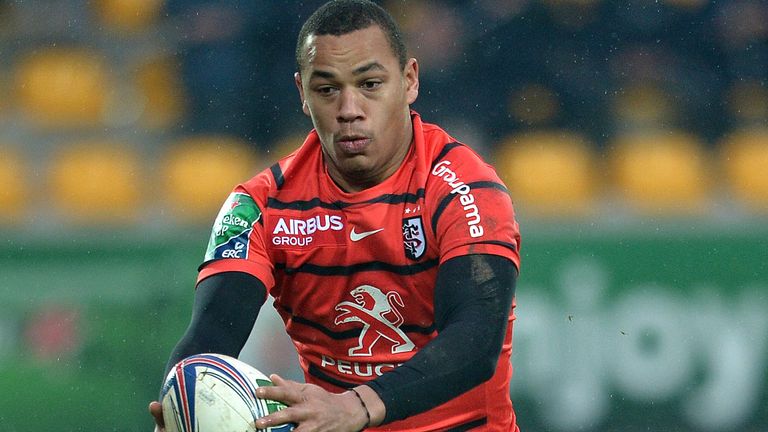 Opening rounds:
Oyonnax (h)
Castres (h) - LIVE on Sky Sports
La Rochelle (a)
Brive (a)