The Off Load: The best and worst from the world of rugby
French competition will go down to the wire, says Rupert Cox
By Rupert Cox
Last Updated: 02/09/14 10:53am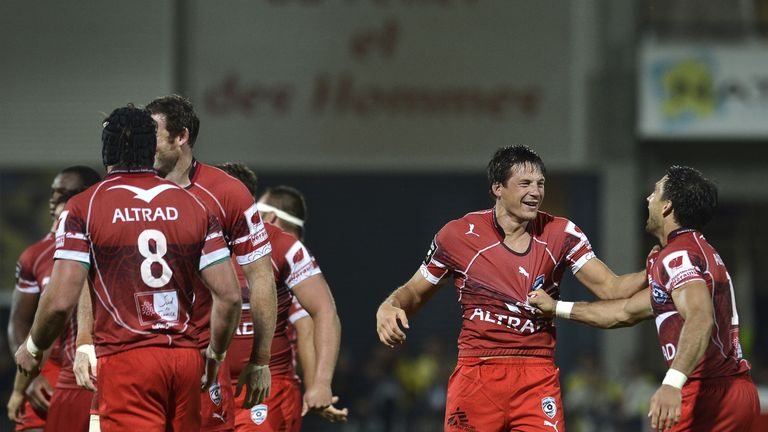 There was loads of great rugby to enjoy over the weekend including upsets from around the world.
Rupert Cox shares his highlights in his weekly rugby round-up blog...
Montpellier mirace
Montpellier Hérault had lost all 16 of their games against Clermont Auvergne at the Stade Marcel Michelin but on Friday night that changed... The hero was mercurial fly half François Trinh-Duc, who kicked 18 points – including two drop-goals and the winning pen - to cause a massif one-point upset. After a whopping 77 games unbeaten at home was ended by Castres in last season's semi-final, the Jaune et Bleu have now suffered two defeats in their last three home games. Fortress no more.
New boys La Rochelle pulled off a stunning performance to send Toulouse packing in the Bay of Biscay - their second win over the Top 14 big guns since 1968. With Grenoble, Oyonnax, Castres and Lyon also winning at home in Round 3 – all 14 teams already have a tick in the win column. The early signs are it's going to be a tough old battle to the finish at both ends of the table.
Big Cats pounce
Speaking of upsets, the Mpumalanga Pumas gobbled up the Natal Sharks to go third in the Currie Cup – their third win out of four this season. They outscored the defending champs from Durban by four tries to one, prompting Sharks CEO John Smit to seek support from Twitter with, "are you kidding me?" and "jeepers that was not pleasant". Reckon Sharks' Currie Cup coach Brad Macleod-Henderson might be in the headmaster's office on Monday morning.
Last year's runners-up, Western Province, are still undefeated this campaign, and lead the way at the top of the log. At the other end, the Eastern Province Kings, now coached by former All Black fly-half Carlos Spencer, are still without a notch after falling prey to the Golden Lions in Port Elizabeth. King Carlos – for how long?
Shield fever hits the Bay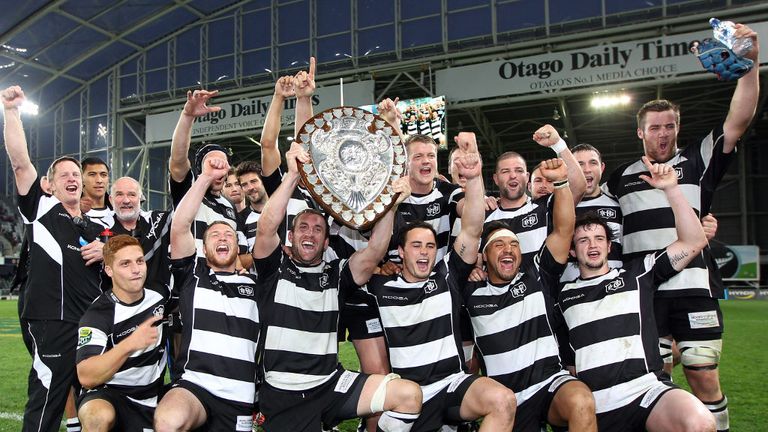 Tana Umaga's Counties Manukau robbed the Ranfurly Shield off the Hawke's Bay Magpies just a year ago, but now the Log o' Wood is on the move again, and back in the hands of Hawke's Bay. The Bay held the Shield for only 6 days in 2013 – the shortest ever reign in the 110-year history of this great old trophy – but they're guaranteed it for at least 14 days this time– until their next match against Otago on September 14th. Hawke's Bay, by the way, won it off Otago last year. See how it works? Round and round New Zealand, whipping up storms of provincial pride. And for now, Napier is in the eye of it. This Saturday, for the first time in 18 years, the Art Deco city is hosting the All Blacks when they play Argentina. With the Shield at home and the ABs in town, Napier has very quickly gone rugby mad…
Brickbat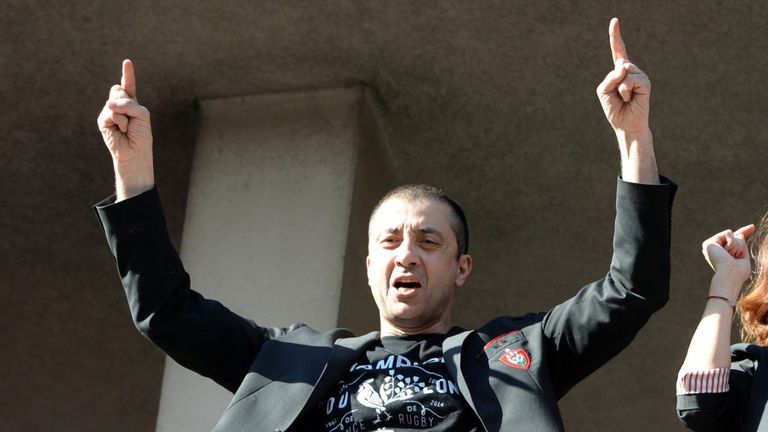 The spat between Toulon owner Mourad Boudjellal and Racing Metro president Jacky Lorenzetti. Last season Lorenzetti questioned Boudjellal's integrity over the salary cap, and this week Boudjellal responded that most of his players are awarded bonuses outside the cap, but "Jacky can't know that, because Racing have never been in a final". Note to any billionaire wanting to buy a rugby club: rugby prides itself on its manners. Settle scores on the pitch, and be courteous off it. Otherwise, buy a football team.
Bouquet 
Peace in Wales – better late than never! Well done to the WRU and Regional Rugby Wales for finally burying the hatchet and signing a new agreement. Over £60million will be invested in Welsh rugby over the next six years and national hero Sam Warburton will actually be allowed to play for his club again. The player drain to Europe now has a decent chance of being plugged, but can somebody explain to me what the so-called Gatland's Law is about? If the next George North chased the money to Saracens or Toulon, my bet is that Gats would still pick him.