Scarlets' Barclay happy with pre-season preparation ahead of Saturday's Pro12 clash
Last Updated: 05/09/14 2:00pm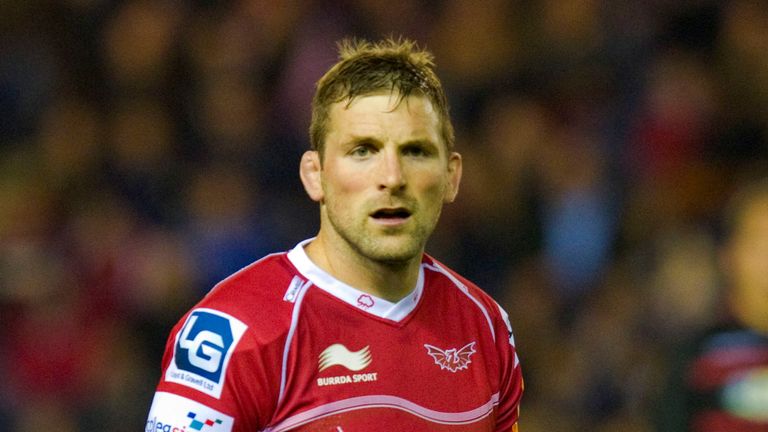 John Barclay chats to Sky Sports about the Scarlets' pre-season training under their new coaching staff.
Scotland flanker Barclay is happy with the preparations his team has undergone with the Guinness Pro12 starting this Saturday.
Having signed with Scarlets from Glasgow at the beginning of last season, the 43-cap international is enjoying his time in Wales, and is excited about the clean slate the squad will have under a new coaching team.
"Pre-season is hard but at the end of the day it serves a purpose," said the loose forward, "This year it's been pretty different, with the new coaches, and actually pretty enjoyable.
"It's a fresh start and the players have bought into it."
The Scot carried an injury into the summer, so he's had even more preparation to get through in order to be ready for this season's campaign.
"It's been a long pre-season for me personally because of the shoulder surgery, but it's been alright.
"I played with the injury for the whole of last year but it feels alright now.
"It was good to get a warm-up game against Gloucester last weekend - the shoulder feels good to go," he said.
The Scarlets had pre-season games against Bath as well as Gloucester, drawing with the former and coming away with a win against the visiting Cherry and Whites. The Scottish international is happy with the results, but more impressed with the clinical displays from his team.
"Pre-season results are one thing. To a certain extent, some teams hold things back, others give younger guys a go. We seem to have had a pretty good blend of players that have played the way we want to.
"We had a chat this year about how teams may know what we're going to do in games. But if we do that well, teams won't be able to stop us. Results have been good, some of the new guys have come in and played really well. Overall it's been pretty pleasing."
Fresh
The former Glasgow forward is excited about the coaching team at the club, spearheaded by the newly-appointed Wayne Pivac.
"It's always different when a new coach comes in," he said, "You don't know what to expect in terms of what the coach is going to want. But Wayne has been good; he's been a breath of fresh air.
"Byron (Hayward) has also come in and brought some new ideas. They've carried on the work that Simon (Easterby) did while he was here.
"It does feel like bit of a fresh start. Last year was a fresh start for me personally with joining a new club, and this year feels almost the same, with new coaches and players coming in."
The flanker had an unnerving summer along with his teammates with the ongoing negotiations between the WRU and the Four Regions.
"I didn't realise the gravity of it until I came down here," said Barclay of the stand-off, "I'd read a little bit about it but it wasn't until I was actually down here and saw how much it was being talked about, that I realised what a bit deal it was.
"We didn't know what was going to happen. There was all sorts of talk, such as playing in different leagues. As a foreigner down here you don't know how things are going to change for you. We had a chat with the chairman on Monday and he seems very pleased for the first time in a long time that this is all sewn up. We can now concentrate on playing rugby."
The 27-year old is grateful to be able to continue his proud affiliation with Welsh rugby.
"Truth be told, if I could have mapped my career I don't think I could have ended up in south Wales, but the move has worked out really well," he said.
"My wife is really happy down here, we've started a family, and it's nice to be a part of a club and region that has so much tradition and history. I always used to be a wee bit jealous of them when I was playing for Glasgow.
"Don't get me wrong, they're going into the right direction and are building a fantastic following, but I was always a bit jealous of teams that had the rich tradition and history like Scarlets have.
"In Llanelli, rugby drives the town. There's a responsibility upon ourselves to create our own little bit of history."
Pro12
The Scarlets' responsibility begins with a Pro12 showdown with Ulster on Saturday, showing live on Sky Sports, and the Scot is excited about the prospect of playing last year's semi-finalists in the opening game.
"We beat Ulster at home last year and lost them to away. It's certainly great to start with a big game at home. Like I mentioned before with pre-season games, you don't really know where you are until you play a league game. We'll certainly know where we are by Saturday evening."
Barclay will be involved in a crucial showdown with an Ulster pack that lost a number of key players during the summer, such as front-rowers John Afoa and Tom Court.
"Last year there was a big focus on the pack, in developing a scrum, lineout and mauling game, and I certainly felt part of that. I thought it was a real positive. Ulster have got some quality players as well and will look to strengthen those areas, but for ourselves, we want to push on from the standards we set last year."
Barclay and his team will be looking to use this game as a springboard in a bid for silverware in the 2014-15 season.
"We had a young team last year," he said, "We were inexperienced and very up and down with our results. But we've brought in a new coach and new players, and the guys who were young last year have no excuses. This is the year where people need to step up and deliver.
"We certainly need to be more consistent, but also there's a big focus on coming to work and enjoying ourselves, and make this a really positive place to come and play rugby. That starts with building a formidable home record.
"The Guinness Pro12 seems to be striving to be a more attractive league for spectators, as well as players."
There is also the added incentive of playing in the European competition if they perform well in the Pro12.
"You now know what you've got to do. The Champions Cup is such a big competition to be a part of, so teams can't afford to rest players."
Scarlets v Ulster, live on Sky Sports 1 HD on Saturday from 2.30pm