England: Jack Nowell and Luther Burrell selections will help attacking game
Dewi Morris is delighted with England's Six Nations debutants as they strive to reach the next level.
Last Updated: 02/02/14 11:07am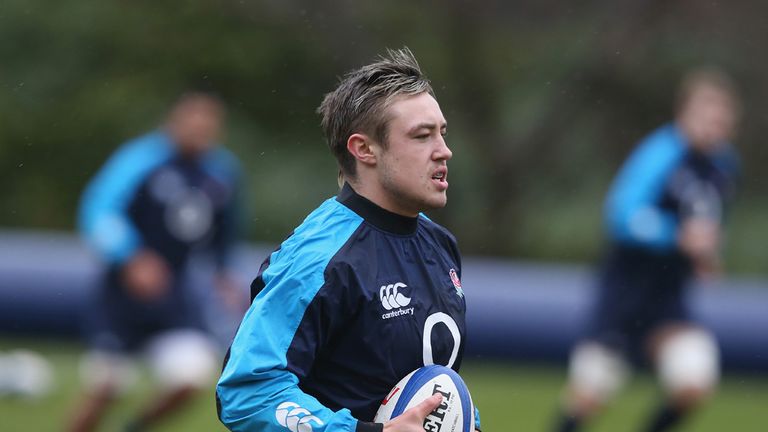 Some may say that you need experience heading to Paris but I am tired of seeing England coaches in the past playing people who did not deserve their place just because they have 50-odd caps.
Lancaster has the chance to see how well Nowell, Burrell and Jonny May, who wins his second cap, can handle the pressure.
This is a very important process and I really hope he gives them a chance to settle in and develop their international rugby careers.
This England team is a work in progress; not just in the young players coming in, but also in the pattern and style they want to play.
Stuart Lancaster is now looking to get some pace and some width on the ball to really enhance England's attack.
The big question for England - and it has been for a long, long time - is can they get the distribution between 10, 12 and 13 right!
I am not going to harp on again about this because we all know that England have an issue there.
Lancaster knows he has an issue there but at least he is trying to come up with some solutions and look to create something out wide.
England's potential to attack from deep if France kick poorly is great.
Having the potential to go wide is one thing but you need to earn that right to go wide and that is when your forwards come in. England's forwards have really grown since that fateful day in Wales last year.
They have some big ball carriers and they are going to need them against this massive and bruising French side.
Weapon
Billy Vunipola is going to be a key ball carrier for England and his collision with Louis Picamoles is going to be something else.
I believe that Vunipola is England's most potent weapon in terms of carrying the ball, but the likes of Joe Launchbury and Courtney Lawes will also have to do their fair share against the French.
England will really need to get behind France, they will need to get one or maybe two out runners attacking around the fringe - not too close to the ruck and maul area but adding a little more width - as that is when Robshaw's passing will come in.
Then you have Vunipola hitting it up on the crash ball and Danny Care's pace around that area to get around the side and get behind. Pace and power is what will get England past the French.
We know what France are going to bring - strength, strength and more strength! They have picked Jules Plisson at fly-half which is an interesting selection.
He will partner Jean-Marc Doussain which I think is the 10th half-back pairing that Philippe Saint-André has gone for since he took over. He really needs to get this right and give France settled halfbacks who can grow into the role.
The France pack are massive and will look to impose themselves all over England. If they do that and Plisson and Doussain click, then England have the likes of Mathieu Bastareaud and Wesley Fofana running at them in the backs. Not to mention the very impressive Toulouse winger Yoann Huget.
France love to run the ball and I really hope England react in kind and also go looking for tries. I hope the weather is good to encourage them to have a go and that it does not become a battle of the boot between Owen Farrell and Plisson.
We know England have a plan A, but this Six Nations is about developing a plan B and a plan C that England are comfortable with.
I think France may win this one, but I am looking forward to seeing England develop and if they come away from Paris with a narrow loss having played some exciting rugby and learnt some key lessons that is no bad thing.
From the Super Bowl to the Showdown on MNF, it's a great weekend on Sky Sports. Click here to upgrade