Dewi Morris: Exeter's front five laid the platform for their LV=Cup win
Dewi Morris singled out Exeter's front five for special mention as they won the LV=Cup on Sunday.
Last Updated: 16/03/14 8:38pm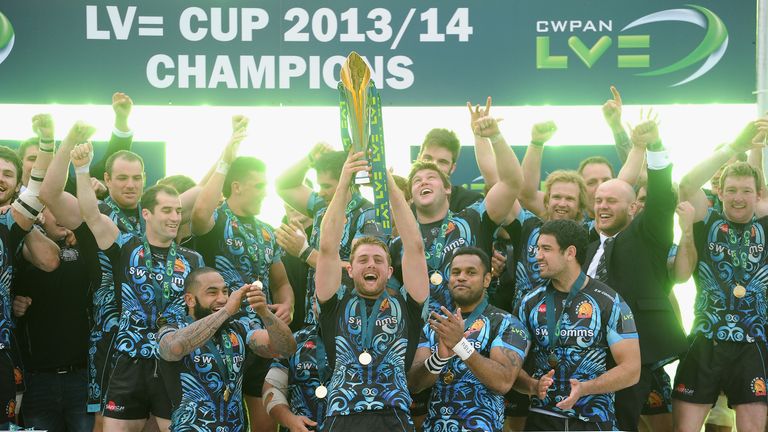 Samu Manoa crossed for Saints' only try 10 minutes from the end, but the Aviva Premiership leaders were unable to avoid their fourth successive final defeat in the tournament.
"Rugby is a physical game and Exeter did a job on them [Saints] today," said Dewi Morris.
"They stopped them at source. The Chiefs front five dominated; they did not give up at the scrum, they put pressure in the lineout and they just squeezed them. If you squeeze Northampton and things don't go their way, well they start to struggle a little bit.
"Exeter were magnificent today - it was a good all-round performance that was laid down by the front five. If they had not turned up today, then they would not have won the game.
"Dean Mumm was outstanding and my man of the match - his tackles around the field, his whole commitment, he had to make the right decisions.
"They knew they had to take them on physically and stop the momentum of Northampton and they did that."
Ieuan Evans also had praise for Rob Baxter's men and is impressed with their desire to make finals a regular occurrence.
"When you listen to Rob Baxter when he speaks he is very considered. You saw the emotion, the passion and the relief as well, but he is at pains to point out that while this is a special day, he does not want it to be an extraordinary day - he wants it to be the norm that Exeter are competing for silverware. That is ambitious but it is also an indicator of what he feels this club are capable of doing in the future.
"Exeter have not got an abundance of stars, but they have so many of the values that makes a successful team, they give everything and they were outstanding today."
Bouncing back
Evans also said that Northampton will be disappointed with their performance but cannot afford to dwell on it too long.
"Northampton will be frustrated and disappointment but their international players will be coming back full of confidence which will help.
"I think Saints expected to impose themselves in the second half but Exeter never allowed them to get into their game plan - they frustrated them at the breakdown. The challenge for Exeter today was always meeting the physical challenge that Saints were able to bring; they did that and they did that very well.
"It's not only about criticising Saints performance, it's about congratulating an outstanding Exeter Chiefs performance.
"Saints will not have time to dwell on disappointments, this is the business end of the season and they can't afford to do that. They were a little bit shoddy, their ball retention was poor and their discipline in good areas of the field really hurt them badly."