Rugby Union Expert & Columnist
Dewi Morris selects his picks of the Heineken Cup quarter-finals
Munster, Steffon Armitage and Guy Noves make Dewi Morris' Heineken Cup picks of the week.
Last Updated: 07/04/14 6:36pm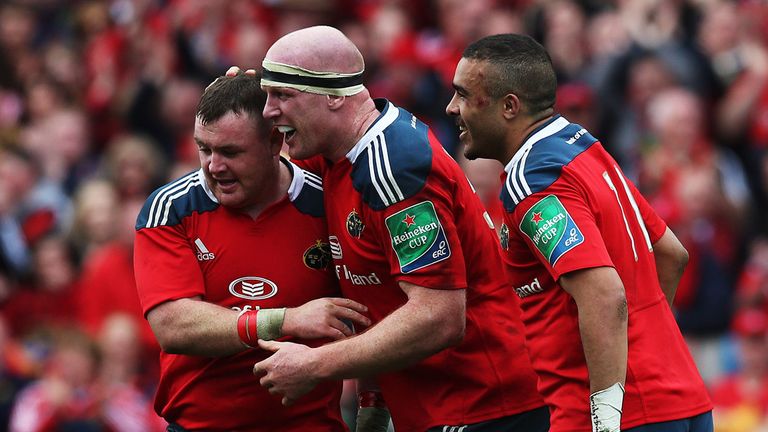 Team of the week: Munster
Irrespective if Toulouse turned up or not, Munster put in a controlled and collective performance to thoroughly deserve their win. The atmosphere was just brilliant and they performed very well - it was a privilege to be there. CJ Stander has had a disappointing year as far as selection goes but he came on for Peter O'Mahony and epitomised everything about Munster. The pressure was on them to perform and to score six tries against Toulouse in a semi-final is certainly laying down a marker - even if Toulouse were so poor. I thought Rob Penney prepared his team perfectly and the performance was outstanding.
Player of the week: Steffon Armitage
Everyone knows that he is one of my favourites and I still think England could do with a bit more competition in the backrow. If you give him the platform then he can wreak havoc at the breakdown and he carries so well too. Some don't think he is the fittest but I can assure you he is in superb condition and boy is he quick. I spoke to Philippe Saint-Andre about him recently and he said if Steffon Armitage was French he would be in the France squad - no doubt about it.
Try of the week: Paul O'Connell
Okay, so it wasn't the best try but I'm an old romantic and hearing the noise that erupted around Thomond Park when he went over for Munster's sixth try was incredible. I have never heared anything like it. I did not think that the ref wass going to give it at first because we were on the other side and were not sure O'Connell had grounded it but it was party time and the Guinness certainly overflowed!
Moment of the week: Jared Payne red-card
Firstly I am glad that Alex Goode is going to be okay as these things can really injure a player. Was it a red or was it yellow? Well you are not going to get people agreeing and it certainly played a huge part in deciding this game. In fact, from the moment he went off there was only going to be one winner. Huge credit has to go to Ulster for almost winning that with 14-men and I think if they had 15 men on the field they would have won that game. It is just devastating for them. Saracens really exploited the fact that they only had two players in the back three for two of their three tries. Perhaps it is time to relook at the laws and say that people cannot jump into the air when they are chasing balls - or the man defending the up nad under is the only one allowed to jump. It is such a grey area - Payne did look down at Goode but he was 30m away! I think it was definitely a yellow card and I think it's time we really address these laws because Ulster did not have a chance once that decision was made and it ruined what could have been a great contest.
Villain of the week Guy Noves
The man is a legend in France and his record speaks for itself. He has been in charge of Toulouse, one of the - if not the - greatest European club for over 1000 games. Unfortunately he seems to be losing the plot. He seems to be putting all his faith in size at the expense of conditioning and creativity. I am not sure how he prepared the side for their trip to Munster but it looked like they are solely concentrating on the Top 14. The size of their backrow was ridiculous and had no balance to it whatsoever. I really think he needs to take a look at his tactics. It just goes to show that if you have a well-conditioned and a well-balanced side like Munster had then you can take apart these big gigantic sides. Big is not always beautiful Mr Noves!