Furious majority shareholder Kelvin Bryon to pull money out of London Welsh
Kelvin Bryon has hit out at the RFU and Premier Rugby and confirmed he is withdrawing his money from London Welsh.
Last Updated: 14/04/13 12:19pm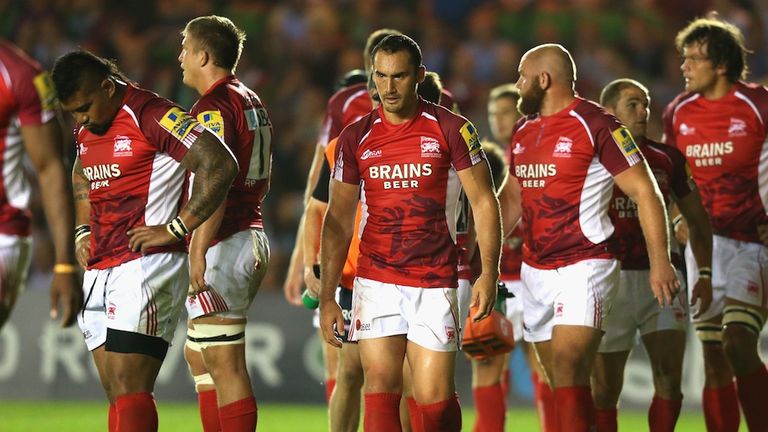 Bryon, who is the club's majority shareholder and saved them from liquidation in 2009, says he has had enough of professional rugby in the United Kingdom and slammed the way his club has been treated in what looks like being a one-season foray into the Aviva Premiership.
Welsh, who could be relegated as early as Sunday, were deducted five points earlier in the season for playing New Zealand scrum-half Tyson Keats in 10 Premiership games when he did not have the necessary working visa.
They appealed the decision, saying the club had been unwittingly defrauded by a member of staff, but that appeal was rejected and Bryon says it was the final straw in a losing battle he feels those in command did not want them to win.
"I'm pulling out, that's absolutely definite, and I've had enough of the RFU and PRL," he told the Rugby Paper. "I've had 20 years with London Welsh, one of the great rugby brands, but everything's been done to get us back out of the division.
"I've done a hell of a lot for of rugby but there's hardly a Welshman in the side, so what's the point? I think the EQP system is a restraint of trade but the RFU don't seem to worry that clubs like Saracens are South African owned.
"How could we have prospered when our funding is totally inadequate? If we'd had the £3.5m like everyone else we'd be flying, but we had to pick up players no one else wanted. I think they're breaking competition law in the way clubs are funded.
Bad administration
"Then we get fined £15,000. It wasn't bad administration, Mike Scott committed a criminal act, but we've had little support and to have (PRL chief executive) Mark McCafferty on that tribunal after PRL did everything to stop us going up beggared belief.
"The bottom line is the RFU and PRL don't want us there and if that's the situation, London Welsh will have to find a level they can play at. I won't be involved in rugby after the end of this season anywhere in the UK."
He fears relegation could be followed by further decline, with doubts over fresh investment and whether they will be able to continue their tenancy at Oxford United's Kassam Stadium.
Bryon added: "It's happened before and could happen again, but hopefully we'll stay at the Kassam and try to move forward.
"If they get new investors on the board, maybe they can take it back to the Premiership. But what is the point when the funding is so inadequate?"