Aviva Premiership: Rob Hunter pleased with Exeter Chiefs' ability to adapt to conditions
Forward coach Rob Hunter was pleased with Exeter's ability to adapt to conditions during win against Newcastle.
Last Updated: 21/12/13 10:22pm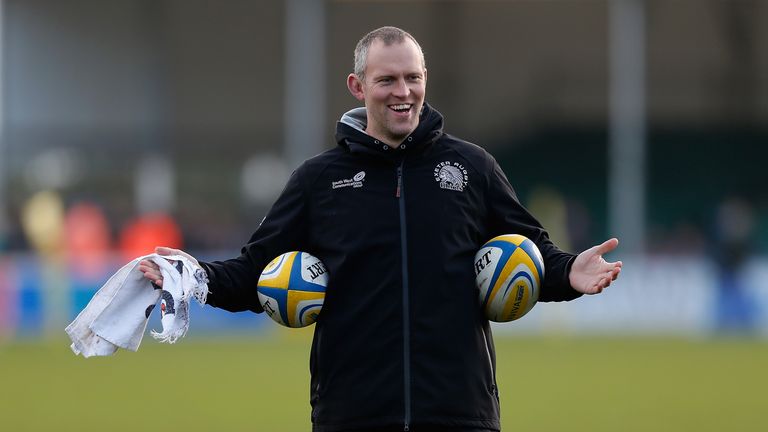 Hunter conceded that it was important success ahead of a busy festive period which brings games against Harlequins and Wasps.
"Ugly is probably the right word - but we have been playing pretty attractive rugby for four weeks and not got any wins," Hunter said.
"The wind was difficult when you were playing into it so you have to do what you can to win a match.
"We were just happy that there was no rain because we got a good balance, with the wind at our backs, with our kick and run. That is starting to creep into our game but we have to tidy up in some areas.
"Newcastle put a lot of heat on at the breakdown and they are a tough team so we had to keep discipline and keep breaking them down to eventually get the win.
"We have kept belief in our recent defeats and we have to continue that attitude.
"We are good at it, we create a lot of opportunities but we have to get better at taking those opportunities."
Hunter continued: "We have learnt a lot in the past couple of weeks in the Heineken Cup just as we did against Saracens and Bath in the league.
"We have a really good bunch of lads who are prepared to take those lessons and transfer them on to the pitch but sometimes it takes time.
"When you look at the age profile of these guys - we have a pretty bright future as these guys get better."
Exeter's points came from three Gareth Steenson penalties in the first half - and he added the conversion to scrum-half Hayden Thomas' second half try.
Hunter added: "It is nice to have Christmas Day when you have not lost at home so we have a couple of days to enjoy the fact that we are back where we can start looking upwards.
"This three-match period is absolutely crucial to the rest of the season because you have to be tough and get your points.
"We may be fifth in the table now but what counts is where you are in May. We have to keep looking up, keep focused on getting as far up the league as we can and keep focusing on those performances."
Struggle
This was the fourth Premiership defeat in a row for the Falcons where they have failed to score a try.
Director of rugby Dean Richards said: "As much as I'd complain about the touch judges and their inability to see some of the things, I would probably look at ourselves first of all and our execution of our first phase.
"Importantly our lineouts were poor and there is no hiding place in the Premiership - it is not the RaboDirect PRO12 or even the Top 14 or even the Championship - so if you don't sort your first phase out then you'll struggle.
"I thought our scrums were pretty strong, although a couple of decisions didn't go our way.
"Second half we didn't get our line-outs sorted and as a result we ended up losing.
"It was always on that we could come back but we needed to play in the right areas of the field. We found it difficult to get the ball and then play in the right areas.
"When you have a howling gale behind you that is what it is all about. They did well in the first half and we didn't do well in the second half.
"We gifted them their try - we should have cleared out line but didn't. It is those little things that make big things and took them clear.
"But the big thing for me was not getting our first phase right and execute things as well as we should have."