Aviva Premiership: Toby Booth - Referee was consistent during Bath's win over Worcester
Last Updated: 19/04/14 7:02pm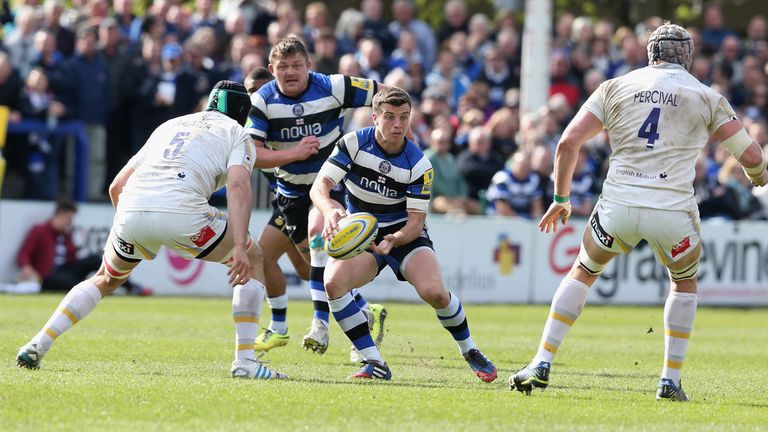 Bath first-team coach Toby Booth could afford to be philosophical about a bizarre yellow card handed out to George Ford after the fly-half returned to the action to earn a late bonus-point try for Matt Banahan against Worcester.
The 32-20 win lifted Bath into third place in the Aviva Premiership - above Leicester - but Ford's spell in the bin for a tackle on a briefly airborne David Lemi was one of the main talking points.
Worcester flanker Sam Betty had been sin-binned for a similarly innocuous challenge on Horacio Agulla.
Booth said: "To be fair to the referee, we've received a directive this week - there's been some clarification around contests in the air.
"The upshot of it is, unless two people are in the air contesting, irrespective of whether someone is looking at someone or not, if that collision occurs when one person is on the floor, that person is getting a minimum yellow card.
"If the player lands on his head, it'll be a red card. So the refs have got nowhere else to go. The referee was consistent - he did the same at the other end."
'Shambles'
Both yellow cards were a bit of a shambles. Neither were particularly dangerous in the way the lads came down. Let's just keep me away from that - and see what email we get next week!
Dean Ryan
Worcester coach Dean Ryan was reluctant to be drawn on the topic but said: "Both yellow cards were a bit of a shambles. Neither were particularly dangerous in the way the lads came down.
"Let's just keep me away from that - and see what email we get next week!"
On the game itself, which was in the balance right until Banahan's 77th-minute try, Booth said: "The important thing at this time of year - when you don't get any second chances - is that you find a way of winning.
"The good teams find a way and that's the encouraging thing. We found a way to get the extra point, which we believe may be significant in a couple of weeks' time.
"We're obviously pleased with the outcome, although there are many aspects of the performance that we are less than satisfied with.
"And you've got to give Worcester some credit, and after scoring 30-plus points at Exeter last week. They're playing for their lives and that brings special effort.
"We play Northampton at home next up. We'll take each game as it comes. Obviously it's mathematically possible for us to get a home play-off semi-final. You strive to get as far up the table as you can."
Ryan said: "We are disappointed not to get something out of it. We thought we had a bit of momentum behind us, but couldn't quite nail it down.
"I feel for the players, because they are working so hard. We're not a bad side. We haven't got the power of a Bath or Saracens or Leicester - you can see that.
"The scrum creaked a bit. But, in terms of what we are trying to do, we've got some lads working really hard and it's starting to come together.
"We've become a really good group. We've been under a lot of pressure for three or four months and we've played some pretty decent rugby under an awful amount of duress."
Relegation
On the unlikely prospect of escaping relegation, he added: "I don't know if we can do it. But we've got one more game before someone actually writes the headline.
"Ultimately my job is to get this club into a good space and go forward. I think everybody can see we are starting to turn the corner."
"I wish the season was another five weeks long - that's the first time I've ever said that in 20 years!
"We're really on the up. If we can do something next game, that's great. This club has made a massive marker and there are a load of lads coming next season who want to be part of it. I'm just enjoying being in the middle of it.
"I'm not going to allow people to get a cheap headline just by saying 'it's over'. It's not. We don't deserve it to be written off until our game at Saracens is over."