O'Driscoll still hungry for more
Brian O'Driscoll insists Leinster are intent on building a dynasty after they won a third Heineken Cup title in four years by beating Ulster.
Last Updated: 20/05/12 9:42am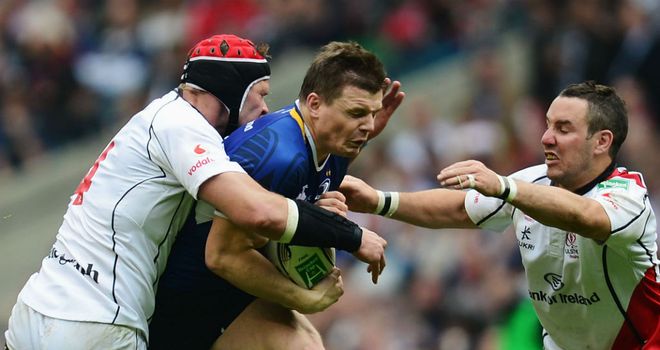 Brian O'Driscoll insists Leinster are intent on building a dynasty after they won a third Heineken Cup title in four years by beating Ulster.
The defending champions scored five tries on their way to an ultimately one-sided victory as Ulster succumbed to a 42-14 defeat - the biggest-ever margin in a Heineken Cup final.
O'Driscoll was thrilled with the success and admitted Leinster set themselves a target of becoming one of the greatest sides in European history after they won their first title in 2009.
He told Sky Sports 3 HD: "It will take a couple of days for it to properly to settle in but after we won one we talked about not being content with that and trying to create some sort of dynasty and something to be remembered by.
"We're going in the right direction towards doing that but I know this team will be hungry for more.
"That's why it's enjoyable, You're going in day-in and day-out because you know you're going to be pushed by the guy next to you. We played for one another out there and that really showed today.
Phenomenal
"The energy from all 23 was phenomenal, it shows where we are as a squad. I only came in for the knockout stages - for the important part - but the hard graft was put in during the group stages."
Man-of-the-match Sean O'Brien, who scored Leinster's first try, revealed the Irishmen are still looking to push on despite claiming back-to-back European titles.
"We've worked hard in the last 10 months and today was the day where we had to for go it and thankfully we got the win," he added.
"It's a strong squad and we really want to kick on. Every time we put on a blue shirt there's an energy around us.
"We trusted the team and we trusted the system. At times today there were lots of mistakes but winning is important and that's what we did today."
McLaughlin magnanimous
Ulster coach Brian McLaughlin, who tasted defeat in his last game in charge of the Irish province, admitted Leinster deserved the trophy.
"It was really only in the last 16 minutes that Leinster moved away as the game was very much in the balance," he said.
"We fought back hard and scored a nice try but in the last 10 minutes Leinster showed what a quality side they are and how much they deserved the trophy.
"I wouldn't do anything differently today at all. We knew it was always going to be difficult."
Hooker Rory Best said his squad must draw inspiration from the defeat.
"It was heartbreaking watching Leinster lift the trophy but that is what you learn from," Best said. "You have to watch that and that has to drive you for next year.
"Defeats like this and watching Leinster lift the trophy has to be in our minds now for the next 12 months. We have to be aiming to be in the Aviva next year (for the final).
"We can't pat ourselves on the back for being in the Heineken Cup final when four years ago you thought you were never going to get out of the group.
"You have to be looking to win this trophy."