Threat to Heineken future
English and French clubs have threatened to withdraw from the Heineken Cup over what is seen as an unfair advantage for Celtic sides.
Last Updated: 23/08/12 8:56am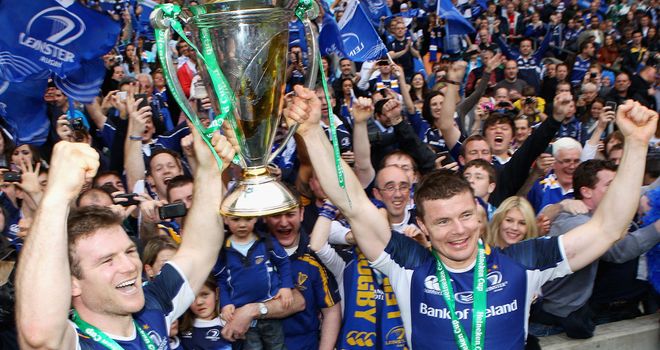 English and French clubs have threatened to withdraw from the Heineken Cup over what is seen as an unfair advantage for Celtic sides.
Leinster and Munster have won five of the last seven Heineken Cups between them, and their rivals in England and France believe that is partly a result of a qualification system that allows them to rest their players during the RaboDirect Pro12 season.
Premiership chief Mark McCafferty told the Guardian that the qualification process also requires a radical overhaul.
"Most of the Ireland squad will not be released for the Pro12 until rounds three or four, something they could not do if they depended on their finishing position in the league for European qualification," he said.
"The clubs in England and France have served two years' notice that we intend to pull out of Europe because there needs to be a level playing field.
"So far, the response from the other countries has been slow, even though we are not sabre-rattling. We have not been locked in talks and there is no meeting about the issue until the end of next month.
"Our view is that the qualification process needs to be changed so that it is entirely merit-based - the top teams in all three leagues as well as the winners of the Heineken Cup and the Amlin Challenge Cup should make up 20 sides taking part."
Qualification
The English and French sides believe no more than six Pro12 teams should qualify, although that would put at risk the involvement of Scottish and Italian sides who currently qualify automatically.
"I think those countries have effectively made that decision by forming the Pro12," McCafferty added.
"It is like me saying that the Premiership has to provide a qualifier from the south-west. It cannot be good for the competition that you do not have the best sides qualifying.
"Aironi were disbanded at the end of the last season and the newly-formed Zebres go straight into the Heineken Cup."
ERC has planned talks for September on the issue.
"We have held meetings with all our shareholders and asked them to draw up proposals which will be considered at next month's meeting," said a spokesman.
"Notice was served by the French and English clubs and the French Rugby Federation at the beginning of June and it was agreed at a board meeting a few days afterwards that we would have a workshop in September after holding briefings with everyone.
"We do not want to enter a war of words with Premiership Rugby, but we have been working away in the background and we are in the second phase of the consultation process."