Anglo-French threat dismays ERC
ERC are "dismayed and frustrated" at the threat issued by English and French clubs that they could quit European competition.
Last Updated: 23/08/12 5:30pm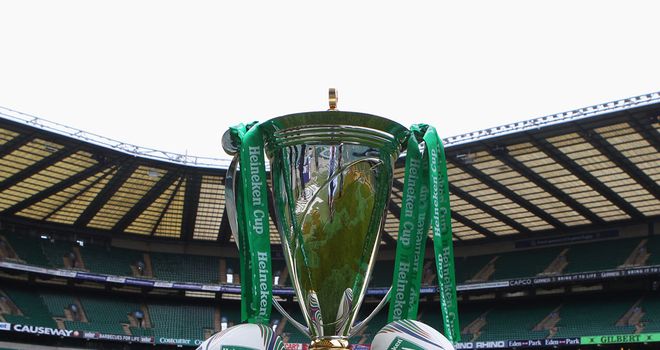 ERC (European Rugby Competition) are "dismayed and frustrated" at the threat issued by English and French clubs that they will quit European competition unless structural changes are made.
Premiership Rugby chief executive Mark McCafferty insists teams from the RaboDirect Pro12 are given a significant advantage in the Heineken Cup due to the method of qualification.
Between them Leinster and Munster have lifted five of the last seven titles, with Leinster winning three of the last four.
Since 2006 the only interruption to Irish dominance has come from Wasps in 2007 and Toulouse in 2010.
"ERC should know that we are serious. If it's not resolved, we would go to an Anglo-French competition," McCafferty told the Guardian.
McCafferty also complained at what he viewed as slow progress in resolving the issue.
Dismayed
ERC have responded by stating chairman Jean-Pierre Lux and chief executive Derek McGrath have spent the summer seeking proposals from stakeholders that will be tabled at the next meeting in Dublin on September 18.
They stress that the English and French clubs consented to the existing accord, agreed in 2007 and which has two more seasons to run.
The effective deadline for a new agreement is 2014 when the current accord expires, providing a potential two-year window for the posturing and brinkmanship to continue.
"We are dismayed and frustrated at the position that has been taken by Premier Rugby," ERC spokesman Mark Jones said.
"This is a process that is laid down as part of the accord agreed in 2007. It's not a bolt out of the blue.
"The current qualification process was agreed by ERC's shareholders as part of the 2007 accord. This current process is expected and the way it should be.
"We welcome a full review of the tournament and we believe that at the end of the consultation process, European rugby will emerge stronger.
"All of our shareholders have said they want to see European rugby thrive and have agreed this consultation process. Our meeting on September 18 in Dublin is the second step in the process."