Heineken Cup views
See what the Sky Sports experts had to say after round four of the Heineken Cup...
Last Updated: 17/12/12 2:07pm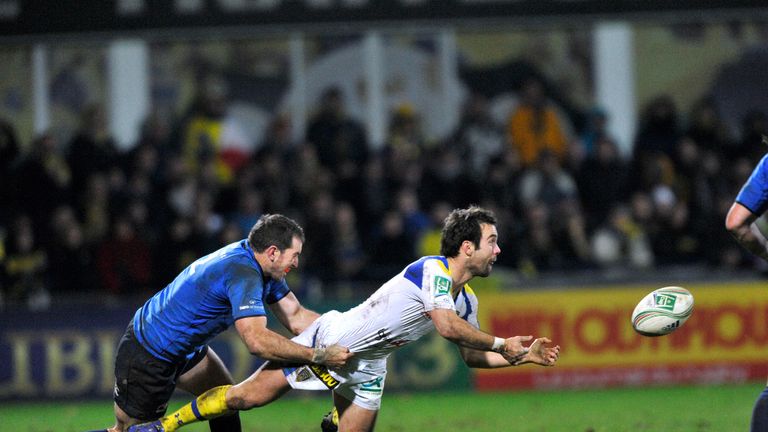 Will Greenwood, Stuart Barnes and a Brian O'Driscoll on Clermont's 28-21 win over Leinster
Greenwood: "Rugby is about getting inside shoulders, getting half yards. Leinster in attack most of the occasion found themselves chest on against big and strong Frenchmen. Time and again it was not necessary the power of Clermont's forwards, it was Sivivatu, it was Fofana, it was Nalaga just finding those little half gaps that helped them build momentum. Clermont are a very dangerous beast in this year's tournament but there are other sides in it like Toulon, Harlequins and Ulster who also might be going through unbeaten."
O'Driscoll: "Clermont controlled things extremely well and the power of their back line was huge. The forwards set the platform for them and their backs continually got over the gain line. We (Leinster) are barely alive but there is still an outside possibility we can qualify. We gave away possibly three bad penalties and that is the difference in the scoreline in the end. That is the frustrating thing, knowing that we talked about it. But we still have round five and six to come and we are still in this tournament - just."
Barnes: "Clermont put in an accomplished performance - to date they look like the most likely winners of this competition. This was polish, this was power and this was pace. Clermont made a massive statement today by beating Leinster at Landsdowne Road."
Dewi Morris and Dean Ryan on Northampton's 10-9 win over Ulster
Morris: "So sweet for Northampton, nobody gave them a cat's chance to come to Ravenhill and beat Ulster after what happened at Franklin's Gardens last week. They have obviously been beasted all week by Dorian West and Jim Mallinder and knew what they had to do."
Ryan: "The Heineken Cup is about response. It is not about going clean sweep all the way through. Ulster were 13 wins out of 13 going into that game and Saints bump them. Where do they go from here? They get a little bit of respite but they have some tough Christmas fixtures in the Rabo. They also have Johann Muller out for six weeks and Tommy Bowe out too - they have got to freshen up that squad. We saw Gilroy come on in the tail end of that game and he is real energy."
Will Greenwood and Tyrone Howe on Ospreys 17-6 win over Toulouse
Greenwood: "I thought Ospreys were wonderful today and it was a wonderful finish from Eli Walker. You start thinking of the implications for second place in the pool - I don't think Ospreys can escape from here but it will make a fascinating sub-plot for the next fixtures."
Howe: "Walker's try was a combination of great feet and great pace. Walker and Dan Biggars boot was the difference in this game, and to stop Toulouse from getting a losing bonus point could be huge."
Dean Ryan, Ieuan Evans and Alan Quinlan on Saracens 19-13 win over Munster
Ryan:"It was a tasty double-header over seven days - for 50 minutes Saracens had real control and were throwing everything at them but never getting a huge amount of return. The last 20 minutes it dropped out to a straight chess match and they were in danger of Ronan O'Gara running a master-class in hitting corners, but De Kock and Farrell just held their heads."
Evans: "For me the difference this week and last week is that the set-piece worked for Sarries - that allowed them to play in the right areas of the field. We did have a kicking master-class from O'Gara in that second half which brought Munster right back into the game. There was enough composure from Saracens off the back of that set-piece to relieve that pressure. It was a big win for Saracens."
Quinlan: "It is about that front foot ball that Saracens had which made them more clinical this week. Munster did not have that and had to work so much harder to get over the gain line and retain possession."
Alan Quinlan, Dean Ryan and Ieuan Evans on standout performances
Evans: "Clermont. To go to the Aviva Stadium and win is a huge performance. Not underestimating that home victory from last weekend that really helped their confidence. To get back-to-back wins against the defending champions is a huge step for them. They have a formidable side and are blessed with power and also have some skills behind that power. They for me have set the bench mark."
Ryan: "The French are coming and they are coming with big power - Toulon are riding under the radar, they are a huge side, Clermont's power was obvious against Leinster. We also know that there is Montpellier and Castres sort of lurking there. They are all in the mix. Leinster were the one side who we thought could go to France in a quarter-final and do something but their backs are right up against the wall. Shining lights are Leicester on pedigree but not on performance - their crucial game against Toulouse will dictate that group."
Quinlan: "What stood out for me this weekend was four Irish provinces and four losses. We have not seen that too often. I know what they say about the French teams but to me Harlequins are a team who could do something too I know it is not the strongest group but it looks like they will have a home quarter-final. They are a good side and could be a real threat."