Heineken Cup views
See what the Sky Sports experts had to say about some of the latest Heineken Cup matches...
Last Updated: 13/01/13 7:08pm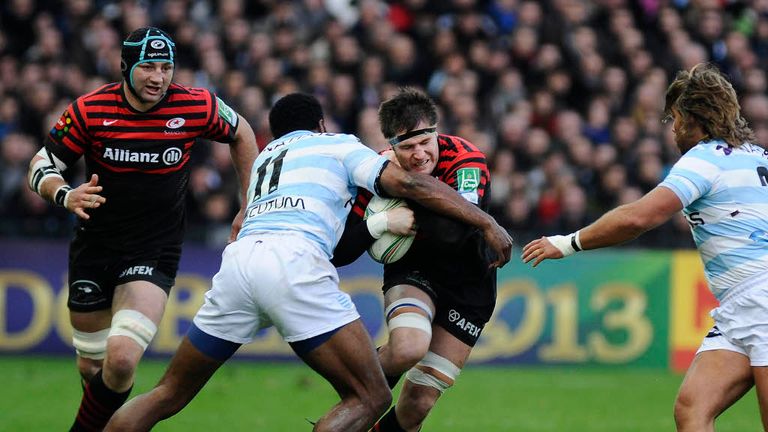 Dean Ryan and Scott Quinnell on Leicester's 16-16 draw with Ospreys
Ryan:"Kahn Fotuali'i was the standout individual - he's operating at a different pace to everybody else. For 40 minutes it was all Ospreys, it was a really high tempo, and he was able to pull the strings. Ben Youngs was disappointed with the draw but that was an outstanding performance from Leicester because Ospreys were outstanding as well and they just hung in there when there were a few points at which it could have slipped. Leicester rebuilt and came back."
Quinnell: "That's not a bad result for Leicester. They know now that if they win next week they go through and that's the most important thing. For preparation for next week against Toulouse that was wonderful. They'll be sore for two, three, four days but they'll look back and think we got out of jail, in some respects. They scored two good tries and now it will all be on next weekend."
Alan Quinlan and Scott Quinnell on Munster's 26-17 win at Edinburgh
Quinlan: "I think Munster will be deflated by that performance, especially with Edinburgh getting a couple of tries in the second half. They would have wanted to have got the bonus point - it's an opportunity lost. Now they have it all to do to go for the bonus point next week. Leinster will be pleased, Montpellier will be pleased. Edinburgh put it up to them but they were lacking that killer punch, made mistakes, lost a few line outs and there was some bad decision making. It was much improved from last week in the Rabo, but I think they'll be disappointed."
Quinnell: "Munster will be disappointed to lose those two tries late on and not to be able to push on themselves. They're lacking a bit of energy and desire to come together and say 'we've got two tries, we've got 18 minutes to go, let's go for the two tries which are crucial for us'."
Scott Quinnell on Harlequins' 47-8 win over Connacht
"I thought Quins were superb again. They put in a very professional performance. People were asking whether their win in the Aviva last year was a one-off and could they back it up again this year? Well, they've got five from five, 24 points and sitting pretty for a home semi-final. It was a wonderful win for them."
Paul Wallace and Will Greenwood on Leinster's 33-14 win over Scarlets
Wallace: "I think Leinster might rue that second half. They got that fourth bonus-point try and everything was going too well - I don't think they thought outside the box enough; they just picked and went. Their game management was poor - everytime they got a set-piece in the opposition half, as we saw from the last try, if they had just kicked and got themselves field position you think they'd have got another few tries. It could be between them and Munster for that runners-up place - maybe Montpellier as well - but they only have eight tries going to Exeter and they may be ruing the fact they haven't got more."
Greenwood: "Leinster got the five points and we mustn't underestimate that in terms of this group and what's going on around them. We often imagine what's going to happen in Round 6 but something always comes up. They go to Exeter and can focus on getting five points there. It's not inconceivable 19 points might be enough, 20 points you've got half a decent chance - there's a lot of rugby to be played. Leinster have done as much as they can at this stage to give themselves a fighting chance."
Dean Ryan on the power of Clermont and Toulon
"Clermont have made Pool 5, which at the beginning was talked about as a group of death, look pretty lightweight. They've marched through Exeter in both games. Them and Toulon are the two dangers for anybody else. You've got to avoid Clermont and Toulon because they are not places you want to go.
Paul Wallace on Saracens' 37-28 victory over Racing Metro
"Racing were quite brilliant in some of their play in the first half and scored some great tries, but they didn't really play as a team but as a bunch of individuals. Saracens are a team and they were riding the punches. Up front, when you look at that Racing pack, there are a lot of big, heavy players. Saracens had the fitness and looked fresher at the end of the first half. It was a mixture of confidence, discipline and work rate. It just shows you that a team can play individually better than you, but if you play as a team and stick together, as Saracens did, you can go the whole way and beat a team who looked like they were going to run away with it at one stage."
Paul Wallace on Ulster's 23-6 win over Glasgow
"It was a cold, wet night at Ravenhill against a gritty Glasgow side that tends to thrive in those conditions and who are very well led by Alastair Kellock. But the Ulster scrum was very professional about the way they went about their job, putting pressure on. The first quarter in the second half people were very nervous at Ravenhill but, as what so often happens with 20 minutes to go, Paul Marshall came on and that coincided with a very good spell by Ulster where they closed out the game. Marshall just gave them that little bit of spark, along with some big ball carrying by Nick Williams early on. Ulster will be happy to get the result at this stage, but full credit to Glasgow who really went at them."
Ieuan Evans on Northampton's 18-12 win over Castres
"Northampton were very physical in the first half - Courtney Lawes was outstanding, Samu Manoa as well. They weren't quite firing on all cyliniders behind the scrum, because they had a lot of ball in the first half but didn't quite make the most of it. But they'll be thrilled with the win - it gives them a chance. 19 points might not be enough to qualify but at least they've given themselves a fighting chance. Castres picked a very strong side and were taking it seriously so - despite a few errors - it was a very physical and competent performance from Saints."