IRB chief Brett Gosper hails new European deal for the Champions Cup
The European peace deal averted a crisis that could have damaged professional rugby's world image, says IRB boss.
Last Updated: 16/04/14 7:17pm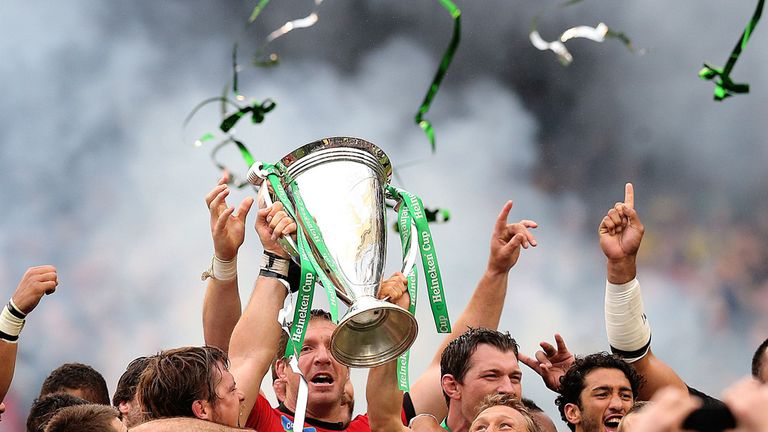 The Champions Cup will replace the Heineken Cup next season and Premiership Rugby believes the eight-year tournament deal could ratchet revenue by as much as 70 per cent as Europe's top clubs seek to emulate football's Champions League growth model.
IRB chief executive Gosper said the new European tournament accord must usher in a "long period of harmony" to allow rugby to take advantage of a host of new commercial opportunities.
"What you don't want is that to blow up into something that's bad for the game in general. That risked happening this time, but as it turns out we've got agreement and long may it last. Of course you hope that we're in for a long period of harmony and constructive coexistence," Gosper said.
"There will always be some frictions between the club game and the game at international and union level.
"There's a very crowded calendar, the players play for both constituencies, so there's always going to be a little bit of friction and tug-of-war around the edges.
"Hopefully everyone can move on now. It's a long-term deal and hopefully we will see the benefits of this in terms of money coming into the game and spectator experience in a wonderful tournament across Europe."
The European revolution will see the addition of a third-tier club tournament for the first time next season, the Qualifying Competition allowing teams from lower-ranked leagues entry into the second-tier Challenge Cup.
Gosper said part of the IRB's late involvement in the European wrangles was to ensure methods of growing the game outside traditional heartlands, with the Qualifying Competition clear fruition.
Potential
"That is something that we were involved in, in terms of the discussions, to ensure that third level would be present," he said.
"It's a great thing, it's broadening the base potentially of professional rugby, which is great.
"We're pleased there's been an agreement and an outcome, we're pleased that in that process we'd managed through our unions to protect the IRB regulations. So player windows and international releases are being protected."
Mastercard has been confirmed at the sixth and final global partner for Rugby World Cup 2015, with Gosper predicting a record-breaking tournament in England next year.
England head coach Stuart Lancaster has impressed as much in rebuilding national pride and team spirit as he has boosting results.
Lancaster is at constant pains to link his squad to both their history and grassroots, delving into the archives to unearth past players with similar stories to their modern counterparts.
Gosper said the former Leeds coach had proved himself an "exemplary" ambassador for the game.
"He's a great ambassador for the game, there's no question," said Gosper. "Obviously we're neutral at the IRB so we're not going to push one ahead of any other.
"But he's clearly a genuinely strong leader for the England outfit, he's a great ambassador for the sport, the values he conveys to his team, to the general public and the RFU are exemplary, so we think he's a great element of the game.
"He's got to go and win a World Cup now, though. It's not just about being a great ambassador for him, though, I'm sure he's very focused on the World Cup and good luck to him for that."
Gosper said Mastercard's partnership for Rugby World Cup 2015 indicated the tournament should break previous records.
"We have all of our global partner slots filled in record time, which I think is a good indicator of rugby's general health globally," he said.
"Very definitely it will be we think a record-breaking tournament on many criteria, whether commercial, crowds, we think it's on track for that."