Heineken Cup: Toulon's Carl Hayman thinks final with Saracens can be a classic
Toulon's Carl Hayman is building Saturday's Heineken Cup final as a possible "classic".
Last Updated: 21/05/14 6:09pm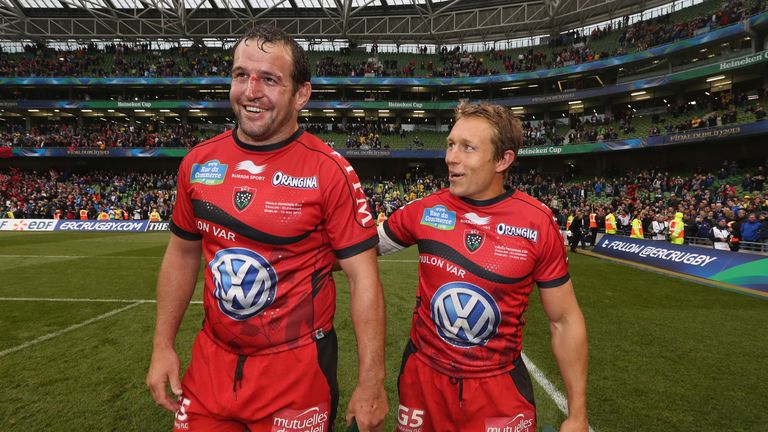 The former All-Blacks prop is also looking forward to the Top 14 final against Castres on May 31 where he will be hoping to add more silverware to his collection.
The 34-year-old believes the game at Cardiff will be a hard-fought match, despite beating Sarries by 12 points in last year's semi-final.
"It's turning out to be a cracker of a match with the two teams that are top of their table," said Hayman.
"We've both been the most consistent teams over the last 10 months and I hope it will be a classic final.
"I hope it's a match of great quality and, hopefully, it will bring out the best in the players.
High quality
"The competitiveness of the competition is attractive to overseas players - there's no competition like it in the world. If you look at all the quarter finalists in this year's tournament, any one of the teams could have won it, so to have that quality of teams makes for a high-quality competition."
Hayman joined Newcastle in 2007, playing two seasons with alongside an injury-stricken Jonny Wilkinson. The England fly-half then left Newcastle for Toulon in 2009, followed by Hayman a year later.
And Hayman was full of praise for his team-mate who has now announced his retirement and is excited to be featuring in his final game.
"Jonny Wilkinson's contribution to the game has been enormous. To be around for as long as he has and to play at the top level and achieve what he has achieved... players like that don't come around very often," added Hayman.
"It was hard to see him playing on this late in his career with the injury problems he had. He worked hard to sort them out and he's had quite a good run of staying injury free down here in Toulon.
"Other people might have stopped after the horrible run of injuries but it's a testament to his character that he played on. He's a mentally tough guy, he managed to hang in there, sort his body out and comeback and have four great years at Toulon.
"Now that he's announced that he's finishing, it will be a big loss to the game, but eventually, everyone will have to move on.
"We've got two big finals to come and it's a fitting way to bow out of professional rugby so we'll be giving it everything on his behalf and hopefully we can send him out in some sort of style."
Watch Toulon v Saracens in the Heineken Cup final on Saturday live on Sky Sports 2 HD from 4pm