Heineken Cup: Juan Martin Fernandez Lobbe backs Jonny Wilkinson retirement decision
Juan Martin Fernandez Lobbe does not feel there is any point trying to get Jonny Wilkinson to play on.
Last Updated: 25/05/14 2:01pm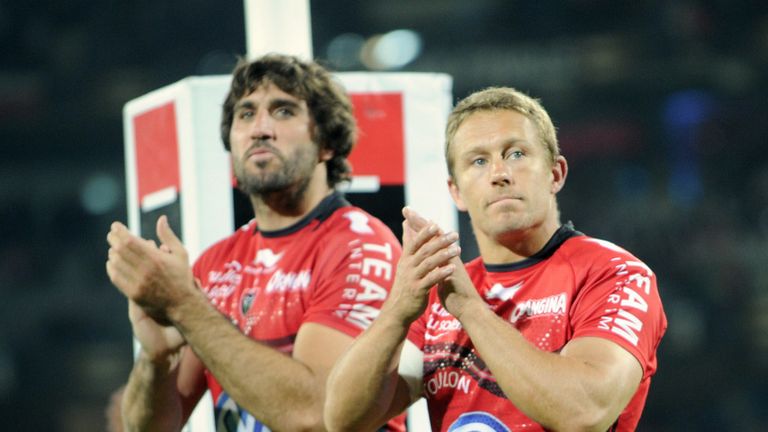 Wilkinson captained Toulon to a second straight Heineken Cup title in Saturday's 23-6 win over Saracens and will play his final game next weekend in the Top 14 final against Castres in Paris.
There was talk the club would try to change Wilkinson's mind about retiring, to try and go for an unprecedented third title but the Argentina flanker says that would not be right.
"Jonny's not someone that will take a decision lightly, if he decides it's the moment to retire, it's definitely the moment to do it," said Lobbe.
"He knows what he's doing; he always knows what he's doing. We can't try to make him change his mind, and certainly not for any records or anything like that.
"He always plans every move of his life, for the benefit of the team. So if he decides it's the moment to get out, it's because he thinks it's the best thing for the team.
"So we'll always respect and honour that."
Lobbe has enjoyed a glittering career with club and country but he says Wilkinson should be looked at as a class apart from most of the players he has teamed up with.
"I'm just glad that I had the chance to play with him, at least a minute of
rugby, he's an amazing guy," he added.
Deserves everything
"Honestly he deserves whatever comes to him. He deserves everything, and I could talk about him for 100 hours and we could keep finding stuff that he's done for everyone.
"Spend a week with us in Toulon and you see the amount of work he does for the other players, the amount of time we're chasing and practising kick-offs with him.
"I will never forget that: how he tried to help me improve as a player, I'm just grateful. In 30 years when I see Jonny, we'll have a good laugh together.
"If anyone needs an example of how to behave as a sportsman, whatever the sport, just pick Jonny. You need to work hard, and put the body on the line for your team, there's nothing bigger than the team.
"And he's the greatest example of that, ever: the greatest example. You believe that rugby has to be like that, and then sometimes you think okay, you can give some special players a concession.
"But no, there's no way talking like that if you don't walk the walk. If you don't work hard, whoever you are, you will crash straight into a wall."