Steffon Armitage deserves England return, says Bryan Habana
England should make exception to overseas-based player policy for Steffon Armitage, says team-mate Bryan Habana.
Last Updated: 25/05/14 4:06pm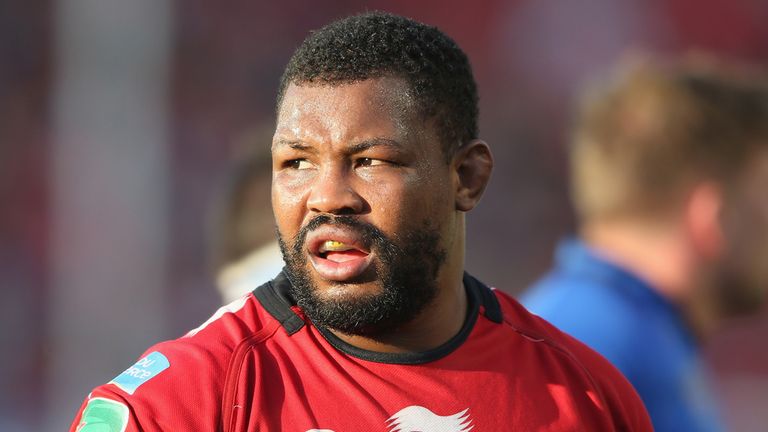 The Rugby Football Union (RFU) brought in the rule to incentivise elite players to remain in England, where a deal reached with the Premiership clubs means national head coach Stuart Lancaster knows he has guaranteed preparation time with his squad.
Armitage has won rave reviews for his displays for the back-to-back Heineken Cup winners but has been out of the picture as far as England is concerned since he won the last of his five England caps in 2010 when he played for London Irish.
"Steff has really been phenomenal, and it is sad that because of where he plays he is not going to go on and achieve high honours," said Habana, who won the World Cup with South Africa in 2007.
"He gets vital turnovers that get the scoreboard ticking - three, six, nine points - and our team thrives on that. He is a crucial part of the team.
"He has put his hand up this whole season. People write him off at their own peril. He has been absolutely wonderful: he can dominate games."
But Habana said he could understand the reasons for the RFU's hardline stance on the issue.
"As a player, you understand the commitments the countries need to grow their own game and you understand their logic. You respect the decisions made by the administrators.
Great team man
"The decision is out of our hands, but I think a guy like Steffon, with the season he has had, probably deserves to be playing international rugby. He is a great team man."
Lancaster recently met with 28-year-old Armitage - who was man of the match in Toulon's 23-6 win over Saracens in the Heineken Cup final - but there has been no indication of any softening of the RFU position, despite the calls for an exception to be made.
It appears unlikely, though, that the 28-year-old flanker will be involved in next month's demanding three-Test series against world champions New Zealand.
Habana joined in the universal praise for legendary ex-England fly-half Jonny Wilkinson, who bowed out of European rugby with a second Heineken Cup winner's medal ahead of next week's Top 14 final against Castres, which will be his final ever game.
"Jonny is a once-in-a-career, once-in-a-lifetime player," said Habana.
"You look at sporting greats, and he will probably rank up there with some of the greats in any formula of athletic ability.
"I don't think he will ever be able to be replaced. There is only going to be one Jonny Wilkinson, only one guy who has achieved what he has.
"We are going to miss Jonny, what he brings to the team, what he brings to the whole environment. How he lifts the whole team and whole city is something immense."