Robshaw reveals England woe
Chris Robshaw admits that he was dejected after being left out of the World Cup but feels he has now found the perfect response.
Last Updated: 20/12/11 4:45pm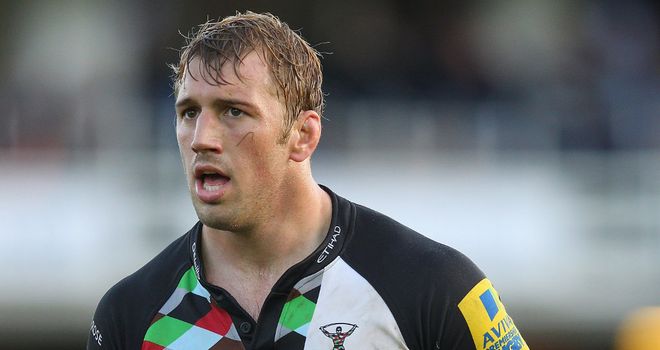 Harlequins captain Chris Robshaw admits that he was left dejected after being omitted from England's World Cup squad but feels he has managed to respond in the best possible way.
Robshaw has led Quins to the Aviva Premiership summit following 10 straight league wins and also was at the forefront of an historic victory over Harlequins in the Heineken Cup on Sunday.
The flanker is now firmly in line to add to his current tally of one England cap during the RBS Six Nations, with some even suggesting that he should come straight into the side as captain.
The 25-year-old impressed many during England's pre-World Cup training camp but did not make Martin Johnson's final 30-man cut, a decision that initially left Robshaw drained of motivation.
"It was very frustrating. You have your dark moments and your sulks. When I sulk I keep myself to myself, eat a lot of junk food and don't really do too much," he said.
"I would have loved to go to New Zealand. It shows people care when they show their emotion.
"But you have to get back on the horse. All the guys here (at Harlequins) gave me stick for missing pre-season with them.
Response
"They got me straight back into it and we had the best response possible, going 10 games unbeaten in the league."
Harlequins' victory in Toulouse, which kept their Heineken Cup campaign alive, came just nine days after they had suffered their first defeat of the season at the hands of the French giants.
"It was incredible. It was a very proud day for myself. Everyone did their part and that is what made the whole team function," Robshaw said of the win.
Robshaw feels he has grown into the leadership responsibilities and is keen to instil Quins' own values and philosophies in the rest of the squad.
He said: "You all have to buy into it as a team.
"Sometimes you have to make a hard decision and that comes with being a captain. Sometimes you might not be liked but you do it because you think it is for the best of the team. Hopefully we are going in the right direction."
He added of the England captaincy: "It is pretty surreal, to be honest. It is very flattering. I need to get into the team first and hopefully that will happen."