Farrell reveals coaching U-turn
Andy Farrell has revealed the emotional turmoil he went through before finally a full-time coaching role with England.
Last Updated: 26/09/12 10:00pm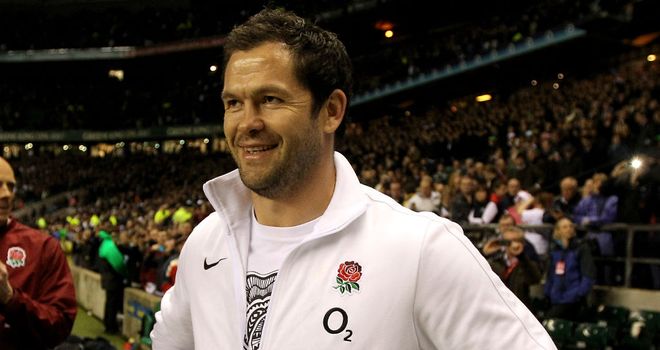 Andy Farrell has revealed the emotional turmoil he went through before finally a full-time coaching role with England.
Farrell made an immediate impact when he was seconded from Saracens to work with England during the 2012 RBS Six Nations campaign, but he initially turned down the offer of a full-time role.
It was a decision rooted in loyalty to his club and, with Saracens in the grip of an Aviva Premiership title defence, Farrell had little time to reflect on it until the end of the season.
When he found that time on holiday, Farrell thought back to England's landmark victory over France in Paris and forward to what he believes they could achieve at the 2015 Rugby World Cup.
Special
"We had a great time when I was doing the interim job. I wanted to be involved (with England) but the dilemma was so great," Farrell said.
"The hardest point at that time was the emotional connection, at a cut-throat time in the season, with a club that has been so good to you.
"Ultimately, you don't want to let people down. At the back of your mind you have the chance to go on this journey with the national side, working with the cream of the country against the best in the world and at the start of something special.
"I suppose I was toying it over the whole time. (The moment of clarity) came about two weeks after the season finished, when everyone had gone their separate ways.
"I had been on holiday. I was able to reflect and it became a lot clearer.
"I still think about Paris and the Welsh game, the atmosphere. It doesn't get much better in top-line sport than those occasions.
"We believe that there are many more of those to come and that's what we want to be involved in."
Once 37-year-old Farrell decided he wanted to be part of the England set-up at a home World Cup, the feelings of uncertainty that had dogged him for months were replaced immediately by the fear he had blown his chance.
Stuart Lancaster had recruited Mike Catt to fill Farrell's role on the coaching staff for England's three-Test tour of South Africa.
"It was a bit weird seeing the boys go off to South Africa," Farrell said.
"You never know (if you have missed your chance), do you? Everybody wants to coach the national side.
"I wanted to be there with a walkie-talkie shouting messages."
Farrell resigned from Saracens shortly after England departed on tour and he was in South Africa for the first Test defeat, although he watched it from his hotel room.
Intensity
The dual international then flew down to Australia to visit eight rugby league, rugby union and Aussie Rules clubs on a mission to further his coaching education.
"One of the reasons I wanted to take the job was that it does allow me to get better as a coach," Farrell said.
"It is a very hard long season being a Premiership coach. You never get that much time for your own individual development.
"This job, if I wanted to go and see Sir Alex Ferguson next week and find out how he really gets down to the nitty-gritty of coaching I can do that.
"While everyone was out in South Africa, I went to Australia for a couple of weeks. It is the first time I have been able to do some personal development in my time as a coach.
"We can learn a lot from cricket, from cycling, from hockey, all these sports can be a benefit to us."
England, who returned from South Africa with two defeats and a draw, are just over a month away from the QBE autumn series in which they have matches against Fiji, Australia, South Africa and world champions New Zealand.
"The courage, the fight, the intensity was there for all to see in the (drawn) last Test," Farrell said.
"That's what the nation really saw and jumped on board with during the Six Nations. It clearly defines where we need to go next.
"The next step for us as a group is the fine detail, the extra one-percenters."