Coach Declan Kidney has plenty to think about after Ireland's 53-0 rout of Fiji
Ireland's 53-0 win over Fiji has left coach Declan Kidney with some interesting selection decisions ahead.
Last Updated: 17/11/12 9:22pm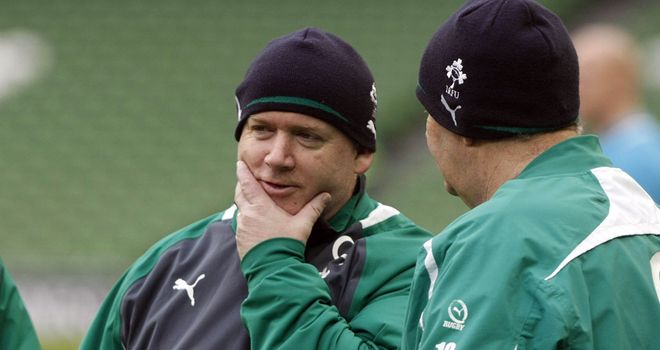 A young Ireland team crushed the tourists 53-0 with Craig Gilroy scoring a hat-trick of tries and Fergus McFadden weighing in with a couple.
Debutant Gilroy capped his first senior start for his country by galloping 80 metres for a score late in the second-half, putting himself in with a chance of facing Argentina next weekend.
"Overall, the first half went okay," Kidney said. "The third quarter definitely died a lot and we'll have to take a good look at that because that was the section last week (against South Africa) that cost us.
"We finished strongly but the thing that pleased me most was the defence. Even though we were points ahead we defended stoically.
"There were a lot of young men out there having their first go and I think it would be wrong to single any one player out.
"There was a fair bit of finishing from some of the backs but there was good work done by the forwards too.
"Craig (Gilroy) seemed to enjoy it. I'm sure Fergus (McFadden) will remind him that he was in the scrum that led to one of his tries.
"It was a good team effort and the wingers, well it's their job to finish the chances when they come to them. Fair play to him, he took his chances when they came his way.
"Samoa's win makes it clearer that we have to get a win next week to stay in that top-eight position. It will be all to play for. We had good support here tonight and hopefully we'll get it again next week because we are going to need it against a tough Argentinian side."