Kelly Brown wants Scotland to stand up and fight from the off against Tonga
Skipper Kelly Brown wants Scotland to stand up and fight from the first whistle against Tonga next weekend.
Last Updated: 19/11/12 11:00am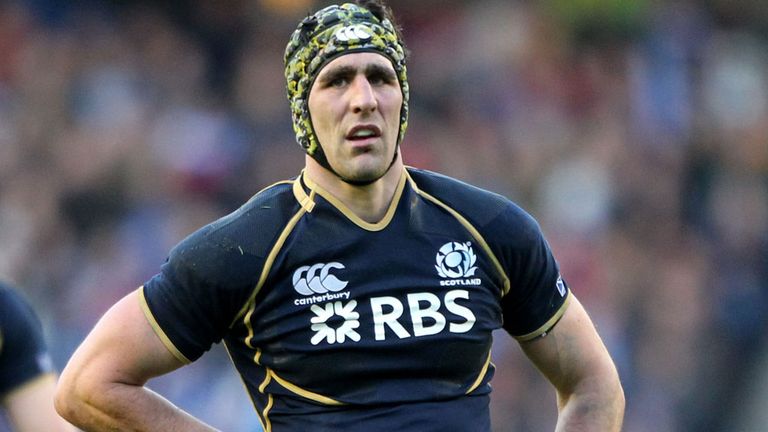 Scotland were staring at a heavy defeat against South Africa on Saturday after falling 21-3 behind in the 46th minute at Murrayfield following a second try for Adrian Strauss.
But replacement scrum-half Henry Pyrgos crossed in the 51st minute and the try prompted a complete transformation in the momentum of the game, with Scotland putting the tourists under relentless pressure for the remaining half-hour.
But some desperate defending, crucial decisions from Irish referee George Clancy and poor decision-making meant the score stayed at 21-10.
Brown now wants Scotland to get fired into Tonga from the off next weekend.
He said: "The last 30 minutes it was either a case of lie down and die or stand up and fight, and I thought we stood up and fought.
"As a captain I want a side that is going to stand up and fight but next week we need to do that from the first whistle.
"We need to learn our lessons and next week it's about really getting fired into Tonga."
Root cause
Brown agreed with head coach Andy Robinson that conceding too many penalties was the root cause of Scotland's first-half troubles against South Africa.
"We needed to get our physicality right and we needed to be very disciplined," Brown said.
"And I felt in the first half we weren't and our energy was a little bit down."
The defeat - on the back of last Sunday's 51-22 loss to New Zealand - means Scotland are all-but certain to be among the third seeds in the draw for the 2015 World Cup, which takes place on December 3, after failing to break into the top eight in the rankings.
Robinson admitted their failure to produce a consistent display so far this month had cost them.
"If you look at the sums, it puts us in a difficult position," he said. "There is a long time to go. You just look at what group you have and then you build from that.
"There is still one game for us to go and that's what we will focus on. You deal in the here and now and how we move forward.
"The one thing we will take out these two games, I think we have shown that we can perform against the two very best teams. What it has also shown is that if you don't do it for 80 minutes, they will score points against you.
"South Africa gave us a masterclass of how to dominate territory and field positions and how to take the sting out of a side."