England's Chris Ashton backed to rediscover his scoring touch soon by Bryan Habana
Bryan Habana expects Chris Ashton to return to try-scoring form soon, but hopes it won't be against South Africa.
Last Updated: 22/11/12 7:04pm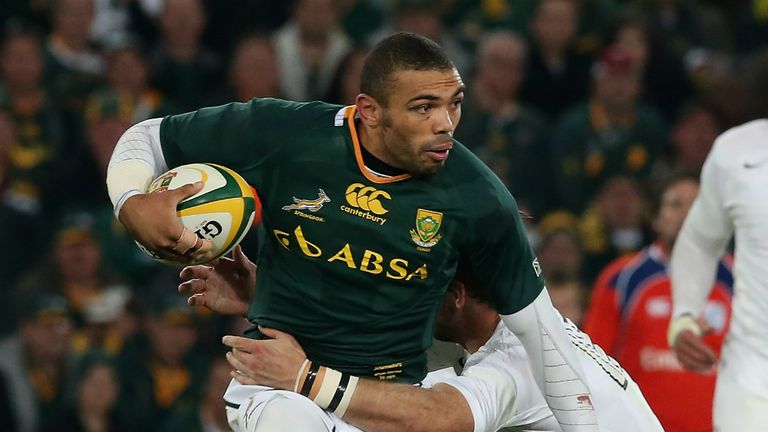 Ashton burst onto the scene with 15 tries in his first 17 Tests but has since failed to score in 10 matches.
Habana, absent from South Africa's squad on their tour of Europe because of a knee injury, knows what Ashton is going through and admits there are no shortcuts for rediscovering top form.
"I started out scoring 15 tries in 15 Tests and everyone then expects you to carry that on," said Habana, who now has 47 tries in 83 Tests.
"But unfortunately people then know who you are, defenders are more worried about you and sometimes have to do other things. With me, it got to the stage where the harder I tried, the worse it became.
"This year I have got back to the basics... trying but not over-trying, not over-killing it and instead letting stuff happen.
"Everybody's situation is unique. I can think of when Shane Williams went through a similar thing after winning the IRB player of the year in 2008. It comes and goes for everyone.
"Jonah Lomu never scored a Test try against the Springboks - yet people said he was the greatest winger ever.
"I'd love to tell Chris: 'this is just a phase and you're going to get over it'. I think he's intelligent enough to know that.
"I'm hoping he doesn't start to get over it on Saturday, I'll be more than happy if he waits until the following week against the All Blacks!"
Bryan Habana is an ambassador for world leading rugby brand Canterbury, official kit supplier to England Rugby and South Africa Rugby. Visit www.canterbury.com for more information.