England captain Chris Robshaw defended his side in the wake of a 16-15 defeat to South Africa
England captain Chris Robshaw defended his side - and his own decision-making - after a 16-15 defeat to South Africa.
Last Updated: 24/11/12 8:02pm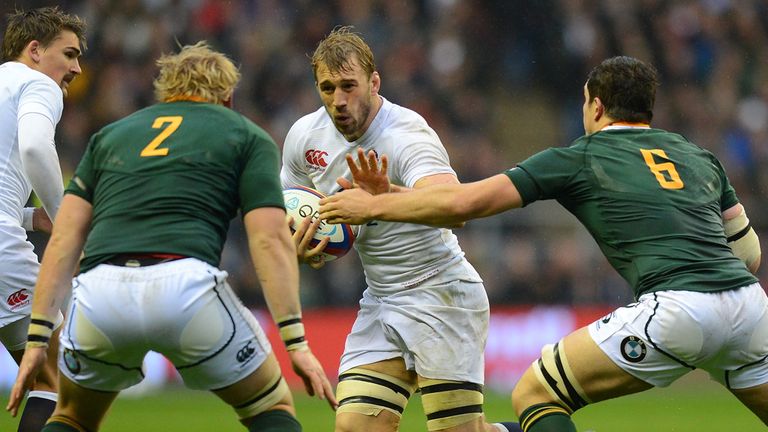 Robshaw was widely criticised for not opting to kick for goal several times last weekend as England slipped to a 20-14 to Australia - and he may be in for further criticism after defeat to the Springboks.
England were 16-12 down with two and a half minutes left and Robshaw ordered Owen Farrell to kick a simple penalty rather than find touch and go for the try.
"We discussed it and I have to make those calls at the end of the day, that is on me and I thought we still had time to get the points, get back down there with the re-start and put ourselves potentially in drop goal or penalty range," Robshaw said.
"I am the one who makes that call. It is on me. People have to make their own decisions. You have to read the game the way it's going, how you feel you can get the best out of it.
"There was a penalty before where we went to the corner. At the time we thought it was best but unfortunately it didn't work out today. We saw they were giving away a lot of penalties but unfortunately we didn't get down there again."
A freak try from Willem Alberts proved decisive - Ben Youngs' fly-hack spinning up off JP Pietersen's knee and into the flanker's clutches for the simplest of finishes.
On the only try of the game, Robshaw said: "That's the thing about a rugby ball - it can bounce anywhere and it bounced straight up to them. Fair play to them, they took their chance.
"I thought we played the conditions pretty well today. We put a lot of focus on their third but unfortunately we didn't get enough time to get back down there.
"I think we played pretty well. We were never out of it. We kept the ball in their third, kept turning the screw but unfortunately it was quite greasy and we knocked the ball on a couple of times.
"We came so close to them in the summer. We ran them pretty close and managed to get a draw in the end. They were coming to our home today, the crowd came here expectant and unfortunately we ended up on the wrong side of the result."