Scott Johnson - No hiding from Scotland's failures at the breakdown during Six Nations defeat to England at Twickenham
Scotland interim coach Scott Johnson pinpointed the contact area after the 38-18 defeat to England.
Last Updated: 02/02/13 9:41pm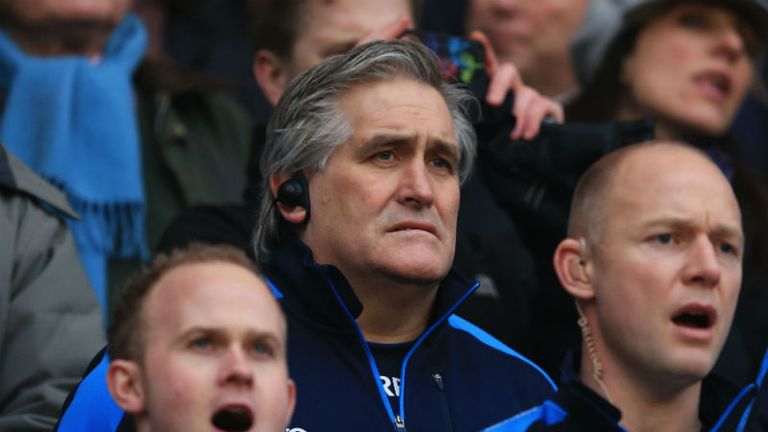 The visitors were valiant in defence but were guilty of a high penalty count that allowed Owen Farrell the majority of his 18 points.
Tries from Chris Ashton, Billy Twelvetrees, Geoff Parling and Danny Care cemented England's victory - and Johnson was critical of his side's performance in the contact area.
The Australian said: "We were disappointing in the areas we need to work on.
"We can dream away about how we'd like to play the game of rugby but the reality is in the modern game, if you don't get the contact area right, you can dream all you like, it's fantasy, fairytales won't come true.
"We lost the battle of field position because of our inability to stop them. So the contact area, with and without the ball, was poor. Simple."
Scotland's plans were disrupted by a cheekbone injury to flanker Alasdair Strokosch, who was replaced early in the first half by David Denton.
Johnson, however, refused to use the setback as an excuse.
"It's no coincidence that the best team in the world (New Zealand) are the best in the contact area, both with and without the ball.
"Everyone looks at their great rugby players, but they can't be great rugby players unless they are getting quality ball.
"There's no panacea except good old-fashioned hard grunt. That's it. I don't want our mirror to lie; these are the realities.
"There are improvements in our game needed right across the board at all levels. We are just going to continue getting on the same horse, same mantra and get it right.
"That's all you can do. Can't dress it up. Dad always used to say: 'if it looks like a pig, it's a pig'."