Scotland centre Nick De Luca looking forward to international return against Japan
Scotland centre Nick De Luca is looking to make up for lost time when he makes his return for Scotland against Japan.
Last Updated: 08/11/13 7:58am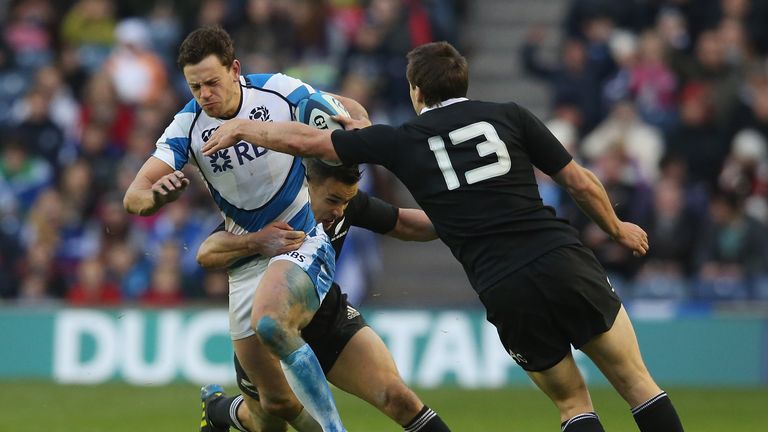 The 29-year-old suffered a fractured eye socket while training with club side Edinburgh last January, forcing him to not only miss the RBS Six Nations campaign but also the summer tour to South Africa.
It was feared at one stage that De Luca might not play again but, now back to full fitness, he has been recalled by national boss Scott Johnson for this weekend's fixture at Murrayfield.
"I'm buzzing to be back having been on the sidelines for a year," he said. "I'm delighted be back in and now I plan to show that on Saturday.
"I can't lie, it was very tough being out injured. I found it difficult sitting in the stands watching. Every player just wants to play, so when you can't, your emotions are up and down.
"It was a really worrying time. Because of the nature of the eye injury, I had to really sit down and think what I would do if it didn't go my way.
"Luckily things are going my way now and I can see one thing instead of two. Now I need to make the most of being back fit and healthy."
Humiliating
De Luca's last outing for Scotland was the humiliating 21-15 defeat to Tonga at Pittodrie in November of last year, a result that led to the resignation of then head coach Andy Robinson.
Johnson then took over and led the squad to third place in the Six Nations, while they also finished their summer by beating Australia.
"There's a different feeling about the place," De Luca admitted. "The training is different, the environment is different. It's now a really good place to be and I'm enjoying it.
"Scott has made a difference. Obviously as our leader, he is always going to put his personality on the squad. You can see the effect that has had, especially in the way we train and even around the hotel where we are all staying right now.
"There's a different vibe and the boys are all a bit more upbeat.
"Personally, I think that benefits us on the pitch. We are all creatures of habit and right now we are all out on the pitch a lot drilling things so that come a match, when the pressure is on it becomes automatic. That is always more easier when everyone is relaxed with each other."