Six Nations: Joe Schmidt amazed by Brian O'Driscoll's longevity
Ireland coach Joe Schmidt has no idea how Brian O'Driscoll has found the staying power to play 138 internationals.
Last Updated: 21/02/14 1:23pm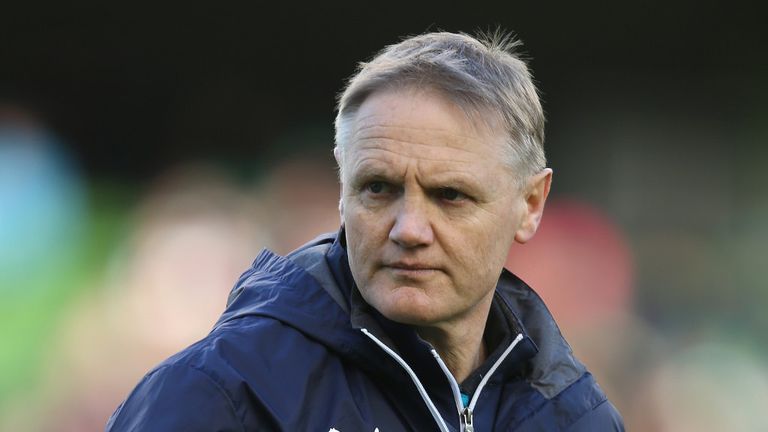 O'Driscoll will have his 139th international outing (131 of them for Ireland) when his country takes on England at Twickenham on Saturday, looking to win the Triple Crown as well as celebrate the centre's landmark day.
And Schmidt says he would not put it past the 35-year-old playing a starring role in such an important match.
"To be honest I didn't play Test rugby so I wouldn't be the best to judge, because I would think one Test would be phenomenal," said Schmidt.
"Where I grew up in a black jersey it would have been phenomenal, so how you manage to amass 130 of them, I'm not quite sure how you do it.
"You have to be incredibly resilient, incredibly talented, a phenomenal professional, and there's your summary: that's Brian O'Driscoll.
"I think he's a very tough character, and the person he is allows him to be the player he's been, and hopefully the player he will be on Saturday at four o'clock."
Advice
Schmidt readily admits he is taking as much advice as he can from the older members of his squad, as he lacks the experience of coaching at Twickenham.
As well as his caps landmark, O'Driscoll could become the first player to taste victory at England's historic home for the ninth time, beating the eight wins Mike Gibson enjoyed.
Schmidt said: "Thankfully I've got a lot of players who've drawn on a lot of experiences at Twickenham itself in the Test arena.
"We have very much a player-driven environment, they set the standard, I find them incredibly responsive when we're looking at strategy and what we need to deliver technically and tactically.
"But when it comes to directing and controlling the group it doesn't need to be about what experiences I've had, or what I need to bring to the table.
"It's very much their experiences, and there is a good core of experienced players there, so they can lead that and give the younger players the confidence that they've been here before, they know what it takes and they're ready to roll their sleeves up and live with that."