Six Nations: Ireland's Peter O'Mahony can't imagine what winning title would feel like
Peter O'Mahony cannot even begin to imagine winning the Six Nations in Paris to give Brian O'Driscoll a dream send-off.
Last Updated: 14/03/14 6:18pm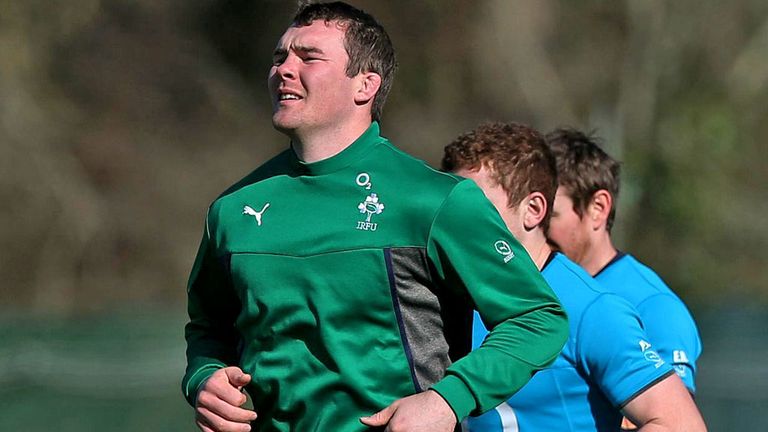 The fit-again Munster captain revealed that it was impossible to ignore the building pressure ahead of a probable title decider against France in Paris on Saturday.
O'Mahony, 24, said he could not watch when Ronan O'Gara dropped Ireland to their first Grand Slam since 1948, against Wales in Cardiff back in 2009.
"I don't think I could explain what it would mean, no," said O'Mahony. "In 2009, we'd just come back from our own Six Nations game, and we watched the game at (fly-half) Ian Madigan's house.
"I remember I couldn't watch for the last kick, because it meant so much to everyone, so you definitely remember where you were for that one.
"Of course the importance comes through, you feel the pressure: without any doubt this is the biggest week of my career so far.
"You're certainly putting pressure on yourself, trying to turn it to your favour and use it as motivation.
Trophies
"Since you're small you want to play in games like this for trophies, it's the reason the game is so great, to compete for these sorts of trophies.
"Then you've got to try to stay away from the pressure side of things, and not listen to any of the talk about it."
O'Driscoll and Ireland have fought desperately this week to fend off talk of the iconic centre ending on a massive high and O'Mahony echoed the sentiment.
"It would be great for Brian, but I think everyone has enough to worry about, about their own jobs," said O'Mahony.
"It's such a big week for everyone, you have to make sure you've got your own things right.
"It is an important week for Brian obviously, and it would be great to help him finish on a high, but I've got to worry about myself to be honest."
O'Mahony was confident Ireland could break the long-running Paris hoodoo as O'Driscoll makes his 141st and final Test appearance.
Tough
The Irish have won only once in France in 43 years, but victory for coach Joe Schmidt would effectively guarantee the championship title in the Kiwi's debut season in charge.
"It's just such a tough place to come and play," said O'Mahony. "The French are hugely passionate, and a hugely able team, and when they're at home they're even stronger again.
"It's a very intimidating place to come and play, it's one of the toughest stadiums to come and get a win.
"That's the main reason we've struggled. The great thing about this competition is you go week by week.
"We're not looking back on last week, and we're not looking at momentum. We've taken confidence out of the way we've gone about our work and the way we've trained this week.
"We haven't talked about us being special nor this game being anything other than what it is.
"It's a cup final for us: we've got to get our job roles right from the start."