Chris Henry says there is 'no telling' how far Ireland can go under Joe Schmidt
Ireland flanker Chris Henry says the team must use their Six Nations title success as a springboard for a World Cup bid.
Last Updated: 16/03/14 2:31pm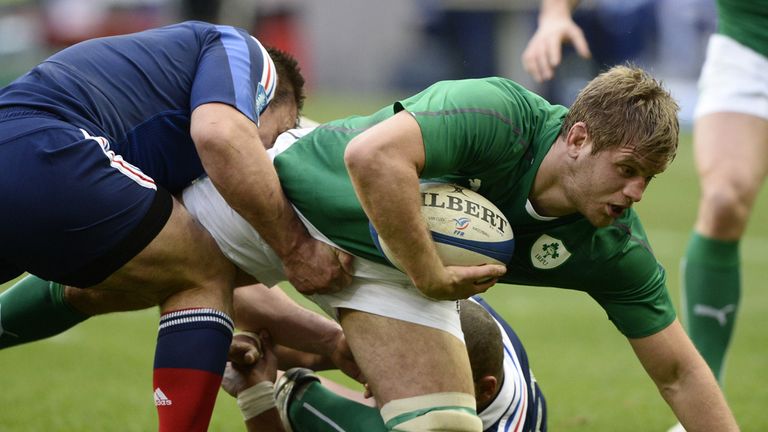 The Irish claimed Six Nations glory on points difference after a dramatic 22-20 victory over France in Paris on Saturday and Henry says he is already looking ahead.
"I think we have to capitalise on this now in terms of the World Cup," he said.
"We've got such a massive run-in to the World Cup now. When we next get together, we've got to focus on that.
"I feel a lot of us have improved individually in the last eight weeks under Joe (Schmidt, coach), and that's what we need to keep doing.
"Because of the quality of player we have, there's no telling how far this team can go.
"I want to use it as a springboard for myself as well, personally. Every time I go out there I put pressure on myself. I've just loved every minute."
The great Brian O'Driscoll was making his final appearance for Ireland against the French and their victory ensured he went out in the perfect fashion.
And Henry added: "I think definitely we will look back and, one day, say: 'I was there'.
"I feel very privileged and honoured to be able to play in his last game, and to play so many games with him.
"It's a fantastic feeling to win it on his last day, but also very sad too.
"It's going to be strange when we go to the next camp and he's not going to be there, but unfortunately that's the way life is. Things have to move on and I'm just so privileged to be able to play with him."
Schmidt takes plaudits
Henry, 29, was Ireland's openside flanker throughout the Six Nations after Sean O'Brien suffered a season-ending shoulder injury.
And Henry's neat offload made a try for Johnny Sexton during Saturday's crucial victory.
"I just thought I needed to get it away, then Johnny did all the hard work," he said.
"The feeling overall is just incredible. I don't usually give one-handed offloads but I just thought we had the advantage, so I'm relieved it worked."
Henry also paid tribute to the work of Schmidt, adding: "It gives you a lot of confidence, because you know you're in excellent hands with his preparation and his attention to detail.
"He's been incredible to deal with. You're on your toes and you have to know your stuff.
"But you want a coach that challenges you and we certainly are, all the time with Ireland under Joe.
"The pressure is on you to know your stuff. But, once you do know all that, it gives you huge confidence to go out and do what he wants."