Six Nations: Ireland team-mates pay tribute to retiring Brian O'Driscoll
Ireland may never see the like of Brian O'Driscoll ever again, according to prop Mike Ross.
Last Updated: 16/03/14 4:59pm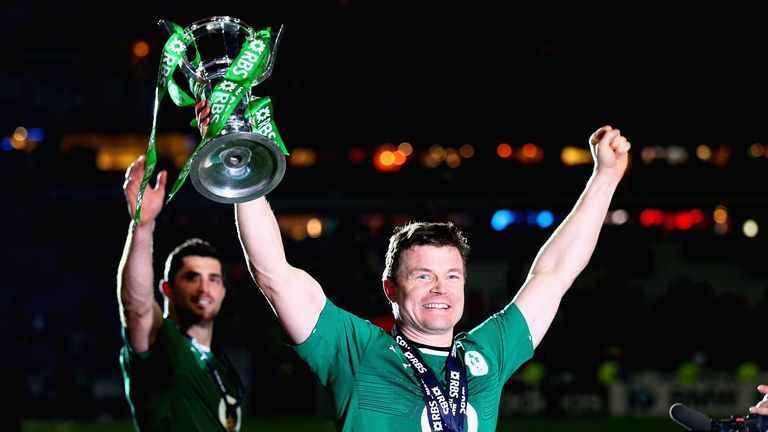 O'Driscoll, 35, brought down the curtain on his 15-year international career as Ireland claimed the Six Nations title with 22-20 victory over France in Paris on Saturday.
Tighthead prop Ross paid tribute to Leinster and Ireland team-mate O'Driscoll, whose world-record 141st and final international appearance proved a fitting farewell for the centre.
"The man deserves every accolade that comes his way: he's been an absolute legend for the team for the last 15 years," said Ross.
"One of the most impressive things for me is that his level never drops - can you remember the last time he had an off game?
"That sort of talent is very rare, very special, and if his equal comes along in my lifetime I think we'd be lucky to see him.
"The feeling when the final whistle went, it's feelings like that you play for.
Very special
"It's the first time for many of us to get any silverware with Ireland, so it's very special."
Lock Devin Toner said there was little mention of O'Driscoll's farewell leading up to the France clash - because there was no need, with everyone well aware of their duty to send him out on a high.
"Joe (Schmidt) mentioned it just briefly, in our team meeting," said Toner.
"He said he's obviously one of the greats to pull on the jersey, and it will be awesome for us to do it for him.
"It was in the back of our minds but we never really talked about it, and to be honest we didn't need to.
"I'm just delighted for him and for his family, to go out on a high on the international stage, and for him to finish like that as a player.
"It kind of all came together in the end for him didn't it? It was a great send-off in the Aviva last weekend, and a great send-off here, and I'm delighted for him."