Wait goes on for Moody
England are yet to find out if Lewis Moody will be ruled out of the World Cup, but Martin Johnson is confident he will make it.
Last Updated: 08/08/11 5:35pm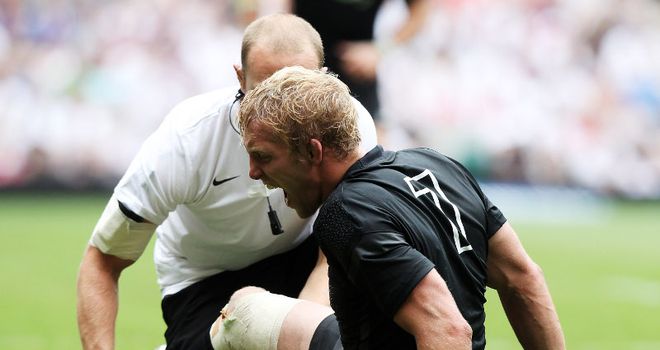 England are yet to find out whether Lewis Moody's knee injury will rule him out of the World Cup, but Martin Johnson is confident his captain will play in the tournament.
Moody limped out of Saturday's 23-19 win against Wales on Saturday with a recurrence of the knee ligament problem that kept him out for England's entire RBS Six Nations campaign.
The flanker has now had his right knee scanned and the results are being studied by team medics, with a verdict on the injury expected on Tuesday.
Johnson admits there is still uncertainty over Moody's chances of being fit for the World Cup but says he does not believe the injury to be too serious.
"The bad news would be that he has got an eight week injury that would put him out of the World Cup. I don't think it is going to put him out of the tournament, but we'll see," he said.
"It is not great that he has got an injury, but I don't think it is on the very bad side of knee injuries."
Strapping
Moody, who played with heavy strapping on his left leg, was confident on Saturday night that the injury was nothing more than a "tweak".
The Bath player, who has only featured in five games since suffering the original injury in January, is unlikely to figure in this weekend's return fixture against Wales at the Millennium Stadium.
But Johnson, who has to finalise his 30-man World Cup squad on August 22, is not concerned by Moody's lack of game time ahead of the tournament in New Zealand.
"The guys like him, who have played a lot of rugby over the last 10 or 15 years, can handle that better than guys who are fairly new to it," Johnson said.
"In an ideal world he is fit and available to play the next two (World Cup warm-up) games but we will have to see how it goes."
In Moody's absence during the Six Nations, Mike Tindall captained England to their four victories before handing over the reins to Nick Easter after injury ruled him out of the defeat to Ireland.