BOD eyes USA
Brian O'Driscoll believes he will be fit for the start of Ireland's rugby World Cup campaign.
Last Updated: 01/09/11 8:15am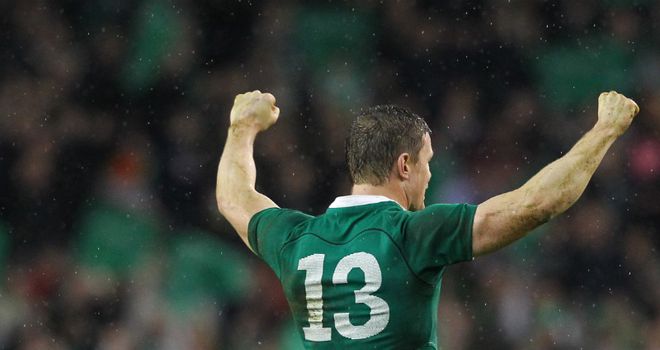 Ireland skipper Brian O'Driscoll believes he will be fit and raring to go in time for the start of his country's rugby World Cup campaign.
The centre has been the subject of injury concerns as he heads to his fourth World Cup and sat out the 20-9 defeat to England in his side's final warm-up game.
But O'Driscoll is confident of facing the United States in September 11th's opening game and cannot wait to get back to action.
He said: "I'm really hopeful to be (involved). There is no reason that I shouldn't be.
"Probably at a push I could have played in the English game, but I think it was just smart to stay out of it.
"Sometimes you have to balance a bit of match-fitness for weighing up against some knocks and some bumps and bruises that you have.
"I feel as though I should be grand in another two weeks and I should be in good shape to kick things off in the first game."
Upbeat
That result concluded a run of warm-up games which also saw Declan Kidney's side lose to Scotland and France (twice), but O'Driscoll remains upbeat.
"Granted, we haven't won one of our four warm-up games but I think we have done some really great stuff," he said. "We have definitely got a lot more match fitness under our belt.
"You would always have hoped for a win or two in those games, but we didn't get them. I think we have shown signs of some really good stuff at times, but it is just that we have lacked that continuity.
"We weren't playing in a World Cup. The World Cup is our next game and we are just going to kick it off with the best possible attitude and the best possible performance we can have and take it on from there."