Boks up intensity for WC
The Springboks have ramped up their intensity as they prepare for their World Cup defence, according to Peter de Villiers.
Last Updated: 01/09/11 3:07pm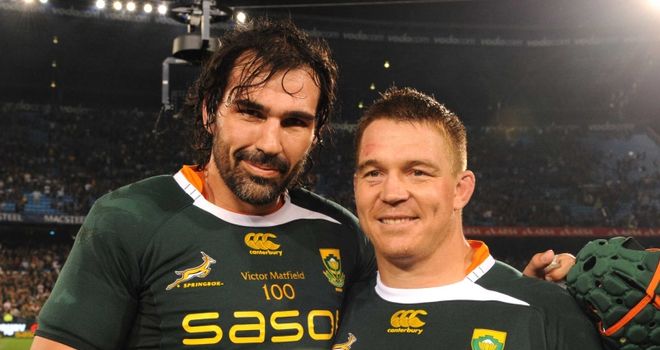 The Springboks have ramped up their intensity as they prepare to defend their World Cup title, according to coach Peter de Villiers.
With 18 members of their 2007 World Cup wining squad travelling to New Zealand, de Villiers said his side had now 'switched into World Cup mode' ahead of the tournament.
Speaking before a farewell parade for the 30-man squad in Johannesburg, de Villiers said; "I'm comfortable with what we've achieved and where we're at.
"It's been an eye-opener this week. They switched into World Cup mode. The intensity was high. The players were very good this week. They understand their roles and their responsibilities."
The coach admitted that hosts New Zealand are the favourites for the World Cup title, but said that his team thrived on the pressure of being the defending champions.
"That is what this team likes," he added. "They like responsibility.
Incredible energy
"Don't be soft on us, be hard on us, so we know that when we go there our work is cut out. We like to be pushed onto the edge. That brings the best out of these guys."
Around 50,000 fans are expected to gather in the Sandton business district of northern Johannesburg on Thursday to see the team off.
And captain John Smit, who led the Springboks to World Cup glory four years ago, said that the excitement in the rugby-mad country had given the squad 'incredible energy'.
But, while the skipper admitted that the weight of expectation would be huge, he said his side was well-prepared going into the tournament.
"We are well-prepared, we've got a good squad," Smit said. "The one big difference for me (from 2007) is that there is a far greater expectation going into this World Cup which will make it more difficult.
"On the way to France... it was our own pressure. There was a hope that we could do well. Now there is a need. This country needs us to do well."
Formidable
In Smit and vice captain Victor Matfield, who each have over 100 caps, South Africa have two of the most experienced players in world rugby.
And with the Springboks able to field 12 players that started the last World Cup final, they represent formidable opposition.
"These guys are more than capable," De Villiers said. "They are exceptional leaders. What people see as an outcome on the field is not close to what these guys are actually worth for this country."
And Smit said that a small group of senior campaigners would be giving their all to end their careers on a high.
"It's been a blessed time and I will have no regrets. The fact that there are seven games that remain. It's almost like leave nothing out there.
"There's quite a big group of us that have come a long way together. There's a number of guys that are in my position and we don't want to leave it anywhere but at its best.
"We want to make sure that it finishes on a high."