BO'D - Eddie will be fired up
Brian O'Driscoll has no doubt that USA coach Eddie O¿Sullivan will be desperate to topple Ireland on Sunday.
Last Updated: 10/09/11 3:23pm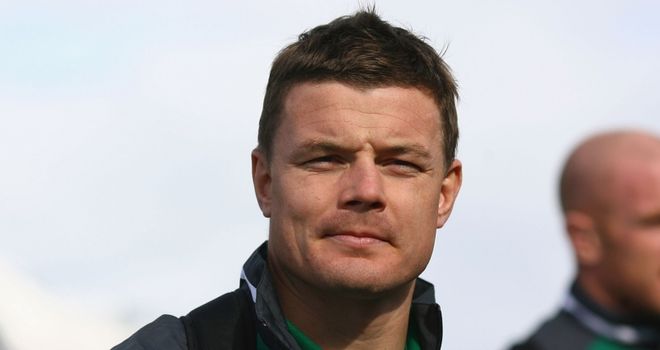 Ireland captain Brian O'Driscoll has no doubt that USA coach Eddie O'Sullivan will be desperate to topple Ireland on Sunday.
O'Sullivan worked at the helm of Irish rugby for eight years first as assistant and then as head coach. His reign whilst successful ended in 2008 without any major silverware.
O'Driscoll was appointed captain by O'Sullivan in 2003 and knows his former boss will be out to shock the Irish side.
"I've no doubt whatsoever Eddie will be fired up for this one. He'll be champing at the bit for this game," he said.
"I read a few comments that the USA won't lack motivation because it's the 10th anniversary of September 11.
"There's lots at stake in the match for USA, but Eddie has said his job will be to keep the players calm and controlled. He's got the experience to do that.
"I'm sure he'd love to get one over us, I don't know many coaches who don't want to get one over their old team.
"He had a huge part to play in my career. He did some great things for Irish rugby and was unfortunate not to win a Grand Slam.
"But he shaped the team to go on and achieve that. He deserves credit for that.
"When it comes to how much he knows about us, you can over read things. Players evolve and won't necessarily be the same as in 2008.
"Aspects of our game have changed. Plenty of new personnel have come in since he left."
One such new face in Declan Kidney's team is Conor Murray. The 22-year-old Munster scrum-half will make his full Test debut against the USA.
His rise to the top has been meteoric having only established himself in the Munster first team at the start of the year.
And despite not having played in the Heineken Cup, he did enough in substitute appearances against France and England last month to convince Kidney to start him in Ireland's World Cup opener.
"I have no doubt he's up to the challenge. He's definitely got the right temperament for this," O'Driscoll added.
"I've got to know him a little bit better as a person over the last few weeks. He's coming out of his shell a little bit. He's confident but not arrogant. He has good inner belief. His career is starting on a pretty good footing.
"It's not easy for a young guy like him to come into a squad. I was that person once upon a time. It's difficult to be yourself, you tend to stay in your shell a bit more and let others do the talking.
"But the more confident you get with your surroundings, your personality shines through.
"He's a lot more confident in the company of the Munster guys but we've seen signs that he's coming out of his sell.
"I've had some good laughs with him over the last week and he's a nice young fella."