Best calls for consistency
Rory Best has called on his team-mates to maintain the level of performance shown against Australia throughout the World Cup.
Last Updated: 19/09/11 4:58pm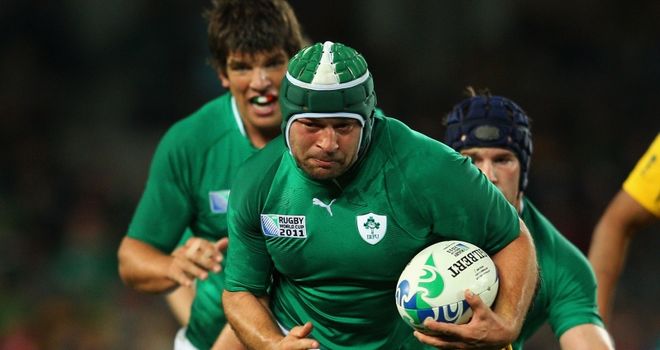 Ireland hooker Rory Best has called on his team-mates to maintain the level of performance shown against Australia throughout the duration of the World Cup.
Brian O'Driscoll's men produced the shock of the tournament so far with a stunning 15-6 victory over Austraia at Eden Park and are now heavy favourites to top Pool C.
However Best, who played a key part in Ireland's opening two victories over USA and Australia, insists the challenge now is to play consistently well on the main stage.
"The good thing about this team is that when big games come there are big performances in us," the Ulster hooker said.
Pressure
"There's no doubt when you look at the calibre of players we have, and you look at what we've achieved in the past, that we have big performances in us.
"The big pressure for us now is to show it consistently. It can't be one big game followed by a couple of mediocre ones.
"From here on it must be big performance after big performance. It's a short tournament and we must raise our game every time.
"It was great to get a win against Australia but now we must make sure it's worth something come the end of the group.
"Our belief was never in doubt, but it's undeniable that beating Australia has given us a great chance to top this pool.
"It's put it all in our hands and it's up to us to take this chance. We need to be ruthless to enable us to kick on from here."
Four successive defeats in the warm-up games left Ireland fans fearing an early exit at the New Zealand showpiece.
But Best insists last month's results had minimal impact on the belief of the team that they could perform at the World Cup.
"We go out to win every game so there's no doubt we were disappointed to lose those matches," he said.
"But we knew there was a bigger picture. There were aspects of our game we were happy with and there were aspects we needed to work on."
One of the highlights from Eden Park was the potency of Ireland's scrum, which has now become a key weapon in their arsenal.
The Wallabies conceded five penalties from the set piece, two of which were punished by the boot of Ronan O'Gara.
Destructive
Best added: "The scrum is a head on head on collision and if you get the upper hand in that arm wrestle... Teams have got on top of us in the past and it is quite tiring mentally. When you concede a penalty at a scrum you feel drained.
"There's no doubt that scrummaging performance took it out of Australia's back five around the pitch.
"Because they're such potent and destructive carriers we knew we needed to zap them a bit there.
"In the past we've been guilty of letting teams off the hook a bit in the scrum, but we were unrelenting and that's something we must keep up.
"We've strived to make the scrum a weapon. It's a good feeling to know that if we get it right, we can have a good day.
"We're starting to gain confidence in the scrum with every game that goes by."