Kidney furious at claims
Ireland coach Declan Kidney has hit out at "scandalous" accusations that his players feigned injuries against Australia.
Last Updated: 23/09/11 3:42pm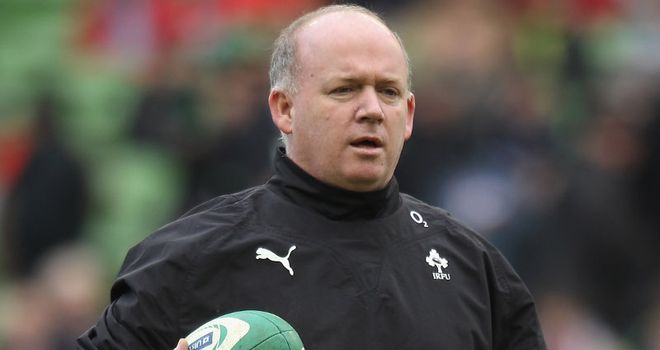 Ireland coach Declan Kidney has hit out at "scandalous" accusations that his players feigned injuries during the 15-6 win over Australia.
Kidney has been left fuming after former Wallabies centre Tim Horan said Ireland had "a deliberate plan to fake injuries each time there was a breakdown in play so they could slow the game down and frustrate the Wallabies".
Horan also wrote in a newspaper column that his allegations had been confirmed by Ireland assistant coach Alan Gaffney in the changing rooms after the match.
However Kidney has dismissed the claims as "incredulous".
What I can tell you for definite is that the reporter in question (Horan) was never in the dressing room," said Kidney.
Scandalous
"The coach in question (Gaffney) never spoke to him, so I'll let you make your own inferences into how he feels he can quote something that was never said.
"It's incredulous and slightly scandalous that he'd try to bring one of his fellow countrymen into something that is totally untrue.
"It's for other people to have their standards in life. It's important that if we get something wrong, we hold up our hand.
"When we don't get something wrong we'll defend ourselves and we wouldn't be shy in doing so."
Ireland meet Russia at Rotorua International Stadium for their next Pool C encounter on Sunday.
And, although the clash is not of the same the calibre as the momentous Wallabies victory, Kidney is not underestimating his opponents.
Miserable
"If we win 3-0 I'll be happy," he said. "If we're capable of beating Australia, we're also capable of losing to Russia.
"We've had enough experience by now to know that at World Cups there are no easy matches.
"Italy picked up a few early scores that knocked Russia back, but once Russia got themselves into it, it was a different game.
"Russia scored three tries against Italy the other night, we only scored two against them in February.
"If you enter any of these matches half-cocked, it's going to be a miserable night. That's happened to us before.
"If we get the approach right, then we have the ability to get a result, but I'm not thinking that we'll be running away with it."