Carter looking to move on
New Zealand fly-half Dan Carter has revealed his agony at being ruled out of the rest of the World Cup.
Last Updated: 05/10/11 9:19am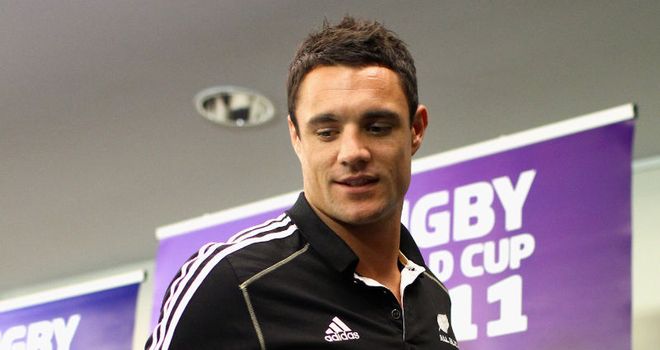 New Zealand fly-half Dan Carter has revealed his agony at being ruled out of the rest of the World Cup but insists that the All Blacks need to move on.
Record-breaking kicker Carter had been due to captain the All Blacks in their final Pool A fixture against Canada with regular skipper Richie McCaw rested a foot injury.
But the 29-year-old tore a groin tendon in kicking practice the day before the game, ending his participation in the tournament prematurely.
He is sure his team will recover from the blow, though, saying the New Zealand squad has the depth to deal with any injury crisis.
"I encourage everyone to move on - I have," said Carter, who has been replaced in the squad by Aaron Cruden.
"I'm pretty disappointed, but I'm now here to help the team and I think everyone should move on too."
Focused
He added: "The team are pretty focused. If we lose any player we've got enough depth and we've got such a good squad that players come in and fill their roles.
"We're in the play-off stages; we've got effectively a final this week. Anything can happen. We just have to go out there and put everything on the line like there's no tomorrow."
Carter suffered the injury during a routine kicking drill and can think of no reason why he has picked up such a serious problem.
"I knew it was pretty serious because of the pain. I thought it was quite unusual; I've kicked thousands of balls, he said.
"It felt like it popped, hence going down to the ground in agony. It's quite hard to explain. I was just going through my usual routine.
"I was actually having a bit of a shorter session than usual. I normally kick a good 15, 20 balls at captain's run, but I was only having four this time around.
Frustrating
"It was my fourth kick and I didn't know what happened. It's just really unfortunate."
Carter added: "It's really frustrating. The pure randomness of the injury and for it to come out of the blue. My body was really good going into the week and I haven't had any groin or adductor or hip problems in the past.
"For something like this to happen has been really tough. I can't put my finger on why. I'm constantly asking, 'why did this happen?'
"I don't have the answer unfortunately."
Colin Slade is set to fill in for Carter during the knockout stages and All Blacks assistant coach Wayne Smith is confident the 23-year-old will step up to the plate.
"He's a confident young man. Just watch him playing when he's come through to semis and finals for Canterbury in ITM Cup - he's always played well," Smith said.
"He obviously needs time in the saddle but he's going to get that. He's just getting better every game."