Harinordoquy wants response
Imanol Harinordoquy admits that France must show a drastic improvement if they are to avoid defeat against England on Saturday.
Last Updated: 04/10/11 3:44pm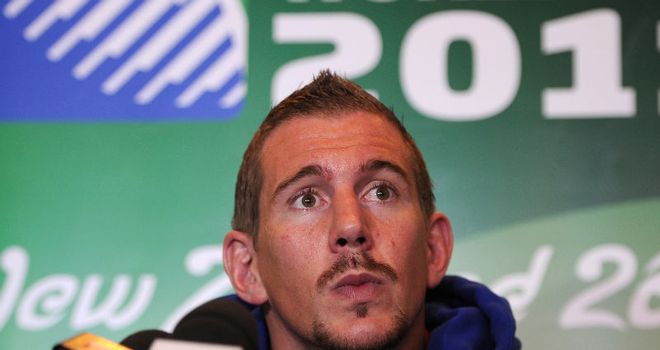 France forward Imanol Harinordoquy admits that Les Bleus must show a drastic improvement if they are to avoid defeat against England in Saturday's World Cup quarter-final.
Discontent has been evident in the French camp in the aftermath of last Sunday's 19-14 loss to Tonga, with head coach Marc Lievremont publicly criticising his team.
But Harinordoquy hopes France, who scraped into the knockout stages as Pool A runners-up to New Zealand, can turn their form around in time for the showdown in Auckland.
"It's a big match always against England. It's always a very, very intense match, a lot of fight. There's not a lot of difference in the score at the end," the Biarritz back row said.
"Now I don't think the pressure is on our shoulders. We didn't play very well, we are in the quarter-final. We have it all to do to win this match. I hope the competition will begin for us on Saturday."
Harinordoquy did not look to dampen any conflict with Lievremont, though, saying he was unhappy the coach was so outspoken with his comments about the team.
Problem
He added: "It's not a problem he said that to us, as long as it stayed in the room. What I don't understand is why we saw and heard that in the media."
And Harinordoquy is still unsure whether or not France will be able to overcome the adversity and produce what is needed to eliminate England.
He said: "We will see on Saturday. We have to change our mentality in this match, to be more aggressive, to fight, to play like we know how to play. Each player has to give their best.
"This is the most important match for us. It's a quarter-final. It can be the match that will make the difference for everybody - for us, for our supporters, for France."
England have also had their fair share of on and off-field concerns at the tournament in New Zealand but Harinordoquy refused to enter into that debate.
"I don't know if we have to speak about the problems of the England team. I think we have to concentrate on our game and our problems, because we have lots of problems," he said.
History
"I lost to them in 2003 and 2007 - I've had enough of that. I don't want it to happen again. We're all aware of how we played (against Tonga) and know we can do better."
While his No. 8 may still be unsure whether France can turn things around in time, Lievremont is certain that a response will come against England.
"It's up to the players to unite together," he said.
"I've shared some moments, but sometimes you have to leave them, it's their adventure. I'm here to accompany them, to encourage them.
"Sometimes the French team gets the best out of itself when it has its back to the wall. I am convinced there will be a reaction and I hope it's enough to get through this quarter-final.
"We're already on a suspended sentence in a way, because of this lucky qualification on the back of a defeat. We have to tell ourselves we have nothing to lose."