O'Driscoll wants 'no regrets'
Brian O'Driscoll has urged Ireland to give it their all in what could be his final game in the Rugby World Cup.
Last Updated: 05/10/11 4:51pm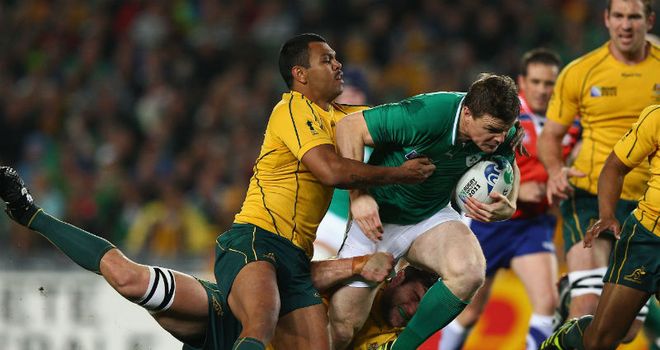 Brian O'Driscoll has urged Ireland to give it their all in what could be his final game in the Rugby World Cup.
Ireland are unbeaten since arriving in New Zealand over a month ago and start as marginal favourites to reach the semi-finals for the first time.
Many of the squad are participating in their last World Cup and are determined to break new ground, among them O'Driscoll.
"This game is huge because of the stage we're at. It's knockout rugby. Personally it will be the last quarter-final I'll be in," said the 32-year-old Leinster centre.
"It's win or go home. Once you have that mentality you must make sure you produce on every occasion you pull on a jersey in this from now on.
Exposure
"Otherwise someone else will reach the next round and we'll be the ones going home with the what-ifs."
The greater exposure of Ireland's players to pressure-cooker situations - between them Munster and Leinster have won four of the last six Heineken Cups - gives them a distinct advantage.
Rain has been forecast for Wellington on Saturday and this will suit neither side, though Wales' high-octane back line is likely to suffer more.
O'Driscoll insists Ireland are prepared to play whatever type of rugby it takes to book a semi-final place against England or France.
"You do what gets you across the line and wins games for you," he said.
"It's about playing pressure rugby, not necessarily about deciding one type of brand to play before the game.
"You must feel your way into matches and understand what it takes to build that pressure and turn it into points. It's about what it takes to win on the day."
One of the key ingredients of Ireland's march into the quarter-finals has been their rampaging back row of Sean O'Brien, Stephen Ferris and Jamie Heaslip.
The trio have been touted as the best back row in the tournament - New Zealand, Wales and South Africa are pushing them close - but O'Driscoll insists they remain grounded despite the plaudits.
"They've been going very well. On their day they're a world class trio and have been putting in some good performances," he added.
"But they know they have some improvements to make in their game as well.
"It's always nice getting plaudits from people outside the camp but at the same time I don't think it will affect their mindset.
"They're really enjoying along with everyone else the challenges that have been thrown at us and will want to produce it again.
"They won't let the chat about them affect their performances in any way. The power they bring is important, but we've had powerful ball carriers in the past.
"Maybe people have been surprised by them but we knew they've had that in their armoury for a while and it's been building.
"Ferris hasn't played an awful lot of rugby. Jamie and Sean have been playing very well for the last year."
Subtlety
O'Driscoll believes that two of the main Welsh threats will come from openside Sam Warburton and his Lions midfield partner Jamie Roberts.
"Sam Warburton's been playing very well, making life very difficult for teams at ruck time. He's really stepped up to his role as captain," he said.
"Some of their ball carriers have been excellent while the subtlety of some of their other players has been good too.
"Most of the squad are in good form. Jamie Roberts has done well, mixing his game up well. He'll be a handful, but that's nothing new.
"Jamie carries extremely hard, but he's also brought in some nice subtleties. He's not afraid to mix it up and that's made him difficult to read.
"He's evolved on that front, but one aspect of his game that hasn't changed is his ability to break the gain line. Teams play off go-forward ball and he's one of their go-to guys for that."