Ferris - Wales can win it
Stephen Ferris has backed Wales to go on and lift the Rugby World Cup for the first time in the nation's history.
Last Updated: 10/10/11 9:53am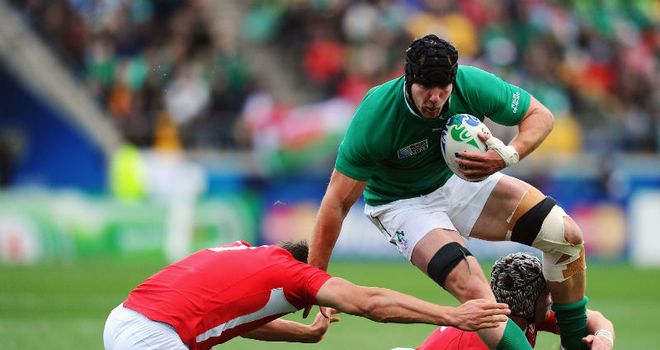 Ireland flanker Stephen Ferris has backed Wales to go on and lift the Rugby World Cup for the first time in the nation's history.
Ferris was highly impressed with the Welsh during their 22-10 victory over Ireland in the quarter-finals and has seen enough to know they are capable of beating anyone left in the tournament.
"If Wales play like they did against us, there's no reason why they can't win the World Cup," said the Ulster back row.
"They were very smart and took every opportunity. They have big, strong ball carriers and a magnificent back row.
"They've brought in a lot of young guys who have confidence and self-belief.
"They have the right blend of youth and experience. Fair play to them, they beat us."
Gutting
Ireland returned home contemplating what might have been after they missed a guilt-edge opportunity to reach the semi-finals for the first time.
In public they had refused to look beyond the next match, but privately they felt they were capable of winning the World Cup themselves.
"It's gutting that we're going home. We felt we could stay out here another couple of weeks," said Ferris.
"We firmly believed that we could win this match and this competition. Unfortunately it hasn't happened.
"We'll take confidence from beating Australia, the Tri-Nations champions, and topping our group.
"We'll get another go at these boys in the Six Nations in a few months' time, hopefully we can turn it around then.
"This tournament's over so we must go home, regroup and push on."
Ireland contributed fully to an epic quarter-final, but probably produced their worst performance of the World Cup as they failed to turn pressure into points.
Soft try
"Fair play to Wales, they had a great second half and kept putting the ball in behind us. We struggled to get into the game," said Ferris.
"Wales played the better rugby and were smarter in the second half than we were.
"We felt like we'd played some good stuff in the first half. During half-time we regrouped and said let's get the next score.
"That's what happened, the game was 10-10 and we thought we were in the ascendancy, but then they scored that soft try.
"It's a team effort but we came up short. A couple of defensive errors and good team like Wales will punish you.
"That was no lack of commitment or effort from this squad. The tournament's over, but we wish Wales the best."