Warburton hit with ban
Wales captain Sam Warburton has been handed a three-week ban for his dangerous tackle on Vincent Clerc.
Last Updated: 16/10/11 1:24pm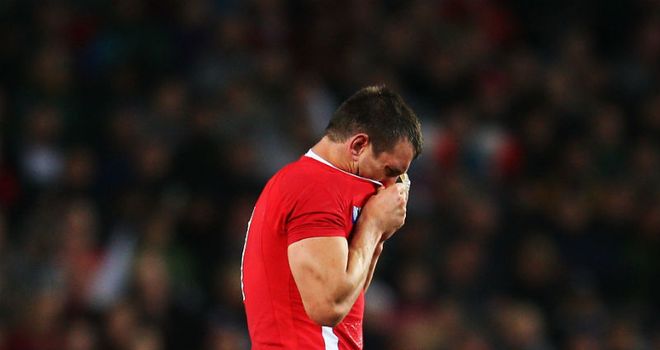 Wales captain Sam Warburton has been handed a three-week ban for his dangerous tackle on France winger Vincent Clerc on Saturday.
Irish referee Alain Rolland acted immediately to red card Warburton after the flanker lifted and dumped Clerc in the 18th minute of the semi-final at Eden Park.
And independent judicial officer, Christopher Quinlan QC (England), determined Rolland's actions to be appropriate in law and the action in line with IRB directives which states that such tackles "must be dealt with severely by referees and those involved in the off-field disciplinary process".
However Quinlan did take into account that "there were no aggravating features and there were compelling on-field and/or off-field mitigating features" to hand out a reduced sentence - with the offence having an entry point of six weeks.
With France going on to win 9-8 and reach the final, Warburton will now miss Friday's third-placed play-off and be free to play again on November 7.
WRU chief executive Roger Lewis said: "We are disappointed with the decision to suspend Wales captain Sam Warburton from the game for three weeks, following his red card dismissal in the Rugby World Cup semi-final against France in Auckland.
"The WRU respects the process which has been followed and understands the disciplinary procedures in place.
"Our focus in now totally upon the, forthcoming, third place play-off international, which will be played at Eden Park in Auckland on Friday.
"The WRU further wishes to state its unequivocal support for Sam Warburton as a role model and exemplary captain who has led Wales to formidable success in the competition so far."
Warburton added: "I am naturally disappointed with the outcome, but now my job is to focus entirely on supporting the boys in their preparations for Friday's match."
Bounce back
Former Wales captain and World Cup colleague Ryan Jones added: "He has to bounce back from it now. It is a difficult position to be in and he is going to go through it, but he's a big enough character to get over it.
"I didn't know what was happening. From the bench we could see Sam walking off, so we all assumed he had been yellow-carded. Then you could see a little red pop up on the big screen.
"Sam has been fantastic all tournament, and he was a big loss to us as a team. He is a fantastic player who has starred in this World Cup."
Warburton got further backing from scrum-half Mike Phillips and wing Shane Williams, who both paid their skipper glowing tributes during a tournament when he emerged as a world-class openside flanker.
"I told Sam after the game that he is a great player and it has been a pleasure playing under him," said Phillips. "If it wasn't for him we would not have come this far. It wasn't his fault at all."
Williams added: "There is no use blaming Sam for anything. He was committed to the tackle and he is a strong guy. He is one of the nicest guys you will ever meet and there was no malice in it.
"It really knocked us for six. These things happen, but unfortunately it happened to us at the worst possible time."