Szarzewski left frustrated
Dimitri Szarzewski said France were "playing 15 against 16" in their World Cup final loss to New Zealand.
Last Updated: 24/10/11 10:08am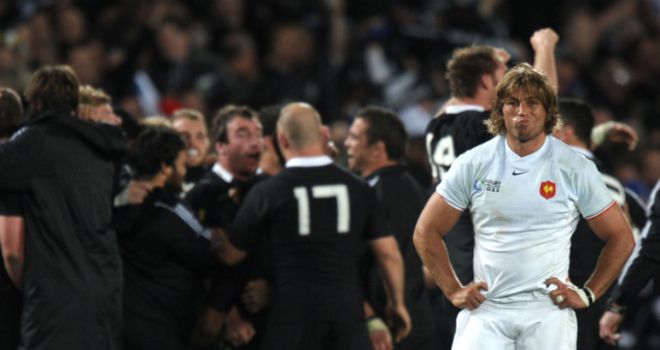 France hooker Dimitri Szarzewski said the passionate home support in Auckland left his side feeling they were "playing 15 against 16" in the World Cup final.
New Zealand won a close-fought encounter 8-7 at Eden Park, whose crowd kept the All Blacks' spirits up as they repelled wave after wave of pressure from Les Bleus in the last 20 minutes in particular.
Heartbroken by the narrow defeat - the same score by which France beat Wales by in the semi-final - Szarzewski admitted the New Zealand fans had played a big role.
"We are very frustrated. But that's just sport," said Szarzewski, who also said he would have preferred to lose by 40 points rather than one.
"We were playing 15 against 16 and everyone found it logical that New Zealand won. We put pressure on them, but it wasn't enough.
"There wasn't much difference. We countered them, but it wasn't enough. The kicking was bad for both teams. But we are not disappointed about our World Cup."
Szarzewski's front-row partner Fabien Barcella rued a change of fortunes from their abject semi-final performance - one that fooled a lot of people into underestimating their chances a week later.
"To lose a final like this, with such a small margin, in such difficult conditions, it's very sad," Barcella said.
"This week we deserved to win and lost, whereas last week (against Wales) we deserved to lose and won."
Intent
The tone was set in France's response to the haka, a 'flying V' style linking of arms that saw the white-shirted players advance over the halfway line towards the All Blacks in a show of intent.
It may cost them in fines from the International Rugby Board for encroaching over their own 40-metres line, but they have no regrets.
"We wanted to do something. It was pretty cool, I believe," Barcella said. "We were 30 (players). It was a V for Victory, but we are just really sad."
Lock Pascal Pape added:" "It was an idea from the whole group. We walked too far, that's true, and it will cost us a lot.
"Titi (captain Thierry Dusautoir) couldn't hold us. We wanted to walk on so desperately and show them that we were here, as well, and that it wouldn't be an easy game for them."
It was the end of an era for many of the France side, not to mention coach Marc Lievremont, who overcame criticism from both inside and outside the camp to guide his side to the final.
"It's special because several players are retiring. It was Lionel Nallet's last World Cup game. He is such an example to me - he is a second row, as I am," Barcella said.
"I am proud to be French. I wouldn't want to swap my jersey to be an All Black for anything in the world."
And nor would triumphant All Blacks captain Richie McCaw swap his - literally.
No trade
Opposite number Julien Bonnaire was out of luck when asking for a trade of number seven shirts after the match.
"I went to see him in the locker room but he told me that he had just one and that he wanted to keep it," Bonnaire said.
"I asked him the last time too but it was his 100th cap so he wanted to keep it as well. I was unlucky but never mind - that's okay."
Captain, and man of the match, Thierry Dusautoir, was disappointed not to be able to steal an unlikely win.
"I don't feel like criticising the referee (Craig Joubert). He is one of the best in the world and we didn't do enough to get a penalty that could have given us the lead," the 29-year-old said.
"I am very proud of the team but we didn't do enough to get more points."
A notably dejected Dusautoir could not help but ponder what might have been.
"It is a moment we will remember all our lives. If we had achieved a victory and won the trophy it would have been fantastic," he said.
"We just missed achieving a great performance. It was our last chance. We know it is a unique moment to reach the final stage in the competition.
"We were mentally strong and it is not always skills and combinations that win games. A lot of it is mental, maybe we needed more skills."