Former Australia coach Eddie Jones hospitalised in Japan after suffering stroke
Former Australia coach Eddie Jones has been hospitalised in Japan after suffering a stroke.
Last Updated: 16/10/13 12:08pm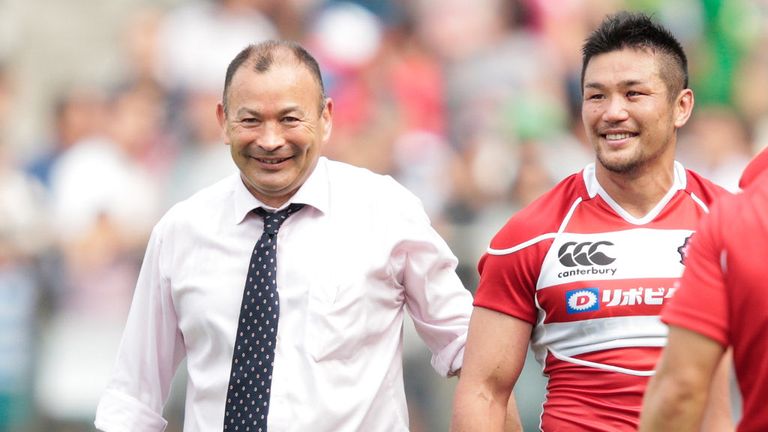 The 53-year-old is currently coach of Japan and had been preparing for his side's Test against New Zealand on November 2.
Jones had complained of a headache after returning to Tokyo from an inspection of the Brave Blossoms' training camp.
He was subsequently taken to hospital and is now in intensive care after tests revealed signs of a minor stroke.
"He was with the team's staff at the time and they went together to a hospital in Tokyo by taxi," a spokeswoman for the Japan Rugby Football Union, Mayuko Watanabe, confirmed.
"The doctors said he was showing signs of a light cerebral infarction and he was hospitalised for examination."
Conscious
Japan general manager Kensuke Iwabuchi told Japanese media Jones was conscious, adding: "He has no problem with communicating."
Jones took over from New Zealander John Kirwan as Japan head coach in April 2012 and has led the Blossoms to their fifth and sixth straight Asian Five Nations titles.
Previously he guided the Wallabies to the final of the 2003 World Cup on home soil before losing out to England.
Jones also worked alongside South Africa coach Jake White during the Springboks' 2007 World Cup-winning campaign.
The pair remain close friends and White told the website www.keo.co.za: "He is in intensive care and he currently doesn't have movement on his left side, but he is talking - and typical of Eddie, it's about the challenge of the All Blacks and the subsequent European tour.
"My understanding is he will be in intensive care for at least the next week."