England have been forced to defend their policy on ticket prices for the World Cup
England 2015 has defended its strategy for ticket prices and kick-off times, declaring it has struck the right balance.
Last Updated: 28/11/13 9:15am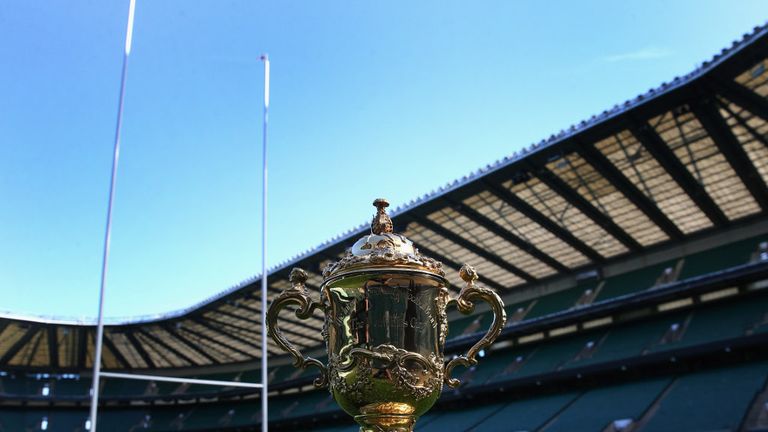 All four of England's Pool A games, including their pivotal fixtures against Wales and Australia at Twickenham, are scheduled for 8pm starts.
The final, staged on October 31, will kick off at 5pm with tickets ranging in price from £150 to £715. The second figure is £108 higher than its football equivalent in Brazil next year, although the entry price is £120 lower.
A child (under 16) rate of £7 or £15 has been implemented for all group games, including those played by England, but has been omitted from the knockout stages other than for the third-place play-off at Wembley.
England 2015 chief executive Debbie Jevans stresses that emphasis has been placed on child attendance during the group stage, with "core rugby fans" present from the quarter-finals onwards.
Inclusive
"We thought a lot about child tickets and we decided to have a family friendly approach to the pool stages," Jevans said.
"Of the 48 matches at the World Cup 41 have child prices. It's only the back end of the tournament when they don't.
"A family of four can go and watch Australia or South Africa for £70, or in Manchester a family can watch England for £130.
"All in all I think we've been very inclusive and I'm very proud of that."
England 2015 have announced that over one million of the total 2.3million available tickets will go on sale at £100 or less with 500,000 selling at £50 or less. Adult tickets start at £15 for pool matches.
The prices set for the final at Twickenham - £150, £315, £515 and £715 - will be beyond many supporters, but Jevans insists the figures are competitive.
"Every event has to raise revenue to put on the tournament and therefore you have to have some tickets that may be regarded as expensive," Jevans said.
"In doing that you can have a number of low prices - 200,000 at £20 or less is a pretty good statistic.
"We have looked at previous World Cup finals and other international events. We believe we are comparable to those and are very competitive."
Ticketing is the only source of revenue available to the Rugby Football Union to recoup the £80million guarantee made to secure hosting rights to the next World Cup.
Jevans is confident that more than £80million will be generated, but would not specify how much more.
Concern has been raised at the blanket 8pm kick-off time applied to England's pool matches and the impact this will have on the attendance of children and those travelling from outside the south east.
Jevans revealed that transport planning is already underway, stating "we wouldn't put on an 8pm kick-off if we weren't confident we could make this a fantastic spectator experience".