Dean Ryan says that Owen Farrell is not the answer to England's fly-half problem
Dean Ryan told Sky Sports News that Owen Farrell is not the fly-half to ignite England's backline.
Last Updated: 29/11/12 12:44pm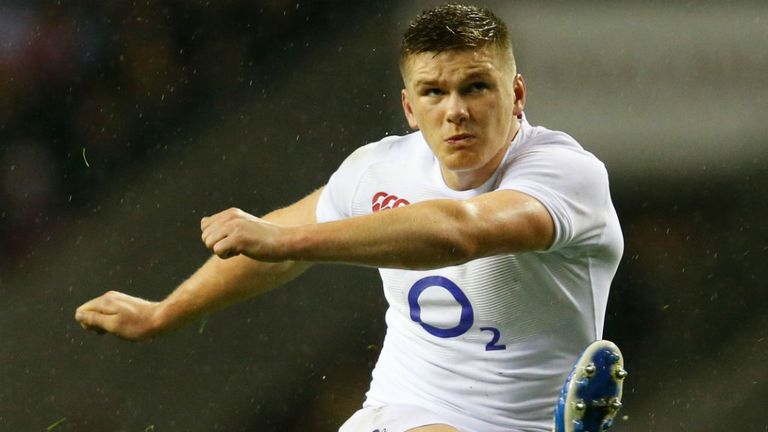 Farrell will start at fly-half in place of the injured Toby Flood as England make one change for Saturday's final Autumn International against New Zealand.
Flood was ruled out by with a toe injury after England's 16-15 loss to South Africa but the hosts will otherwise start with an unchanged team, although Northampton lock Courtney Lawes and uncapped Gloucester fly-half Freddie Burns are on the bench.
"Owen Farrell came into the Six Nations side as a very young man and showed a huge amount of maturity and a fantastic goal kicking record," said Ryan.
"I think where England are struggling is to find that pivot point that can just get that balance right between creativity and understanding the need to keep the scoreboard ticking along.
"Owen drifted away a bit in the Test matches in the summer and Toby's form came back. He was given the first chance in the autumn but was never really able to nail that down. I think irrespective of his toe injury I think question were beginning to be asked of him.
"Is Farrell the man to get that balance right? Well on record he is not. Playing for Saracens he has been pretty conservative and his game has been based around his kicking. I still think those issues are going to be apparent come Saturday.
"I think where Stuart Lancaster missed a trick was against Fiji and everyone was crying out for the young lad Freddie Burns to start. He has been great form for Gloucester and that was the game to get him in.
"If we put in it context, Owen is one end of the spectrum and on the other end is Freddie. Freddie is much more creative, much more of a risk taker. He probably is not as solid in terms of field position and points scoring. It is trying to get that balance right.
"So in terms Farrell, I don't think we will see anything different from him this weekend - solid, structured field position, good defence. But we may see Freddie Burns off the bench who may add that little bit of creativity.
"It is a tough ask for him against the All Blacks - it is not necessarily the first game you would want to go and throw the dice around."
No midfield maestros
Ryan also has concerns about the midfield partnership of Brad Barritt and Manu Tuilagi which has failed to ignite this autumn.
Ryan believes that the balance is wrong and questions must be asked as to what England's actual game-plan is.
"We are caught between some of the attractive qualities that Tuilagi has - he gets onto the scoreboard, he is incredibly physical against some of the limitations that he and Barritt have," explained the former Gloucester coach.
"We can't pass a ball along a backline while we have that combination working. I am not being critical of them as individuals, but critical of how the game maps out.
"We have Chris Ashton, one of the best finishers, outside them who is waiting for a process that does not have a very smart catch and pass game.
"I think that is the question that people are going to ask once the Autumn Internationals are over is - what game are England trying to play?
"There has been mixed messages - is it a wide creative game? If so then we certainly have not picked the individuals to do that. Is it more physical confrontational game? Well we have not seen elements of that either."
Focus
Another major talking point this week has been England skipper Chris Robshaw, and while he may have impressed with his form on the field, his captaincy has come into question and Ryan says that he has to learn to deal with that focus
"The focus is naturally going to come on him, he is the captain and his decisions are going to be focused on," added the ex-England backrower.
"I think against South Africa it was a poor decision (to kick for goal) - I don't think he would disagree with that. However, you have got to look at the context in which that decision was made.
"The previous week he gets undermined; he points for posts twice but Ben Youngs goes for a quick tap and then I think Danny Care convinces him to kick for touch. So he has had a week's battering from the media and think right, I have got to sharpen up that area and stamp my authority.
"He finds himself in exactly the same bubble in the final minutes and his default position is let's go for posts. He tried to impose himself on everyone else and that is why it was the wrong decision.
"Against New Zealand let's get a clearer understanding of what leadership is about and what senior player groups are about. It is not about taking decisions by committee; it is about supporting one man in making those decisions."