War of words
The Rugby Club discuss Quade Cooper's outburst after he criticised Australia's "toxic environment".
Last Updated: 28/09/12 11:00am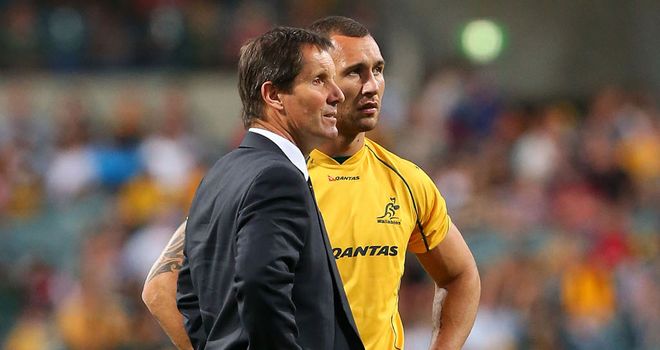 The Rugby Club discuss Quade Cooper's outburst after he criticised the national set-up on TV.
Speaking on Fox Sports, Cooper claimed the Wallabies "environment is destroying me as a person and as a player" and that he would not play for the team again.
The interview followed previous comments about a "toxic environment" with the side and criticism of Robbie Deans' tactics and coaching style.
"I admire his integrity," admitted Stuart Barnes on the Rugby Club.
"I did this a thousand years ago saying I did not want to play for England because I don't like the way England are trying to play. You get pilloried.
"In Australia which is a country of real patriotism and he is really going to get it in the neck. He has tried to say that something is wrong in the world with Robbie Deans and how they are trying to play. I would like to think that Deans knew what Cooper thought before he said it on TV - if Deans is finding out by watching the Australian equivalent of the Rugby Club then that is nuts.
"But if he has told Deans then I can understand what he is saying. You don't have to play for your country if you feel it is wrecking you as man - you do have a right to say no."
However Dewi Morris disagrees and believes that Cooper is not a team player
"I think it is absolutely disgraceful," argued Dewi.
"Doing that on live TV is not right. Do not wash your dirty laundry in public. If he has a problem, then go and speak to Robbie Deans. Deans is a great coach, there may be something going on which I am not privy too but I have seen enough of what Cooper was trying to do on the pitch as an individual and he is not a team man."
Special Rugby Club guest Pat Sanderson agrees with Dewi: "They clearly have some internal issues at the moment but you don't air them in public. As an individual he needs to look at himself before he looks at the environment. You can't say they are all wrong and I am right, normally the masses are right.
"Deans is a great coach and I think a year from now when the Lions tour he would have turned them around and it will be a very tough Test series."