Tom Wood says England must draw on a magnificent end to 2012
Tom Wood says England must take their game to the next level after a magnificent end to 2012.
Last Updated: 28/12/12 10:27am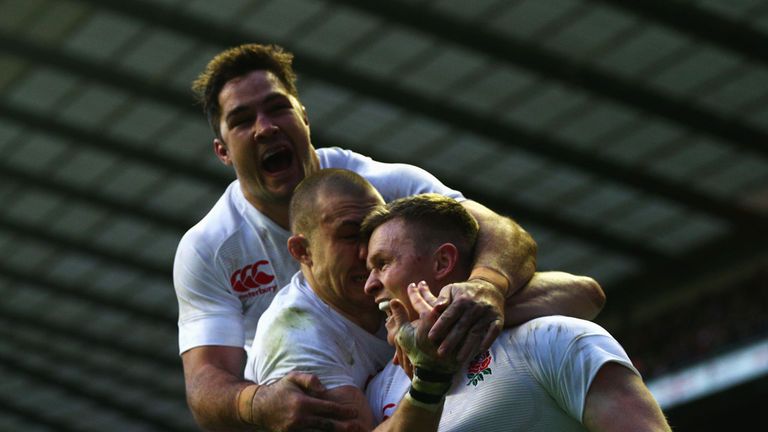 Wood was named man of the match as England ended their autumn international series on a massive high as they recorded their biggest victory over the All Blacks at Twickenham.
The 38-21 win followed successive defeats against Australia and South Africa and Wood, who was making only his second England start of 2012, admits Lancaster's men drew on the criticism and lack of expectation to shock the All Blacks.
But the 26-year-old, who appeared set to captain England for the 2012 Six Nations before a toe injury upset his season, insists England must now find that level of inspiration to replicate those performances on a regular basis.
"We lifted ourselves for that All Black game. We were as good as we could be. We were right on top of our game on the day and we caught them," he told the Rugby Club as he reflected on a massive day for English rugby.
"We showed what a team on the up, a young, youthful team can do, against an established world champion team. We have to reproduce that week in week out regardless of who we are playing and where we are playing, regardless of the scenario and what the press are saying.
"That is the challenge for us and it has to become intrinsic. It has to come from within. You can lift yourself for one big game and do things in spite of people once. You can motivate yourself by saying, "they have written us off let's lift it", for a one-off. But that is not sustainable.
"You have to do it for the love of the guys next to you out there, the belief and the culture and the environment, your coaches and your family. You have to do it because you really enjoy it and you really want it if you are going to sustain it and do it week in and week out.
"It has to become part of your every day and that is where we have to get to now."
Wood continued: "All the talk in the week had just been about the All Blacks and what we were going to do to stop them, and how much we could perhaps keep the score to a minimum if anything. So to beat them, and beat them comfortably, was just huge for us.
With his wife hailing from New Zealand and having spent time there earlier his career, Wood admitted the victory over the world champions tasted even sweeter.
"I was advised by my family that if you were going to go into any other career you would go to the best university you could and learn your trade there.
"So that is the logic I applied to rugby and went to New Zealand because I saw them as the pinnacle and the benchmark in rugby.
"I really enjoyed my time out there and played with some fantastic players. I experienced it and I grew up watching them so I guess it does mean a little bit more to me beating them."