Attwood eyes England return
England hopeful Dave Attwood knows Sunday's game against the Barbarians is vital for his World Cup chances.
Last Updated: 25/05/11 11:49am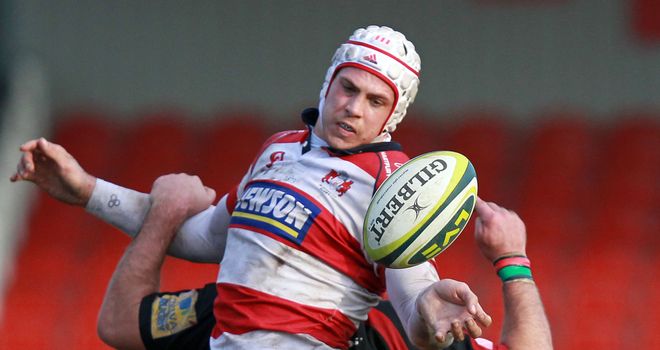 England hopeful Dave Attwood knows he needs to prove himself quickly after suspension saw him miss out on the RBS Six Nations and hinder his World Cup ambitions.
The Gloucester lock is heading to Bath for next season, but for now is concentrating on his international career as he returns to England's line-up against the Barbarians on Sunday.
Attwood missed the Six Nations campaign through suspension after he was banned for stamping in Gloucester's home Amlin Challenge Cup tie with La Rochelle.
Just months earlier Attwood has also been cited twice for stamping whilst playing for England against the Australian Barbarians in Perth, and now he hopes to prove he is not a dirty player as well as one worthy of a World Cup shot.
As he prepares to run out at Twickenham again on Sunday, Attwood knows that he has a lot to prove to Martin Johnson and not much time to prove it.
Track record
"I don't have a nasty track record. It is not something that has plagued me throughout my career," said Attwood.
"I had a run-in in the summer in Australia and again in December. It is something that has come about but it has not been a feature throughout my career so far.
"I am not worried it will creep more into my game. I will just keep on top of it and not step over the mark. This game is massive for me. The second half of the season wasn't what I was hoping for given how well the first half went for me.
"I am on the back foot, I am aware of that, but having broken back into the Gloucester team I feel my form is coming back.
"It is a chance to put a marker down and squeeze my way into the World Cup training camp. I am excited about involvement. It should be quite an exciting summer for me."
Attwood struggled to get his Gloucester place back after confirming his Bath move, but Johnson did use him in his Six Nations preparations and spoke to him about his future conduct.
Implications
"We talked about the consequences really, it was more of a practical nature than a mental assessment. We talked about the implications of what had happened," said Attwood.
"It was a case of how they could use me in supporting the team throughout the Six Nations period. I certainly didn't feel out of sorts in that England environment.
"I think some people took to me in the way I handle myself and go about my business. Hopefully I can squeeze myself back into that environment."
Another man on his road back to the England team is Matt Stevens, who will joins the England Saxons on Monday after serving a two-year drugs ban.
Stevens will join the Saxons after playing for Saracens in the Aviva Premiership final in what could be a huge step up in his rugby rehabilitation.
"I am joining up with the Saxons on Monday and I have been told that is a big chance for me to prove myself," Stevens revealed.
"Tight-head is my preferred position and that is where they want me to play for the Saxons. The ball is in my court. I have just got to perform well."