No guarantees for Moody
England manager Martin Johnson has insisted that the World Cup captaincy is still up for grabs.
Last Updated: 05/08/11 4:37pm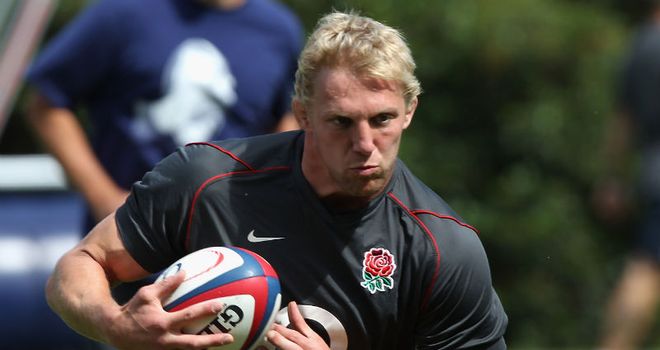 Lewis Moody will be on trial at Twickenham after England manager Martin Johnson insisted the World Cup captaincy remains up for grabs.
Moody returns to lead England in their warm-up Test match against Wales on Saturday after missing the RBS Six Nations title-winning campaign with a knee ligament injury.
Johnson said after the tournament that Moody was the man he wanted to lead England into the World Cup, fitness permitting, but now it seems his tone has changed.
Tom Wood and James Haskell performed admirably deputising in the back row during the Six Nations, while Mike Tindall led the team to four victories.
On the eve of England's first World Cup warm-up international, Johnson warned Moody that there are no guarantees.
"I've always said guys have got to get their place in the team," Johnson said.
"If any player isn't playing as well as another guy then is that other guy going to play? Well, yes.
"When we name the squad we will name our captain. Everyone is judged on merit and one of Lewis' merits is his leadership.
"You need that quality in the team and I think we missed him and Mike in the final Six Nations game in Dublin.
"Lewis, being who he is and what he has done, brings a huge amount of intangibles to the team but also adds to the collective."
Surprise
Even so, it would be a major surprise if Johnson did not name Moody as captain when the final 30-man World Cup squad is announced on August 22 after back-to-back games against Wales.
Moody's leadership credentials were endorsed earlier this week by Tindall, who said the Bath flanker "is viewed in my eyes and everyone's as the skipper".
But England's back-row competition is arguably stronger now than at any time since the World Cup-winning year in 2003, with Haskell, Wood, Chris Robshaw, Hendre Fourie and Nick Easter all in the frame.
Moody understands the situation. However, having played just three-and-a-half games for Bath since being injured, he is itching for the heat of battle once more.
"I am excited about this. Everyone is fired up and so they should be," the 33-year-old said.
"Every game leading into the World Cup is a trial for the squad and the individuals.
"I have always felt I have to prove myself, no matter what stage I am at in my career. There is always competition and that is what makes for a good squad.
"You have to make sure you are playing as well as you can do - and if you are captain that is an honour on top of that."
Moody will captain a team that features Riki Flutey, Delon Armitage and Jonny Wilkinson in the starting line-up for the first time since the 2010 Six Nations.
Matt Stevens has been absent from the squad for nearly three years after being banned for cocaine use, while Leicester centre Manu Tuilagi will make his debut.
"Everyone is ready to play. I have had to calm everyone - and myself - down this morning," said Johnson, whose squad have been in camp for six of the last seven weeks.
"We are ready to go and we are excited about it. I want us to go and hit our straps, put in a good performance. Practising winning Test matches is what we are here to do.
Battle-hardened
"We want to be battle-hardened. The 30 that go to New Zealand need to have two games under their belts.
"Whatever you do in training it is nothing like playing in a game because the adrenaline makes the tempo incredibly high.
"This game is not a send-off, it is a Test match and World Cup positions are at stake. The players need to produce good individual performances and work together as a team.
"In that sense it is the same as if it is the World Cup semi-final. It all comes down to performance."
England will debut their new all-black kit at Twickenham and will wear it again against Argentina in the first match of the World Cup.